Things fall apart; the centre cannot hold;
Mere anarchy is loosed upon the world,
The blood-dimmed tide is loosed, and everywhere
The ceremony of innocence is drowned;
The best lack all conviction, while the worst
Are full of passionate intensity.
from The Second Coming by William Butler Yeats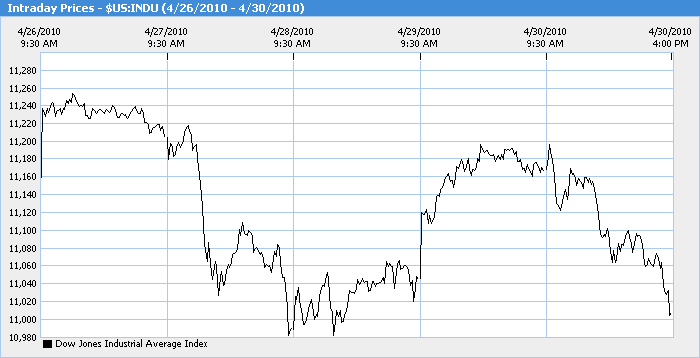 Friday's sell off of 158 Dow points was simply the icing on the cake for one of the wildest stock market weeks in a long time (see the 5-day chart above).
Some notable features of the week's action to consider:
*When was the last time we saw three 100-point plus Dow swings within one week?  It's been a while, volatility is back.
*Prior to the Friday swoon, ostensibly sparked over word that the Goldman matter was being investigated criminally, there were rumblings about several negatives – GS may have just been the last straw.
*The indexes have been masking some real ugliness in the internals, despite Thursday's big rally, which looked and smelled like end-of-month window dressing anyway.
*The sell-in-May crowd may have gotten an early start.
*Most of the market's good vibes this spring have emanated from the high earnings beat rate.  With the "good news spigot" shut off and earnings season coming to a close, the bulls lack their most important catalyst for higher ground.
*That 3.2% GDP number for Q1 didn't exactly set anyone's world on fire, it's a weak number to be coming out this early in a cyclical recovery.
*True to form, stocks went down a lot quicker than they went up… individual stock charts from almost every sector of the market are now laden with ominous signals.
I'm keeping the above points in mind as I head back to my turret tomorrow morning.  What kinds of notable signs are you guys seeing out there?