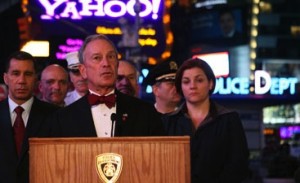 Late last night, an abandoned Nissan Pathfinder with white smoke billowing from it was investigated by a mounted policeman in Times Square.  The policeman alerted emergency response units and there was, in fact, a bomb in the truck along with related bomb-making materials.
Times Square was quickly evacuated and the pros were on the scene immediately to neutralize the explosive device and assess any other possible threats in the area.  No one was hurt and Times Square has since been reopened to the public.
The NYPD is the greatest police force in the entire world, their quick actions last night may have prevented a serious tragedy.
Mayor Michael Bloomberg's leadership in a city of 8.3 million people is a shining example of competence.  The type of competence we lack in most of areas of government.  I certainly haven't agreed with all of his policies (the Olympic bid? Ugh!) but at the end of the day, the guy is running things seriously and responsibly.  Last night's coordinated response is just the latest example.
Regulatory bodies, financial ones in particular, should take a cue from the NYPD as it is very difficult for suspicious activity to evade their notice.  Washington should pay attention to NYC's Mayor, he's been putting on a governance clinic for almost a decade.
Read More: