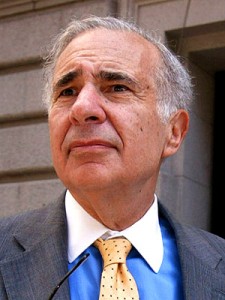 Lionsgate ($LGF) is trading north of 7 this morning on news that regulators in British Columbia have invalidated a poison pill that the company had hoped would fend off Carl Icahn. 
April 30th at 8pm is the deadline for shareholders to take Icahn up on his offer.  Analysts believe that Icahn will have to extend his deadline for the $7 a share tender and he may have to up his bid…
From BusinessWeek:
"Icahn goes forward and tries to buy the firm," said Alan Gould, an analyst with Soleil Securities in New York. "To get over 50 percent of the company, he clearly has to go over $7 a share."
From Icahn's press release (WSJ):
Carl C. Icahn today announced that the British Columbia Securities Commission (BCSC), the independent provincial government agency responsible for regulating securities trading in British Columbia, has issued a "cease trade order" with respect to the Poison Pill adopted by Lions Gate's board of directors, effectively eradicating the Pill and restoring to shareholders the right to decide for themselves – without interference from the Board – whether they wish to participate in the Icahn Group's tender offer.

Carl C. Icahn reacted to the BCSC's decision by commenting: "I am gratified to see that – consistent with its vision to play a leading role in securities regulation that inspires investor confidence and supports fair, efficient, and innovative Canadian capital markets – the BCSC agreed with our view that Lions Gate shareholders should have the right to decide for themselves whether they wish to sell their shares in our tender offer. We commend the Commission for its thoughtful consideration and resolution of this important issue."
Lionsgate says they will appeal the decision of their jurisdictional regulator, but the clock is ticking.  They believe the poison pill is necessary to protect shareholders from having their company taken from them for an unfair price.
Some related reading:
PRESS RELEASE: CANADIAN AUTHORITIES INVALIDATE LIONS GATE'S POISON PILL (WSJ)
Lions Gate Poison Pill Annulled by Canadian Regulator (BusinessWeek)