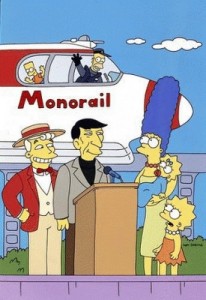 In a classic episode of The Simpsons called Marge vs the Monorail, the town of Springfield is conned into building a high speed monorail by a Professor Harold Hill-type who makes the case that they simply "can't afford NOT to build it".
We've all heard the story about Jefferson County in Alabama, where corrupt politicians and scheming investment bankers loaded taxpayers up with hundreds of millions in debt to build a state-of-the-art sewer system.
The capital city of Pennsylvania, Harrisburg, now finds itself in a similar situation because of a deal with Covanta ($CVA) in which $282 million in bonds were guaranteed to finance the construction of a Waste To Energy incinerator.  The debt service payments due on these bonds and on a related loan are equal to four times what the city collects in property taxes, according to Bloomberg.
Harrisburg, Pennsylvania, which has missed $6 million in debt payments since Jan. 1, should consider seeking Chapter 9 bankruptcy protection, City Controller Dan Miller told a three-hour special committee hearing.
One cannot help but be reminded of the Springfield Monorail when looking at how projects like these have pushed municipalities across the country to the brink of insolvency.  Green projects like environmentally-sound sewer systems or incinerators that convert garbage into fuel were all the rage during the housing and credit bubble years, and now the bills are coming due.
And like the monorail and the Escalator to Nowhere that Springfield replaces it with at the end of the episode, these projects absolutely do not "pay for themselves".
Source:
Harrisburg, Pennsylvania, Council Told To Consider Bankruptcy (Bloomberg)
hat tip Alex M from PA