"The man came up with a scheme to get rich, and he did it.  So more power to him."
-Jack Booket, a borrower whose defaulted mortgage was included in Abacus.
What a brilliant piece of reporting.  The Wall Street Journal unearths the actual identities of the people who took out mortgages that were stuffed into the controversial Abacus CDO deal.  You know, the one that made hedge fund manager John Paulson rich and crushed the banks that bought it.
Here's how they did it…
From the Wall Street Journal:
The Wall Street Journal identified homeowners in the Abacus portfolio by taking the 90 bonds listed in a February 2007 Abacus pitchbook and matching them with court records, foreclosure listings, title records and loan servicing reports. The bonds contained nearly 500,000 mortgage loans.
In the below infographic, you can see the roundabout way in which these home loans became products to be wagered on: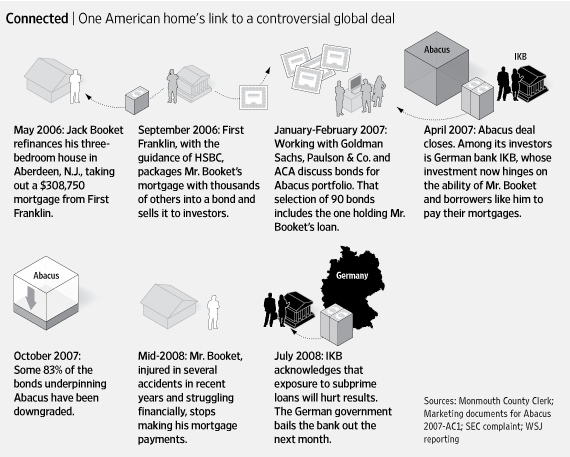 An amazing article, nicely done.
Source: