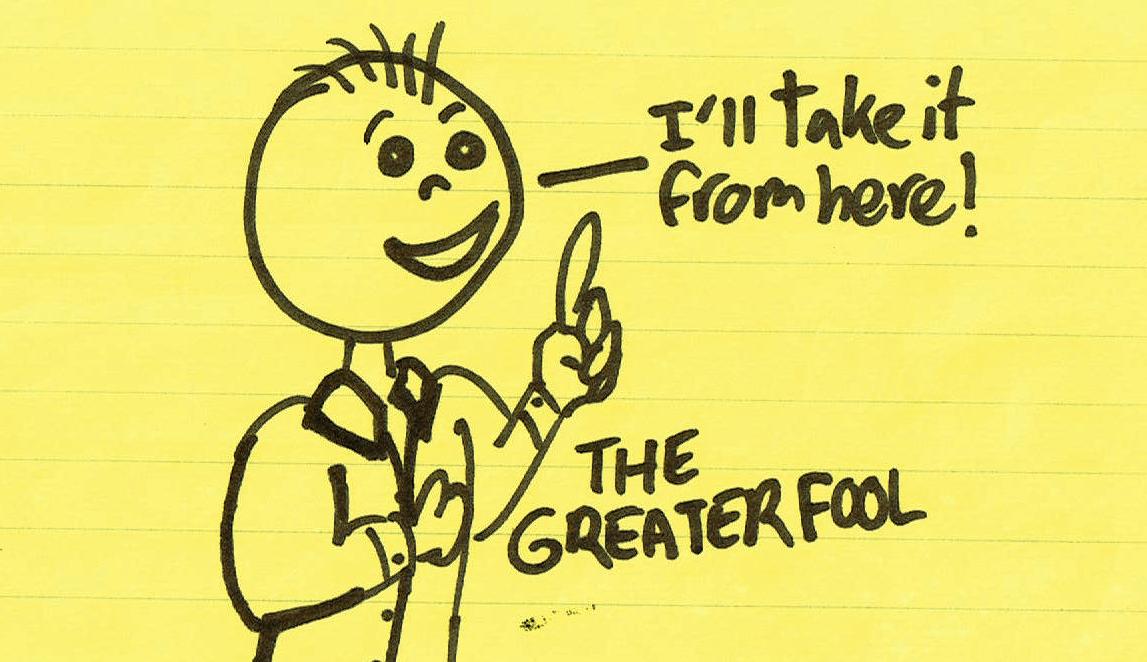 Just in time, with the Dow Jones Industrial Average scorching through 11,000, we get the unique pleasure of chatting with the proverbial 'Greater Fool'.  For those of you not versed in what or who he is, think of the Greater Fool as the guy whom you expect to come into an investment after you, taking it to ever higher levels.
We sat down with the enigmatic Greater Fool at Haru in midtown yesterday…
The Reformed Broker:  I must confess, I never actually thought you were an actual person, just the pillar of the momentum investing strategy…
Greater Fool:  In that case, I'm glad I agreed to this interview.  With all the references made to me in the financial world, I may as well capitalize on my notoriety.
 TRB:  Sure, so I guess my first question would be how you are playing this market right now?
GF:  I must admit, I sat out a great deal of it, I really only got back into stocks when I started hearing about all the hype from the iPad.  After hearing about the first week of sales, I jumped right in and started buying Apple ($AAPL) aggressively at around 250.
TRB: A well-timed and shrewd purchase to be sure – but don't you worry that the real momentum pros who have been riding the stock up for 100 points awaiting the iPad's release might be the ones selling to you?
GF:  But, umm, it's the Recovery I heard someone say.  On Access Hollywood.
TRB:  Gotcha.  Moving on, where do you get most of your investing ideas from?
GF:  Oh, I have many sources for stock ideas…
TRB:  Lay 'em on me.
GF:  OK, for starters, I like to wait until a stock hits the number one ranking in the Investors Business Daily 100 – that's when I know for sure that the momentum is amazing!
TRB:  Ok, but –
GF:  Then, I love it when that guy with the rolled-up sleeves on CNBC yells ticker symbols at me and shoots confetti at the camera.  Huge buy signal.
TRB:  Oh, you mean Jim Cra-
GF:  Yeah yeah yeah.  And then I run a very specific type of screen with my online broker's software.
TRB:  What are you screening for?
GF:  Ya know, I really only want to own stocks with China in the name of the company.  China Automotive, China Agriculture, China.com, China Oil, China Cheese Doodles, China Feather Boa Company Limited.  I will make exceptions – if instead of China, the prefix 'Sina' or 'Sino' is somehow incorporated into the company's name – or the name of a province that I can't pronounce like Guangzhou. 
TRB:  I see.  And that's working out for you? 
GF:  Actually, quite well.  I have checked my returns since the beginning of the year and I'm outperforming every single index and mutual fund that there is published data for.  Since I have proven my methodology, I've begun to use margin, thus amplifying my results.  I don't see how this could possibly go wrong.
TRB:  Me neither, congrats on the returns!
GF:  Thank you, my newsletter drops this summer.  I'm thinking of calling it "The Topticking Report" – ya know, because I'm at the 'top' of my game and 'ticking' because, like, stocks tick up and down.
TRB:  Yeah, got it.  Actually, I think that based on your investing style, The Topticking Report is more than perfect, you should buy the domain immediately.
GF:  Cool.  Anyway, nice meeting you, Josh!  Gotta get back to my heatmapping and patternslapping – let the chase begin! 
TRB:  Chase on, Greater Fool.  And good luck.