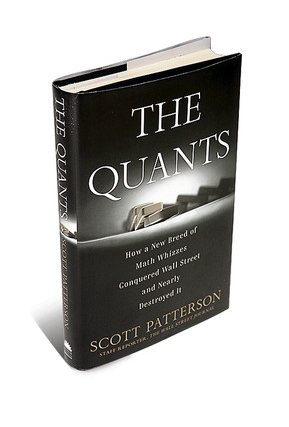 By now, virtually everyone in blogland has done a review of The Quants, an excellent book by Scott Patterson in which we see math geniuses take over Wall Street over the course of 3 decades only to destroy it – along with the global economy – in a mere 18 months.  Go Math!
Anyway, when the publisher sent me the book I was appreciative yet apprehensive, as I was halfway through The Greatest Trade Ever, had just read Bailout Nation, and already had Too Big To Fail in the cue.  How many books about the crisis that I had just lived through could I possibly commit to reading?
Well, whatever, because I read it and was immediately captivated by the stories of Quant Godfather Ed Thorpe, Long Island's bratty-but-brilliant Cliff Asness, Enigma-wrapped-in-a-riddle-wrapped-in-a-cloud-of-cigarette-smoke James Simons and of course, Emperor Kenneth Griffin.
You will learn a great deal about how dependent the large banks have grown on the profits from high frequency and program trading.  You will marvel at how brilliant people can act so foolishly.  You will get to know some of the most eccentric players on and off Wall Street.  You will drop your jaw when you read about the sums of money involved in what has essentially become a giant Dungeons and Dragons game of strategy and probabilities.
Read The Quants and prepare yourself for the brave new future of machines trading against other machines and the puny humans like us who dare to test our qualitative mettle against the relentless Ones and Zeroes.
The Quants: How a New Breed of Math Whizzes Conquered Wall Street and Nearly Destroyed It