We haven't heard from Johnny Upside since last summer when he was launching a new gold buying business. Prior to that, our friend Johnny was launching a distressed assets investment vehicle as well as the first ever fund of fund of funds.
The phone rang this morning…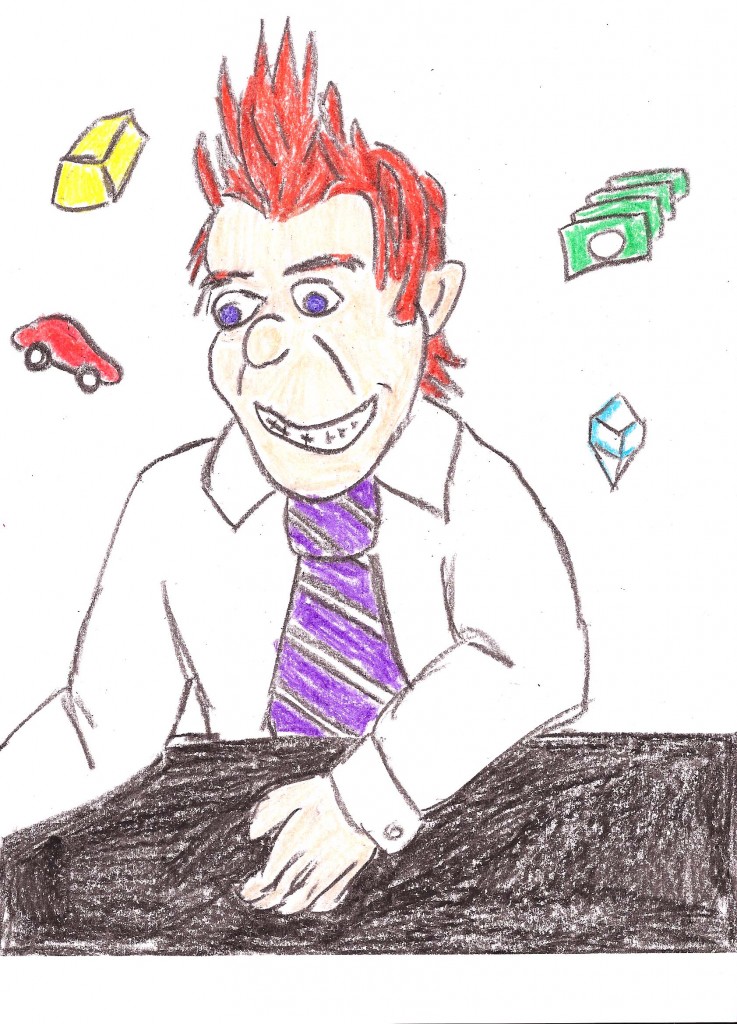 TRB:  Hello?
Johnny Upside:  YOOOOOOOOO!
TRB:  That you, Johnny?  You almost busted my eardrum!
JU:  Sorry buddy, just really excited, its been a minute since I've gotten at you, Josh!
TRB:  I know, and things were so peaceful…
JU:  Kid, I am blowing up right now – for real – just had my best 2 months ever back to back!
TRB:  Cool, still in the cash for gold game?
JU:  Hell naw, I'm not trying to compete with every PTA president with a scale – I cashed out of that gold thang right after Christmas.
TRB:  So what are you up to?
JU:  Swaps, TRBizzle!  Credit Default Swaps is my new sh*t.  I'm shorting entire countries, yo!
TRB:  Ah, like Greece and Spain because of their high debt loads?
JU:  I guess, yeah.  But I don't really look at stuff like debt load or, um, like GDP to Productivity.  I'm just finding all these weird-ass countries in Europe and buying the CDS contracts.
TRB:  Don't you need to be registered with the International Swaps and Derivatives Association and be super-accredited?
JU:  Yeah I know!  But I met this chick at The Box last week who had the hookup.  They think I'm like a global hedge fund or whatever.
TRB:  Johnny, those contracts you're buying to short all these countries are like insurance – and paying those premiums is a pretty expensive "negative carry" – are you sure this is a good idea?
JU:  Guy, don't you read all those sites with the crazy Bloomberg charts?  Everybody's f*cked, man!  Just saw a slide show that was called "17 Reasons The World Will End Before 2012" on some website and, like, half the pictures were of the Acropolis.
TRB:  OK, sound logic I guess.  How could I argue with that?
JU:  Don't argue, brah, just get on board!  I got a call about some ridiculous place called Lapland that has public bonds, we're gonna piledrive 'em to nothing!
TRB: I think Lapland is where Santa's reindeer come from.  That may or may not be an actual country – I'm not sure – so be careful.
JU: I'm getting as short as Scottrade's Institutional Margin Desk will let me.
TRB:  Hang on…you're trading credit default swaps with a Scottrade account?  Dios mio.
JU:  That's right, brother, just tearin' it up.
TRB:  Are you at all concerned about the recent investigations into hedge funds shorting foreign currencies or sovereign debt and perhaps generating instability in the affairs of tens of millions of innocent citizens of those countries?
JU:  I don't think you understand…I'm a HEDGE fund, I can do whatever I want as long as I'm generating alpha.  I've always wanted to say that.  Besides, I'm not gonna move any currency markets with my buying or selling.
TRB:  The question is not you moving a currency market.  Rather, it is what happens when 200 or 400 hedge funds with massive amounts of leverage decide to create a market perception that, for example, there is a run on a country's sovereign debt or bank deposits.  Then what?
JU:  Can't blame me and Paulson for the fact that these countries are out to lunch financially.  The people living there wouldn't be so vulnerable if they weren't joining unions at 8 years old and retiring at 45.  Plus taking organized naps at 3 o'clock in the afternoon on weekdays after a 2 hour lunch feast and a pack of cigarettes.
TRB:  Ah, blame the victim.  You must have learned that from your fraternity's "The Morning After the Party Handbook".  Classy.
JU:  Yup, which is why I'm swappin' it up forreal right now!  This is my sh*t!
TRB:  Well thanks for calling Johnny, for some strange reason, I just got mildly bullish on Europe.
JU: No doubt, cub scout.  Be good.
Read Aso:
http://thereformedbroker.com/2009/07/14/johnny-upside-ill-buy-your-gold-dog/
http://thereformedbroker.com/2009/03/23/johnny-upside-im-all-about-distressed-assets-yo/
http://thereformedbroker.com/2009/01/05/interview-with-johnny-upside-fund-of-fund-of-funds/