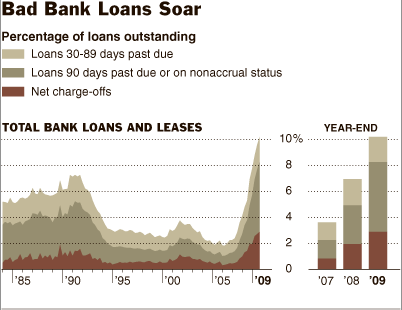 Problem loans on the balance sheets of banks are a bit like Irish relatives – they simply won't leave.
In his Off The Charts column on the New York Times site this morning, Floyd Norris gives us a look at some parabolic charts of these deals-gone-bad…
MORE than $1 in every $10 that American banks have outstanding in loans is lent to a troubled borrower, a ratio far higher than previously seen in the quarter-century that such numbers have been compiled.

The problems are greatest in construction loans for single-family homes, where nearly 40 percent of the loans either are delinquent or have been written off as uncollectible. But they are also high in mortgage loans for single-family homes, where $1 in every $8 of loans is troubled.
A few items to consider in the article would be the fact that bank write-offs of these loans hit an all-time record high at 2.9% and that the reason why the commercial real estate bomb is taking so long to detonate is that many of those loans are for 7 to 10 year periods – offering banks additional time to extend and pretend.
Unless there is a sudden and massive turn in the fortunes of American business in general, that bill will eventually come due.
Source: