The Wall Street Journal's David Weidner compiled a list of what he considers 10 essential Wall Street blogs.  I was really flattered to be on that list along with some of my absolute faves, including:
The Big Picture (Barry Ritholtz), Business Insider/ Clusterstock, Calculated Risk, DealBreaker (Bess Levin), Epicurean Dealmaker, Goldman Sachs 666, MacroMan, Naked Capitalism (Yves Smith), and Zero Hedge.
Making a list like this and keeping it to 10 is never easy, but this is a good one.
Here's my mention: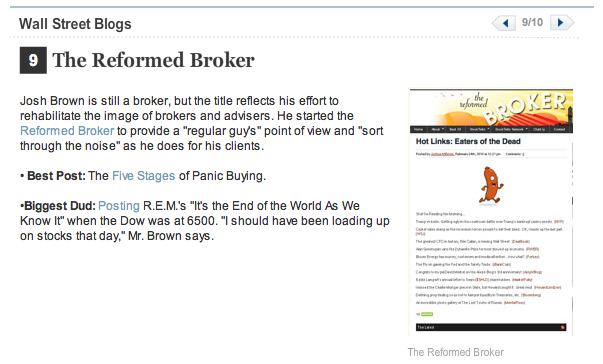 Very cool, I'm honored to be mentioned with some of the big dogs.  Click over to read what David had to say about my peers…
Source: