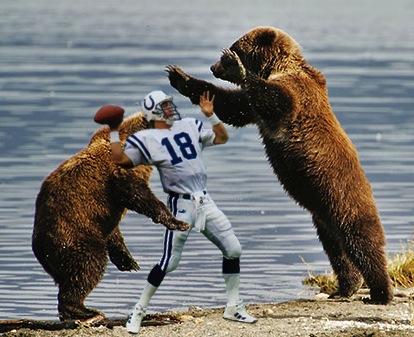 What makes Peyton Manning Peyton Manning?  How does this apply to anyone seeking to improve, traders included?  Brett Steenbarger tackles these questions on TraderFeed:
3) Preparation – The skill-building work that got Peyton Manning to the top continues every single season, every game. "Each off-season," the article notes, "Manning and his coaches watch tapes of the entire season, and he takes notes on what he needs to work on. By the beginning of the next season, Manning's command of the offense is complete." Indeed, referring to his review of game films, Manning explains, "I knew that's where I was going to gain some type of edge. I knew I wasn't going to run away from guys or throw through three guys. My idea was to try to have a good sense of where they were going to be. I never left the field saying, 'I could have done more to get ready for this team.'"
Preparation, along with the other ingredients Steenbarger lists, is essential.  Most of us have learned this the hard way.  The Manning example is immediately applicable to almost any trader.
Source:
Peyton Manning and the Heart of Peak Performance (TraderFeed)