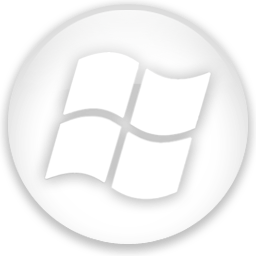 I don't know if it has yet occurred to them up in Redmond, but I think Microsoft ($MSFT) may want to consider the following:
1.  Microsoft is no longer a growth company, has not been one for awhile and will probably not ever become one again.
2.  Microsoft Office is no slouch, but will be under siege by Google Docs for the foreseeable future.  Competing against a wealthy company who is offering a free version of your product is basically impossible.
3.  Nothing Microsoft has attempted on the web has ever worked.  Nor have their other initiatives been all that profitable (Zune, XBox, Mobile etc.)
4.  Microsoft owns one of the most important utilities on the planet: the Windows operating system.
5.  Windows throws off a ton of cash (from an operating cash flow total of around $20 billion a year) which ought to be distributed to shareholders if, as has been proven for a decade, the company cannot innovate with it.
6.  If the cash is to be distributed, perhaps the company should admit its inability to invest in growth and become either a royalty trust or a master limited partnership.
The Royalty Trust idea would make sense if you believe, as I do, that Windows is akin to an oil reserve…it's got a finite amount of life in it which will produce steady returns, but ultimately, it is a dwindling asset.
Since Microsoft would never admit this, then maybe a Master Limited Partnership would make more sense.  Many pipeline operators keep their assets in these structures for the tax-advantaged payout of dividend income from what is essentially a slow-growth toll collection business.
Microsoft will point to their earnings growth and vast areas of opportunity but the reality is, no matter what results they announce, the share price doesn't budge.  They have assets, like a stake in Facebook, that are valuable but certainly non-core.  These could be placed into the partnership and managed for shareholders as well.
There is no shame in Microsoft coming to the realization that they have one and a half valuable properties and that they are wasting time and money on everything else (see chart below).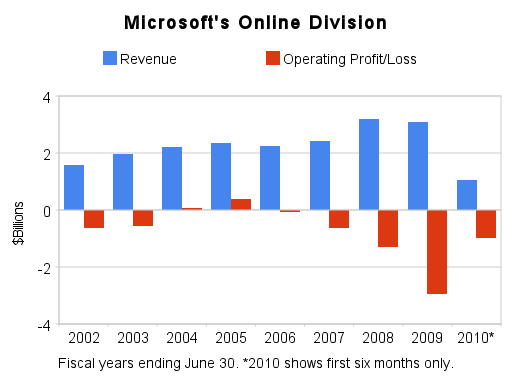 Converting from a corporation to an income-generating partnership would probably be the best option available.
Thanks to GigaOM for the chart of MSFT's online "business".