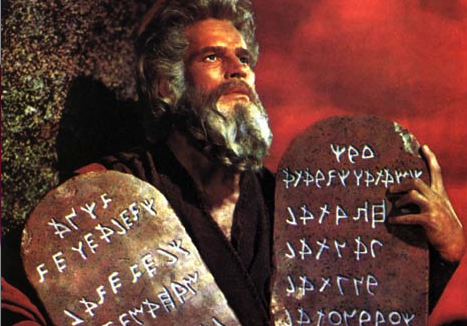 Are we safely on the other side of The Great Recession?  Are we about to double dip?  Can a single shred of data from the government be trusted?  What letter's shape will the recovery take?  Whatever, we'll see.
For now, I'm still going to continue to abide by the The Great Recession's Ten Commandments until we are certain…
They are as follows:
One:  I am The Great Recession that snapped you out of your debt binge and brought the entire world to its knees, thou shalt compare no other recessions to me.
Two:  Thou shalt not take the term "recession" in vain.  2001 was barely even a speed bump, I am the Real Deal.
Three:  Thou shalt not make unto thee any graven economic models or any likeness demonstrating recovery.  Thou shalt not bow down thyself to thine Stimulus Plan, which I laugh at, by the way.
Four:  Remember the FOMC Day and keep it wholly unnecessary.
Five:  Honor thy jobs report and thy home price index, they are the only data that will indicate a turn.
Six:  Thou shalt not securitize debt.
Seven:  Thou shalt not commit high frequency trading.
Eight:  Thou shalt not Ponzi.
Nine:  Thou shalt not bear false appraisal on thy neighbor's property value.
Ten:  Thou shalt not covet thy neighbor's bonus, nor his teaser rates, nor his asset marks, nor his oxen, nor his trading huddles, nor his algorithms.
***
OK, sorry to get all biblical and junk, but some lessons are just etched into my mind like commandments on a stone tablet until we know for sure that The Great Recession is over with. 
And get rid of that golden TALF…ya know, before the big guy sees it.