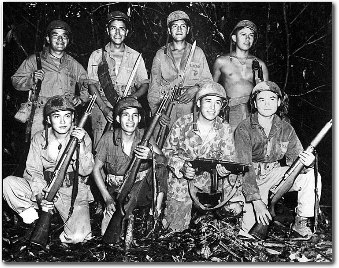 In recognition of Veterans Day, I found this great story about the last surviving Code Talkers.   The Code Talkers were Navajo Indians who joined the Marines in World War II's Pacific Theater.  They have come to New York City this week to participate in the Veterans Day Parade and to tell their story. 
There is a great deal of urgency for them to do so as only 50 of the elite unit's 400 members are still with us, the oldest being 92.
From the AP via Yahoo News:
13 of the Code Talkers, some using canes, a few in wheelchairs, arrived in New York City to participate for the first time in the nation's largest Veterans Day parade, set for Wednesday.

The young Navajo Marines, using secret Navajo language-encrypted military terms, helped the U.S. prevail at Iwo Jima and other World War II Pacific battles, serving in every Marine assault in the South Pacific between 1942 and 1945. Military commanders said the code, transmitted verbally by radio, helped save countless American lives and bring a speedier end to the war in the Pacific theater.

They were sworn to secrecy about their code, so complex that even other Navajo Marines couldn't decipher it. Used to transmit secret tactical messages via radio or telephone, the code remained unbroken and classified for decades because of its potential postwar use.
Over the last year, my career has brought me into contact with Native American people from a different region of the country, people with deeply-held cultural traditions of their own who also posess a great love for America.  The Code Talkers exemplify this balance of tradition and patriotism.
I want to say thank you to all of our veterans, including those I have the honor to call my colleagues and friends.
Sources: