Some of you may have read my borderline escaped-lunatic ramblings about my hopes for the upcoming big screen version of The A-Team.
I'm happy to report that, at least according to the first official photo of the cast, they've gotten the look of the characters just right.
Here's the a photo of the new A-Team (from left: Bradley Cooper as Lt. Templeton 'Faceman' Peck, Quinton 'Rampage' Jackson as Sgt Bosco 'B.A.' Baracus, Sharlto Copley as Captain 'Howling Mad' Murdock and Liam Neeson as Colonel John 'Hannibal' Smith.)
Click Image to Embiggen!
And just for the hell of it, below is the original cast…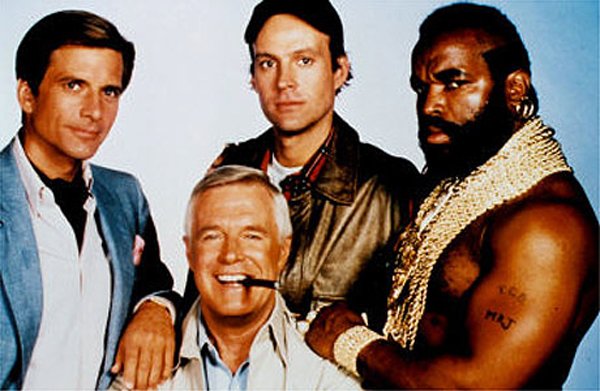 Oh yeah, Jessica Biel has been confirmed and is currently shooting her scenes in Vancouver.  Guess whose love interest she will be in the film?  If you guessed Not Liam Neeson's, you've probably guessed correctly.
Read Also:
3 Reasons I'm Concerned With the Upcoming A-Team Movie  (TRB)