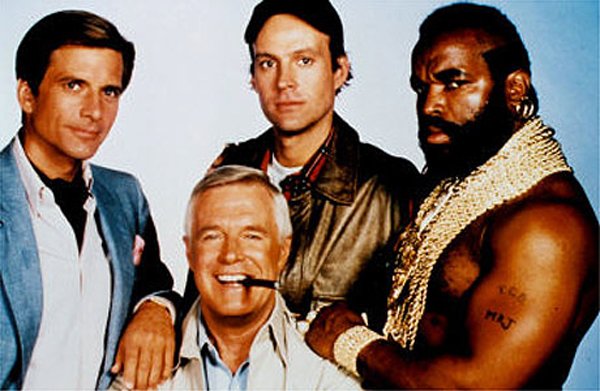 99% of what we discuss here on TRB is finance-related, but every so often, a social issue of tremendous importance finds its way onto the site so that it can be addressed before it's too late.
With that in mind, we're going to talk about my worries and fears about the upcoming A-Team movie, the one that's currently in pre-production and has the potential to ruin my entire 2010 if done incorrectly.
I haven't read the script, but I do know that filming is starting this week in Vancouver under the direction of Joe Carnahan (Smokin' Aces) and it's slated to premiere next June.
My 3 most pressing concerns about the film are as follows:
1. Time Period
OK, so one of the worst travesties you can commit during the film adaptation of a beloved television show is to rip it from its original time period and transplant it into the modern day just to get today's teens to be interested.  Screw today's teens, they're too busy texting and MyFacing to watch it anyway.  Keep the A-Team in the early 80's, thank you very much.  The primary reason for the unwatchability of the recent Miami Vice film is that all the 80's Miami awesomeness was stripped out of it (and so was the Edward James Olmos awesomeness btw).
The only way the modern-day transplant works is if you're playing for goofs (Brady Bunch Movie) but even then, it's a hit-or-miss affair (Dukes of Hazzard, The Beverly Hillbillies).  I want to see old school lo-fi tech in my A-Team, like walkie talkies and CB radios and that sweet black and red van…not Blackberries and Range Rovers.  Do it 80's or don't do it at all.
2. Casting
I'm more than OK with Liam Neeson stepping in for George Peppard to play Hannibal, can't wait to see him with a cigar and driving gloves.  I also think that Bradley Cooper (The Hangover) is perfect for the role of Face.  The part of Murdock is not yet cast as of this writing, but they're talking about the main guy from District 9, who was incredible.  As long as they don't call Jack Black or Mike Myers for the comic relief, Im cool.
Now here's where things go pear-shaped…Mr. T is one-of-a-kind and impossible to replace, so the best you can do is someone who can do a quasi-impression and looks the part.  The last thing we want is an unrecognizable B.A. Barackus or worse – a "re-imagining".  Well, the producers did something interesting for the Mr. T role, they cast a UFC fighter named Quinton 'Rampage' Jackson with no previous acting experience, just the desire to don the gold chains and mohawk and flex his biceps quite a bit.  Good luck Quentin, but frankly, your performance is one of the aspects that could instantly doom the film to parody status.  Prove me wrong, please.
Oh yeah, today it was rumored that Jessica Biel is in negotiations to play an army general.  That's not a typo…an army general.  Whatever, I'll watch Jessica Biel play anything.
3. Scope
One of the best aspects of 80's action shows was that the scale and scope of each episode was small and personal enough to make you really root for the good guys.  Magnum PI was always helping a chick track down her long-lost father, MacGuyver was usually foiling a local real estate baron's landgrab and Hill Street Blues was about handing out parking tickets…I think.
Contrast that with today's shows where each week, we're thinking more along the lines of saving the city (CSI), saving the country (24) or even saving the planet (Heroes).  The A-Team was about saving a cattle ranch from some rustlers or saving a bar owner from bootleggers.  They stepped up for the little guy who had no one else to turn to.  I can only hope that the script in this case leaves saving the world to the Michael Bay/ Jerry Bruckheimer films.  The A-team was always about the common folk, not global crisis management.  Keep the scope of the film true to the series.
OK, that's probably more than you ever expected to read about the A-Team, but some things are too important to be left til the last minute.  Carnahan, if you're reading this, I AM your audience – born in the late 70's, plenty of disposable income for the tie-ins and if Murdock wears the leather bomber jacket with the tiger on the back, I'll probably see it twice.
Don't let us down.