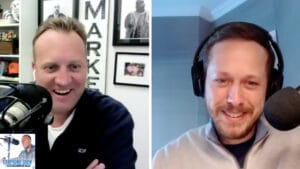 On the final episode of The Compound Show in 2020, Josh talks to Patrick O'Shaughnessy, CEO of O'Shaughnessy Asset Management about the wildly successful launch of his firm's proprietary custom indexing platform, Canvas. Please see the full disclaimer below.
You can learn more about Canvas from Patrick's paper, posted here.
Talk to us about your financial plan or portfolio to get a fresh start in 2021.
If you're enjoying the show, be sure to leave us a rating and a review – they mean a lot and go a long way! Thank you!
You can listen to the whole thing below, or find it wherever you like to listen to your favorite pods!
Listen here:
The opinions, viewpoints and analyses expressed herein are solely those of Patrick O'Shaughnessy of O'Shaughnessy Asset Management, LLC and should not be regarded as opinions or advisory services provided by Ritholtz Wealth Management or performance returns of any Ritholtz Wealth Management Investments client. The opinions expressed in this program are for general informational purposes only and are not intended to provide specific advice or recommendations for any individual or on any specific security.
O'Shaughnessy Asset Management LLC is a sub advisor and independent money manager for Ritholtz Wealth Management. CANVAS® is a registered trademark of O'Shaughnessy Asset Management LLC. Ritholtz Wealth Management manages its clients' accounts using a variety of investment techniques and strategies, in addition to CANVAS®, which are not necessarily discussed in the commentary.
The views reflected in this commentary are subject to change at any time without notice. Nothing in this podcast constitutes investment advice, performance data or any recommendation that any particular security, portfolio of securities, transaction or investment strategy is suitable for any specific person. To determine which investments may be appropriate for you, consult your financial advisor prior to investing. As always please remember investing involves risk and possible loss of principal capital; please seek advice from a licensed professional.
Ritholtz Wealth Management is a Registered Investment Advisor. Advisory services are only offered to clients or prospective clients where Ritholtz Wealth Management and its representatives are properly licensed or exempt from licensure. No advice may be rendered by Ritholtz Wealth Management unless a client service agreement is in place. Ritholtz Wealth Management clients may also be charged fees for their investments that are allocated to O'Shaughnessy Asset Management LLC. The terms and conditions under which the client shall engage the third party investment advisory firm shall be set forth in a separate agreement between the client and O'Shaughnessy Asset Management LLC.