At the request of so many investment advisors, my friends at Riskalyze share the big trends in the assets going into and coming out of advisor portfolios every week. The underlying data is aggregated from hundreds of thousands of client accounts across the $120 billion and counting that advisors manage on the Riskalyze platform*. I hope we can uncover interesting trends for you each week…

May 8th – 14th
Winners (advisor flows TO these investments increased substantially):
National AMT-Free Muni Bond (MUNI)
MSCI Emerging Markets Mini Vol (EEMV)
High Yield Corporate Bd (HYG, JNK)
Losers (advisor flows FROM these investments increased substantially):
Alphabet / Google (GOOGL)
7-10 Year Treasury Bond (IEF)
Microsoft (MSFT)
Last week, advisor use of MUNI – an actively managed PIMCO municipal bond ETF, increased 5% week over week. Municipal bonds in general are one of the best performing asset classes of 2016 so far. Against a plain vanilla aggregate bond market ETF, you can see how they've really taken off in relative terms as well.
In my chart below, you're seeing the total return chart of PIMCO's product against the Barclays Agg total bond market product. Note the separation that took place just ahead of the Fed's first (only?) rate hike in December: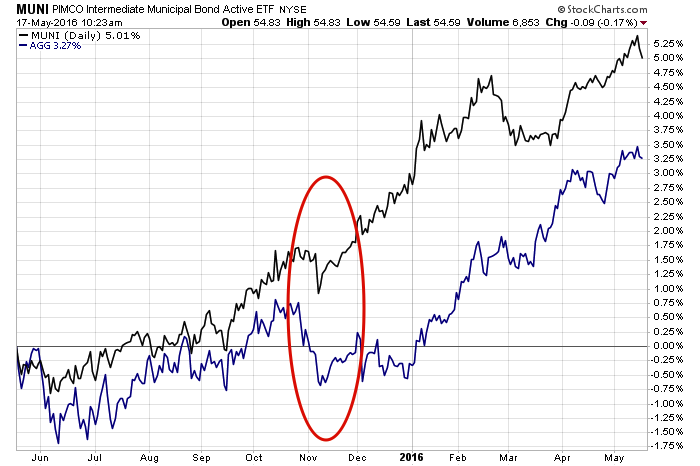 PIMCO's pitch for this fund is that issuer-specific due diligence is critical in the muni market given the differing conditions of states and cities around the country.
In the loser's column, advisors decreased use of GOOGL by over 15% week over week according to Mike McDaniel's, Riskalyze CIO. Microsoft shares popped up there too, which makes sense in the context of the Nasdaq's glaringly obvious breakdown relative to the overall market.
*(to state the obvious, Riskalyze does not share client sensitive data with me or use animals in testing).