At the request of so many investment advisors, my friends at Riskalyze share the big trends in the assets going into and coming out of advisor portfolios every week. The underlying data is aggregated from hundreds of thousands of client accounts across the $120 billion and counting that advisors manage on the Riskalyze platform*. I hope we can uncover interesting trends for you each week…

January 31st – February 6th
Winners (advisor flows TO these investments increased substantially):
Starbucks (SBUX)

3-7 year US Gov Bonds (IEI)

US Growth (VUG, IVV)
Losers (advisor flows FROM these investments increased substantially):
FTSE All-World ex-US (VEU)
Emerging Markets Sov Debt ETC (PCY)
1-3 Year Credit Bond (CSJ)
Josh here – an interesting thing happened in Starbucks last week, it closed below its 200-day moving average for the first time since last August's mini-stock market crash.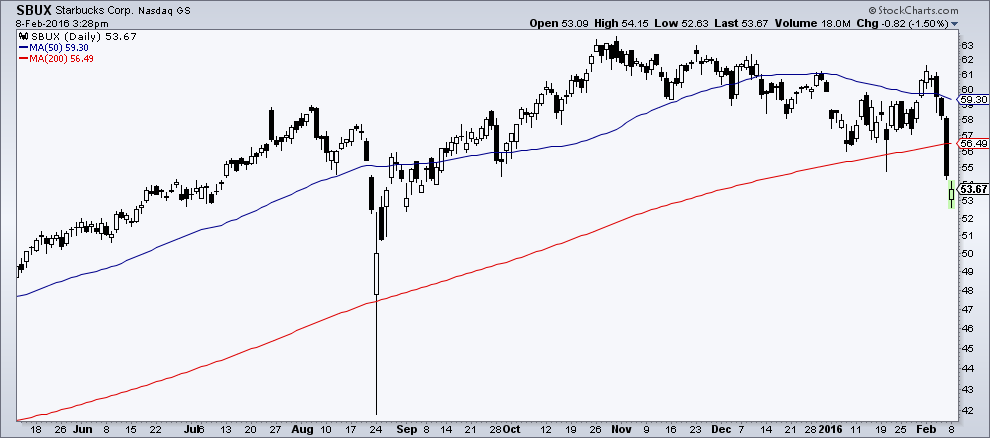 SBUX is one of those bulletproof secular growth stories and a highly coveted position among retail and institutional investors alike – nobody parts with it lightly. So the selling in this name way below the 200-day is somewhat notable as a gauge of real investor stress and / or fund redemptions.
But advisors came in and bought the dip.
According to Riskalyze CIO Mike McDaniel, "Advisor use of Starbucks jumped 10% week over week."
Importantly, advisors have yet to fully commit to buying the stock market dip generally. We see the 3-7 year US Gov Bond ETF (IEI) – often a risk-off proxy position – still among the top three assets bought in advisor managed accounts last week. Usage of IEI increased in use by over 10% week over week.