At the request of so many investment advisors, my friends at Riskalyze share the big trends in the assets going into and coming out of advisor portfolios every week. The underlying data is aggregated from hundreds of thousands of client accounts across the $120 billion and counting that advisors manage on the Riskalyze platform*. I hope we can uncover interesting trends for you each week…

January 17th – January 23rd
Winners (advisor flows TO these investments increased substantially):
US Gov Treasury Bond (TLT, IEF)

Real Estate (IGLAX, DFGEX)

Microsoft (MSFT)
Losers (advisor flows FROM these investments increased substantially):
First Eagle Global (SGENX)
Russell 1000 (IWF)
Russell 1000 (IWF)
Josh here – as the bear market worsens, everyone chases the long bond and gets risk-off. I get it. No fun out there these days in the equity markets.
Mike McDaniels from Riskalyze tells me that advisor use of TLT increased 15% week over week, quite a jump for an asset class like this. TLT is the iShares 20+ Year Treasury Bond ETF. Historically, it zigs when the stock market zags and its also used a safe haven of sorts or a hedge.
Because the yield is so paltry at today's elevated levels (2.6%) for such long duration, it's a safe bet that the inflows are being driven by fear more than greed. Or, driven by recent performance, which has been strong to quite strong.
In my chart below, you'll see how TLT has helped portfolios offset the plunge in the S&P 500: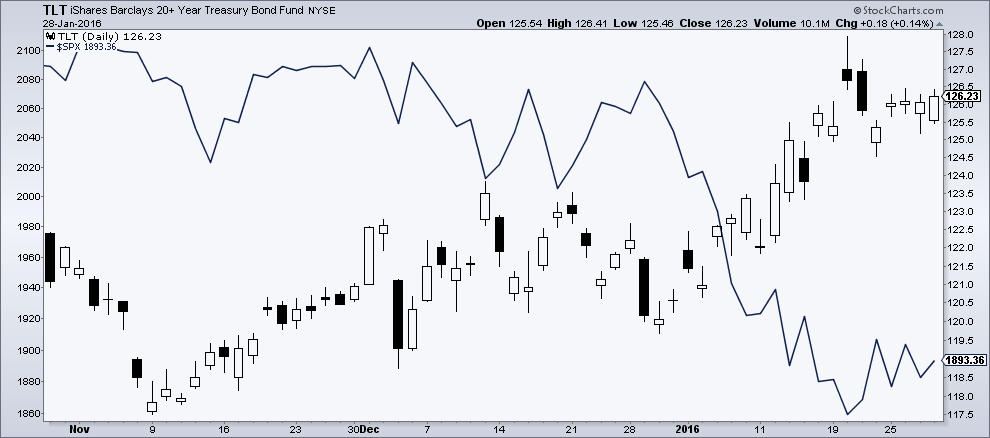 Elsewhere, Riskalyze notes that all of the top three losers saw advisor use drop by 10% week over week. Somebody's liquidating First Eagle Global in size.