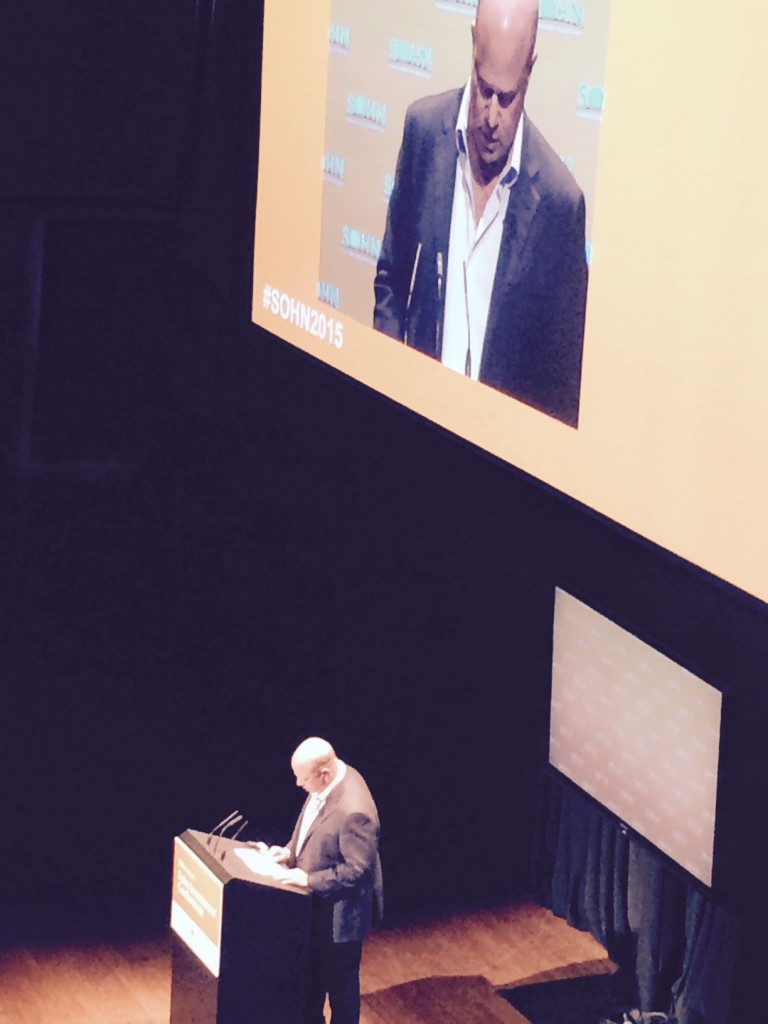 Part III! Check out part I and part II in case you missed them! Here's the conclusion: 
***
David Tepper, Founder, Appaloosa Management, L.P.
He's the man, obviously. In case you hadn't yet read my up close profile of Tepper from the SALT Conference click here and read it: The Apotheosis of David Tepper
Bloomberg's Stephanie Ruhle (I love her) intros David Tepper. Tells a story about how "Maybe he couldn't cut the mustard" at Goldman, which is why he never made partner. LOL
"I'm not going to be too sophisticated, I'm gonna bring things down a little bit from Gundlach." Big laugh.
"Something has to give in stocks – either stocks have to go up a hell of a lot or treasurys are going to go down a hell of a lot." He's got a chart of bond spreads vs the equity risk premium.
Regarding what's changed since November and now – the big change is that the ECB has begun a massive QE and China was incredibly tight. Now it looks like China is going to do something similar to what we did – "something that you could call monetization of debt."
"Don't fight the Fed? Now you're fighting four Feds."
China H Shares only trading at 10x earnings.
"You never want to short things with options that lengthen. Equities are just options on the firm." He sees a lot of room on Chinese equities.
"I have six minutes left. I should probably sell some of those minutes to Ackman, 'cause he's probably going to need it." LOL
Commodities could rip also because China is now cutting. "You've got to think about what that's going to do to things you own." He sees this as negative for bonds. "Bonds are just horrific in that environment."
Tepper was highly unspecific but the general gist of his commentary was that it's still full speed ahead so long as the liquidity pump around the world continues.
Magnus Carlsen, World's #1-Ranked Chess Player
"The Mozart of Chess" playing blindfolded on stage against three opponents in tandem. He only has 3 minutes to defeat each player, so nine minutes in total. Was the second youngest grand master in history, at the age of 13. Magnus is like 24 now.
Chris Flowers (of Too Big To Fail fame) is one of the challengers!
What followed was very bizarre, I can't really explain it but here is what it looked like: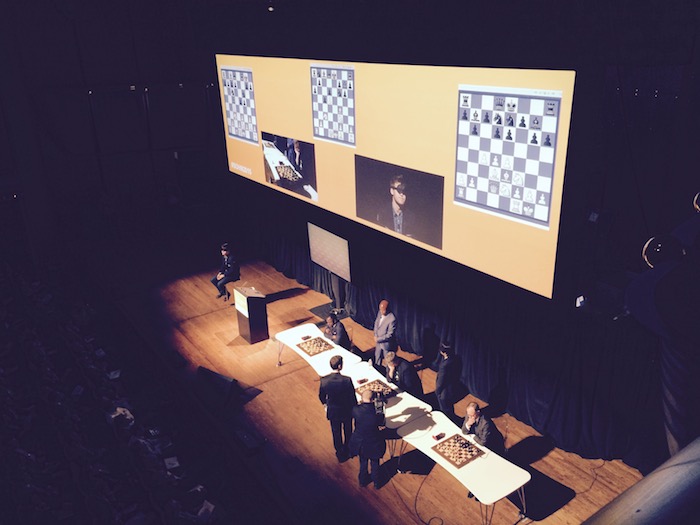 And then Magnus won the whole thing – all three boards over the course of nine minutes, blindfolded as the judge read out the moves his opponents were making. This kid is a witch of some sort, from the north.
Ian Bremmer, President and Founder, Eurasia Group, Ltd.
"Geopolitics is back! Back on the front page. We thought we were done…"
Mentions stuff like the British defying the US and joining China's new Asian development bank, Netanyahu defying the White House by speaking here. "This is foundational stuff happening. It's not a coincidence. Our willingness to engage in fights around the world is lessening, and our allies sense it."
Bremmer's premise is that we are still intervening – but we are doing it unilaterally. "Cyber security and espionage, drone strikes, financial weapons like the dollar. This unhinges the rest of the world" and other countries that used to be steadfast allies are reacting accordingly.
"The Transatlantic relationship is now the weakest its been in 30 years."
"There are far too many reasons the Middle East is imploding." Libya, Iraq and Yemen all fell apart with little, to a lot, to zero involvement from the US.
Drop in oil makes it so security in the Middle East falls apart every day. "If the US doesn't stand up and Europe doesn't stand up, there are plenty of regional players who will. The problem is they all hate each other."
Putin's invasion of the Ukraine has done more for him at home, politically, than anything else he's done since the year 2000 when he became the head of the country.
"Economically, the Chinese government DOES want to challenge the American order of things. That's why they're spending a trillion dollars around the world."
"There's only one country of scale in the world with a cohesive global policy right now. It's not us. It's China." China's influence will spread from the Kazakhstans and the Mongolias outward to Australia and Europe. This means government will have more involvement as policies go from free-market to strategic. Geopolitics are going to play a far bigger role in capitalism as China overtakes the US as the world's largest economy and widens its influence around the world.
William Ackman, CEO and Portfolio Manager, Pershing Square Capital Management, L.P.
"I'm going to talk about an interesting phenomenon – companies that have been perpetually undervalued." He mentions Berkshire and Jarden.
Shows a few SPACs where there was a transaction, and all of a sudden the business doubles in value. "Wall Street has trouble valuing platform businesses." The opportunity for investors is that The Street is looking at next year's earnings, not the long-term value of the platform. His friend Martin Franklin (GLG) is the guy behind some of these SPAC deals.
Ackman says complicated accounting and episodes like the Tyco fraud is what keeps people from liking platform companies. Valeant is Ackman's pitch. Calls it "an under-appreciated platform."
"You could say we're late to the party" on Valeant. "We bought 20 million shares at 196 bucks a share a month ago, we put 20% of our capital into it." The stock already returned 4500% for shareholders over the last 7 years..
Ackman says management at Valeant reminds him of Martin Franklin's success at Jarden, except Valeant's CEO "has a bigger world to play in" – meaning the pharma industry.
They're misunderstood on Wall Street so, while their access to capital is good now, it could improve further.
The example of Valeant acquiring Bausch & Lomb from a private equity firm is used to demonstrate Valeant's success with growing the businesses they buy while taking out costs. B&L went from being worth $8 billion to $27 billion in a few years.
"The market seems to continually be behind in valuing this business."
His thesis is that analysts don't have a platform valuation methodology, which is the huge opportunity for investors. He says it should trade above $250 given a 16 multiple.
He says things get really interesting should they get a really big deal done, like what they attempted with Allergan.
***
That's all for me today. I hope you've gotten some interesting things to think about from my notes today. Thanks for reading!