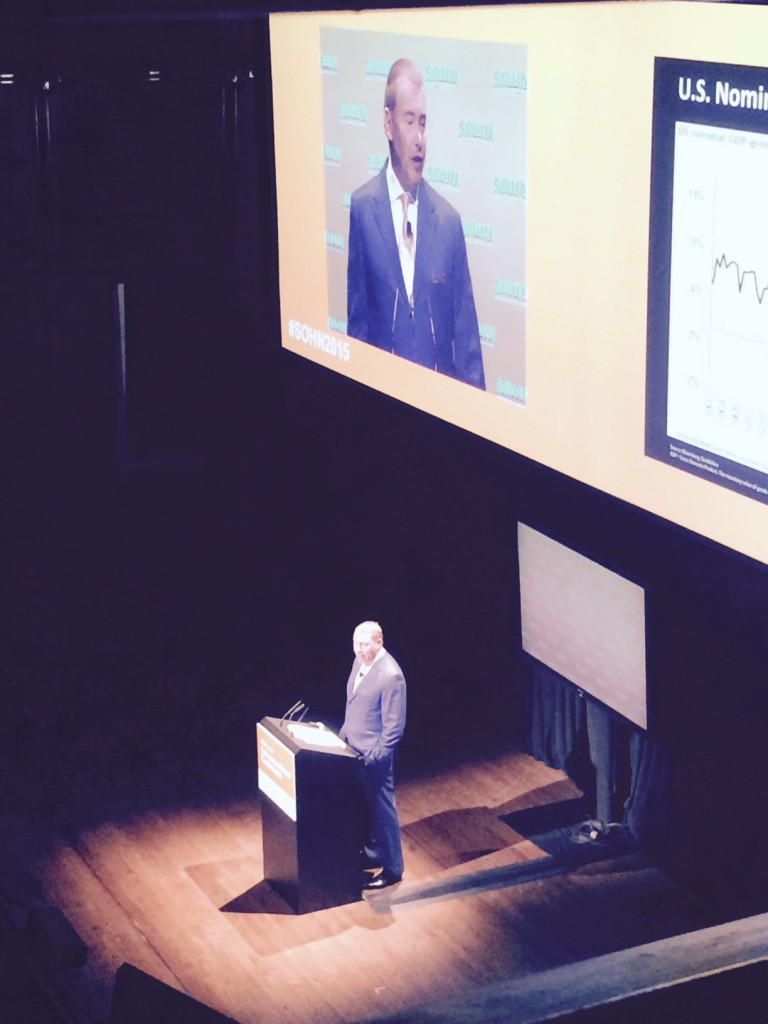 DoubleLine Capital's Jeffrey Gundlach takes the stage
See Part I if you missed it, includes commentary from Leon Cooperman and others!
***
Larry Robbins, Founder, Portfolio Manager, and CEO, Glenview Capital Management LLC
He's still bullish on the overall market. "20 years ago, the S&P 500 was selling at 515 and somebody came up on a stage just like this one and told you it was massively overvalued."
Capital is still cheap. It pays to play the theme that companies can borrow for nothing and leverage on your behalf as a shareholder.
He says AbbVie falls into this category. Pretty cheap, 12.5x 2016 numbers. Excess cash or borrowing capacity of $20 billion. They can buyback or make deals. Humira drug is the largest in the world. The big debate on Wall Street is if they'll lose their patent to biosimilars. "Even if biosimilars are introduced in 2017, the company will still grow earnings by 8-10%."
He sees a lot of catalysts in the pipeline. $18 billion in pipeline versus Street's pricing in about $6 billion in value.
He also thinks making a biosimilar for something like Humira is 1000 times harder than making generic tylenol. State by state is another protection – some states are banning biosimilars for health concerns,
US patent protection for Humira through the years 2022 – 2026.
Needle-less injection method coming soon, will allow them to maintain their favorable advantages on the drug.
Sees continued margin improvements for AbbVie as well. Sees tax savings possible and more buybacks. Could add 15 dollars to the share price through repurchasing 30% of their shares through year-end 2017.
There's also always the chance they could be acquired. Thinks the stock could double from here.
Robbin's only had 2 minutes left to discuss Brookdale Senior Living, another of his picks. 65 million elderly Americans live within 10 miles of a Brookdale facility.
Break-in: 
We are told that the Ira Sohn Foundation has raised $60 million for pediatric cancer research over the last twenty years, including $4 million today alone. How awesome is that?
Mala Gaonkar, Co-Portfolio Manager, Lone Pine Capital LLC
Gaonkar has been with Lone Pine since 1998. We've been told that Lone Pine has "easily one of the best track records in the industry."
One of "our most debated ideas" at Lone Pine: The value hidden in legacy tech. Specifically, her idea is long Microsoft.
Four reasons:
Management – prior management was stuck in the "innovator's dilemma". Satya Nadella built cloud business. "There's no more screaming about 'Save Windows First.'"
Growth – Consumer Windows is tiny – 5% of top line revenue. IBM's mainframe biz is still currently $5 billion a year. "Changes are very expensive." Enterprise software spend is growing steadily. Only flattened during the crisis. Cloud software sales are doubling each year, meanwhile. Most people don't understand that most of the cloud software spend is happening with legacy tech companies like MSFT. Microsoft is driving paid users like crazy built off of Office installed user base, bundling things like Skype minutes, Dropbox storage space etc.
Operating cost cuts – each group inside MSFT has its own P&L. "It will take a long time to turn, but turn it will."
Capital Return – "No earthly reason for this level of cash." Thinks buybacks will increase and continue.
Her 2016 estimates: $106 billion in revenue, growing 9% a year, with almost four bucks a share in earnings.
Sohn Investment Idea Contest
The kid who won is introduced by Joel Greenblatt. He pitches IAC Corp as a free option on Tinder, which it owns a stake in. "This is the way we will date from now on. To use a phrase that all of you can relate to, Tinder is bringing liquidity to the marketplace." He goes on to point out the paid version's revenue growth, user metrics, etc. This is a great idea. The kid's funny too.
Jeffrey Gundlach, CEO and CIO, DoubleLine Capital LP
"I'm looking for a loan. Short-term is fine. I'll pay negative 1." – an allusion to Germany's current yield.
"Borrow infinite amount at negative interest rates."
Goes into a really complex explanation of Mondrian's abstract art. "The king of reductive painting." Cites Hemingway as the king of reductive writing.
"All the Fed, all the time" – how reductive financial analysis has become. "Zero percent interest rates are now knitted into the fabric of investors' bones."
Jeff is looking at nominal GDP, believes that rates are bottoming. 10-year treasury could not take out the low of 2012. 2-year rates bottomed four years ago.
Thinks high yield bonds are at risk. "No one in this room has lived through a secular interest rate rise in high yield bonds." High yield bonds do not do well versus treasurys once the Fed starts raising interest rates.
"But I'm not that concerned about the high yield bond market yet – because there are no maturities." He cites 2018-2019 as Doomsday. Fed-held treasury maturities spike around the same time. The default rate for high yield bonds will not be the same in secular rising interest rates.
Puts up a slide about Fidel Castro – "Our new friend and ally." Crowd laughs. He wants to talk Puerto Rican muni bonds. "My recommendation for a risky thing to buy – Puerto Rican muni bonds have priced in a lot of problems." He thinks they could get cheaper so he's just begun to buy. Plans to average in over time. "I think these bonds go lower, but I think you start buying them." "They're priced for default, but paying monthly – you only need a few coupons to drastically lower your coast average."
***
Come back for Part III, featuring William Ackman and David Tepper!