My friends at Riskalyze share the stocks and funds that advisors all over the country have used in their clients' accounts each week*. This data has been aggregated from across the client accounts of the thousands of advisors who use the software. Most of it comes directly through the third-party custodians where advisors' assets are held. I hope we can uncover interesting trends for you each week…

January 18th – 24th
Winners
(advisor flows TO these investments increased substantially):  
Chevron (CVX)

DFA Funds

Cash / Money Market
Losers
(advisor flows FROM these investments increased substantially):
Telecom (VZ and T)

Marketfield (MFLDX)

Emerging Markets (EEM)
Josh here – once again DFA funds appear among the most added holdings across financial advisors' portfolios this week and cash for some reason hit the winners list as well. In the meantime, it's cool to see Chevron common stock make an appearance – someone's out there unperturbed by the fact that earnings for the major integrated oil name will be down significantly in 2015. CVX pays you a dividend of almost 4% while you wait for either oil prices to recover or te market's expectations to get too dire. It's worth noting that, technically speaking, CVX made a "higher low" during the last oil stocks purge and sells at a 25% discount to its price last summer.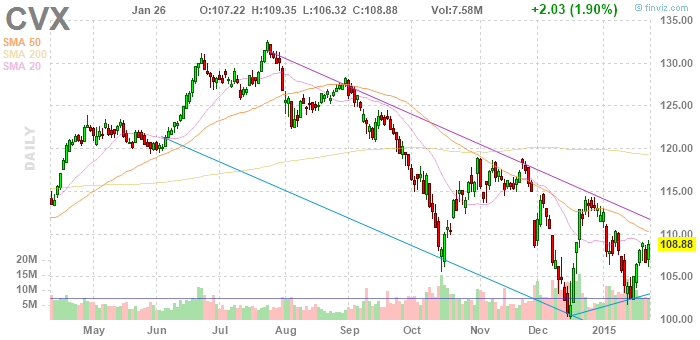 Turning to the losers column, we see continued outflows tactical shop Mainstay Marketfield, which badly missed its cues last year and delivered advisors' clients a double-digit loss last year versus the mid-teens return of the S&P. Is this a case of giving up on a strategy prematurely because of one bad year or have advisors lost faith in the overall concept? EEM, the largest emerging markets ETF was also for sale last week. The fund – and emerging markets indices broadly – is up almost 4% year-to-date.
A word about Riskalyze:
In my practice, we use Riskalyze software tools to help assess clients' true risk tolerance and to test portfolio configurations that match up accordingly. It's changed our practice for the better, as I explain here.
*(to state the obvious, Riskalyze does not share client sensitive data with me or use animals in testing).