Below, my notes from the middle panels of the day. If you missed my notes from the first few of the day, they're published already – right here.
The middle panels of the day consisted of insights from Leon Cooperman (who came over and said the nicest thing to me I've ever heard, I'm still blushing), Mike Novogtatz of Fortress, Larry Robbins of Glenview, Stanley Druckenmiller and Governor Chris Christie. Check it out below!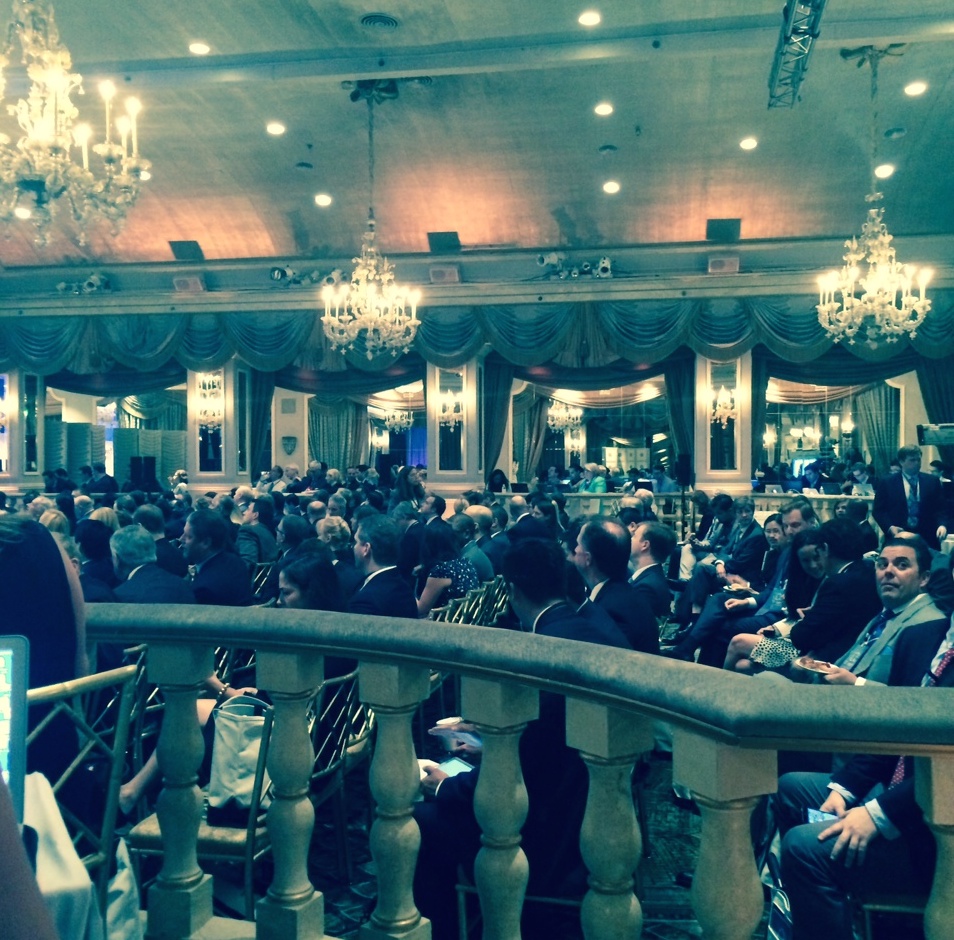 10:30 – 11:15 a.m. BEST IDEAS
Panelists:
• Leon G. Cooperman, Chairman, Omega Advisors
• Larry Robbins, Founder, Portfolio Manager and Chief Executive Officer, Glenview Capital Management
• Michael Novogratz, Principal and Director, Fortress Investment Group
Cramer and David Faber moderating this one, from the side of the stage.
Michael Novogratz comes out with some opening prepared spiel about how macro has been a challenging strategy to be delivering any kind of alpha this year. "Waiting for rates to rise is like the boy who cried wolf." He still likes the Japan trade, "I think this is the year that Japanese investors are starting to buy their own stocks. Buy the TOPIX instead of the Nikkei because those are the stocks the Japanese are buying." He says there's a lot of synchronization between how Japanese people act – "Go to the disco, all the girls have the same dress, the same bag, do the same dance." He says you'll see that in how Japanese investors begin to behave – "Once one pension fund manager starts to buy stocks…"
Novogratz also likes India and believes the Modi trade will work. Touches on Brazil, still believes it's "So bad, it's good." Stay long Brazilian stocks and Brazilian interest rates.
David Faber asks Novogratz about Argentina. He thinks the bonds are the trade.
Cramer asks about the Japan trade: Will we ever see a moment where retail investors in Japan really believe in their own stock market? Novogratz: "The wealth in Japan is held by the very oldest people, 60 to 80 years old." He believes that they will eventually move from fixed income to equities.
Leon Cooperman chimes in and says that what's gone on with policy in Japan is like if the US went from Volcker straight to Bernanke with no one in between.
Cramer asks Novogratz about Brazilian stocks like Vale – "I believe that Petrobras and Vale could move straight up if Dilma loses the election."
Cooperman takes the podium. His opening crack is "I thought this was going to be a panel of heavyweights…what's Novogratz doing here?" Crowd laughs. It's cool, they're friends in real life.
He reviews the picks he rolled out last year (he did well). "I'm not as optimistic as I am about my picks this year as I was last year. The market is fully valued – not overvalued, but right at fair value." One of his picks is a holdover from last year, Thermo-Fisher Scientific. He also likes Citigroup and Actavis (ACT). On his dividend picks Atlas Energy LP, Gaming and Leisure Properties, KKR and Nordic American Offshore: "I like income. They say income is like sex, when it's bad it's good and when it's good it's really good." LOL
He's also got Supervalu, QEP Resources and Sandridge Energy on his list.
Cramer asks Cooperman about the idea that we're in a major oil renaissance. "I read annual reports." Lee is no bullshit, a bottom's up value investor who doesn't get caught up in thematic claptrap.
On buying Citi stock: "If you buy something out of favor, things seen to happen to make you right." What about Bank of America? "I missed that one. I should've stepped into the same bathtub as Warren Buffett." LOL
Also: "If every stock you own is on the new high list, you're a momentum guy. If every stock you own is on the new low list, you're out of business."
What about how the market reacts if rates rise? "The last time the Fed raised rates was 2006. About a quarter of all fund managers were playing little league baseball at the time. Of course there'll be a reaction."
Lee doesn't think we're at the Euphoria phase in the markets yet, but we're getting there.
Larry Robbins takes the podium. His single best idea is a theme – companies should be levering up now, to buy back their own stock or to make acquisitions. "It's like playing cards face-up right now." He says the cost of debt is half that of what it was in 2007 while the S&P's PE multiple is about the same.
He points to a recent raise of 50-year bonds by Monsanto at a rate of 3% which will allow them to deploy capital and buyback stock with an earnings yield of 6%. He says this opportunity is available to everyone. He likes Flextronics as well, they've just gotten approval to buyback up to 20% of their own stock from the government of Singapore. NCA, HTZ and NOV are all on his list as well, for the same reasons.
Robbins's new idea is National Oilwell Varco (NOV), which has net debt of zero, $300 million in cash, is currently reviewing its capital plans. Robbins says they'll probably conclude that they can lever up, retiring about $14 billion worth of stock.
Cramer asks him about why Thermo-Fisher Scientific (TMO) is still so cheap. Robbins blames sequestration hangover and that the market doesn't appreciate the smaller units within the company that are more cutting edge.
Faber asks Robbins about Hertz, specifically the management. Robbins likes the split-up of the company they're doing but thinks keeping such low leverage is irrational. Wants the board to revisit that to improve shareholder value. He also thinks the company needs to bring back stronger prices, not try to underprice competitors in the car rental market.
11:15 a.m. – 11:50 a.m. KEYNOTE
Stanley Druckenmiller, Founder, Duquesne Capital & Chief Executive Officer, Duquesne Family Office
Interviewed by: Joe Kernen, Co-Anchor "Squawk Box", CNBC
Okay, I missed most of the Stanley Druckenmiller stuff because I was called to the set of my TV show, The Halftime Report, which we did live from the conference. Videos will be up later.
Suffice it to say, Druckenmiller is on the other side of the panelists from this morning about Yellen's measured pace with ZIRP / Taper. He wants her to move now, ahead of time, because he thinks the Fed has no ammunition for if something bad happens given where they're already positioned on rates and stimulus. He's worried about geopolitical surprises and commodity or oil shocks. He's basically saying we're in a position where the Fed will be useless to counteract whatever the next crisis is.
I get it, just not sure it's wise to be raising rates with a negative GDP print in the first quarter of this year. Priorities. But look at me editorializing…
Also, don't tell anyone, but I'm pretty sure I saw Lloyd Blankfein, sitting by himself in the very back of the room for Druckenmiller.
12:20 – 2:20 p.m. LUNCHEON WITH KEYNOTE
Chris Christie, the 55th Governor of New Jersey
Introduced by: M. Barry Bausano, President – Deutsche Bank Securities Inc. and Co-Head Markets Prime Finance, Deutsche Bank
Interviewed by: John Harwood, Chief Washington Correspondent, CNBC
Okay, I also missed most of Chris Christie, because I was eating.
I didn't actually miss it, I just missed the chance to take notes. Because steak.
Overall, I thought he was great. If he had been in the last GOP Primary he would've blown every one of those nut jobs right out of the room. No breaking news from John Harwood's interview with him today but it was a great conversation, they really covered everything. Christie's most memorable line was about the recovery, which he's not impressed with. On Obama's role in that recovery, he says "Look, if the President's only job was to prevent absolute economic catastrophe, well, congratulations." He thinks a lot more could have been done given how lackluster this recovery has been relative to past recoveries.
***
Stay tuned for Part III, coming shortly!