361 Capital portfolio manager, Blaine Rollins, CFA, previously manager of the Janus Fund, writes a weekly update looking back on major moves, macro-trends and economic data points. The 361 Capital Weekly Research Briefing summarizes the latest market news along with some interesting facts and a touch of humor. 361 Capital is a provider of alternative investment mutual funds, separate accounts, and limited partnerships to institutions, financial intermediaries, and high-net-worth investors.
361 Capital Weekly Research Briefing
October 14, 2013
Timely perspectives from the 361 Capital research & portfolio management team
Written by Blaine Rollins, CFA
Why did the bassist smash the guitar?
He bet on October 13th in the office pool for a Congressional deal to raise the debt ceiling.
He tried unsuccessfully 40 times in 11 days to log into HealthCare.gov
The concert promoter didn't remove the brown M&Ms.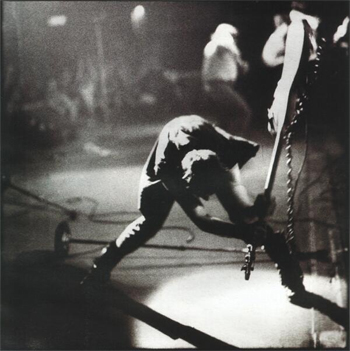 Paul Simonon from The Clash smashing his Fender Precision Bass against the stage at The Palladium in New York. (Pennie Smith, 1979)
Washington D.C. quotes of the week…
BREAKING: Washington Redskins drop 'Washington' from name because it's embarrassing (@th3j35t3r)
"I wouldn't let the Republicans market an iPad. They can't market anything." (@beckyquickcnbc: Jack Welch on @SquawkCNBC)
"Twitter, operated on $360 mln for 5 years until 2011, some how the Affordable Care Act website spent $630 mln since 2011?" (@Convertbond)
"I'm confident the Republicans will allow the government to open and extend the ability of this country to pay its bills, and I'm going to do everything that I can throughout the day to accomplish just this." (Senator Harry Reid on Sunday)
"Investing now is like taking a shower while Norman Bates is somewhere in your home." (Barron's)
What to think about the 'Psycho' markets…
Investors expected a deal by now. Instead we are at a standoff. The GOP wants something, anything for their 33.3% slice of the American government. Meanwhile, the Dems with their 66.6% are ordering deep fried elephant jugular with a rosemary and thyme dipping sauce. So off we go, into the wild blue yonder? The markets aren't waiting and are betting on a disruption to occur this week as short term yields launch along with the VIX and credit default costs.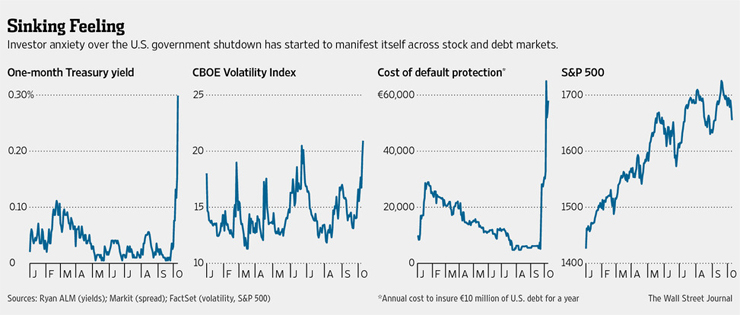 Fidelity is one reason for the spike in yields at the short end…
NEW YORK (AP) — Fidelity Investments, the nation's largest money market mutual fund manager, has sold all of its short-term U.S. government debt — the latest sign that investors are increasingly nervous about the possibility of a government default. Money market portfolio managers at Fidelity Investments started selling off short-term U.S. government debt a couple of weeks ago, Nancy Prior, president of Fidelity's Money Market Group, said Wednesday. While Fidelity expects the debt ceiling issue to be resolved, the Boston-based asset manager said it has taken steps to protect investors. "We expect Congress will take the steps necessary to avoid default, but in our position as money market managers we have to take precautionary measures," Prior said.
If you work at a company with exposure to either direct or indirect Government funding, you are now feeling the impact…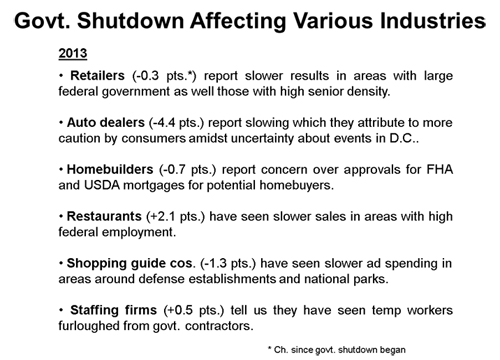 (ISI Group)
The impact also beginning to show up in the various Consumer Sentiment readings…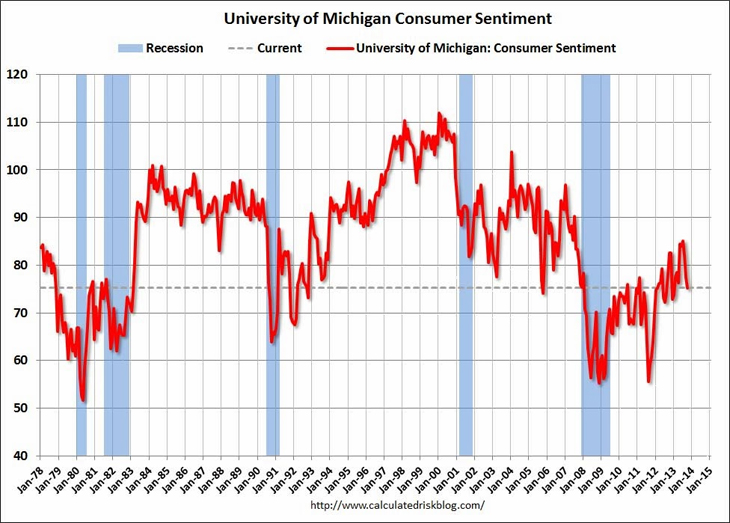 At least one person in Washington, D.C. had a great week…
@jbendery: Janet Yellen is pretty happy.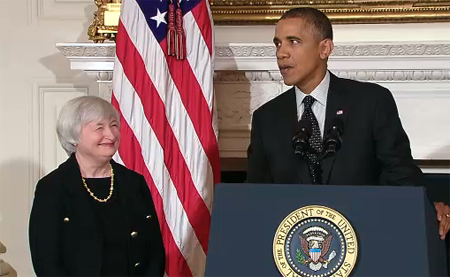 Some charts are ignoring the theatrics in Washington, D.C., like Small Caps…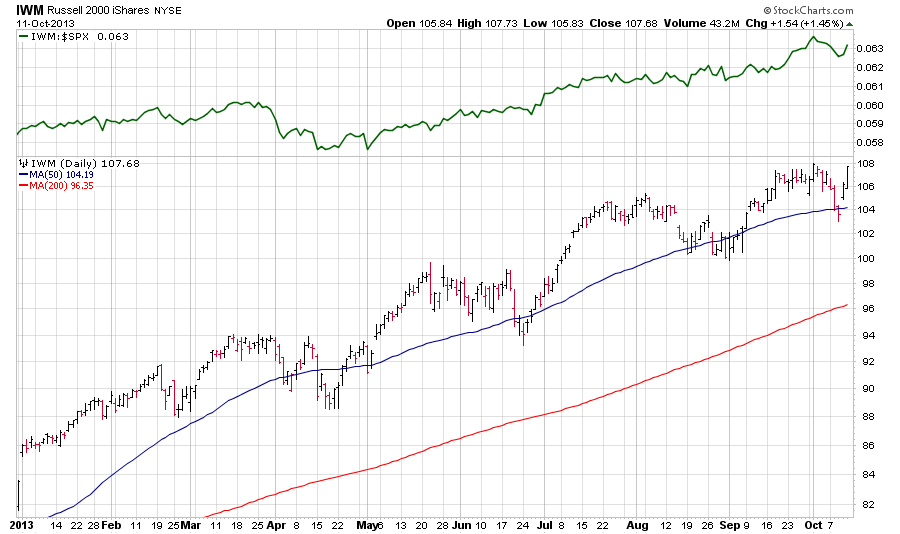 And Germany ignores U.S. politics as Europe continues to move forward…
@ukarlewitz: Germany's DAX closed at an all time high today. Ex-US has been a beast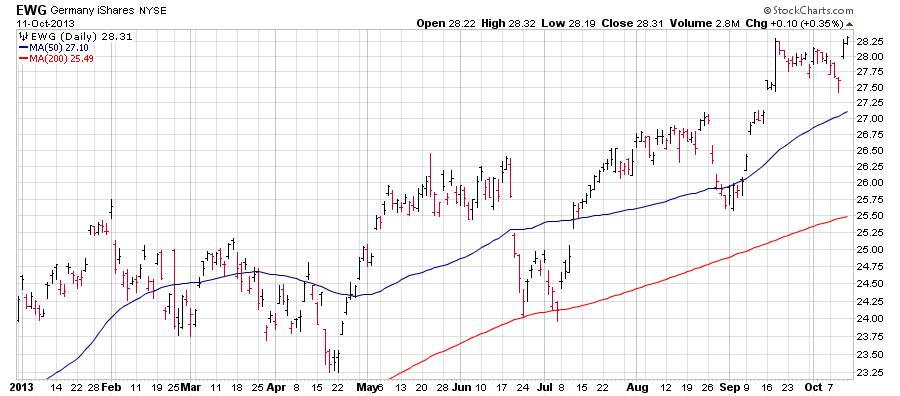 And while Crude Oil is off its high, Oil Service stocks march toward new highs…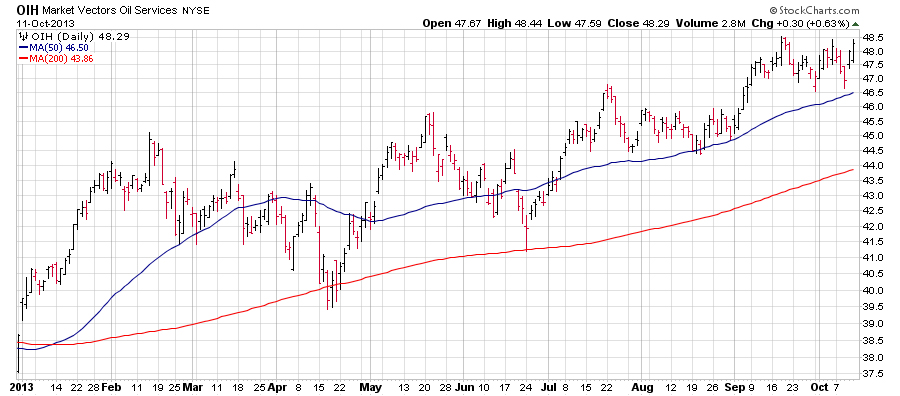 Gold gets no help from 1) Fiscal Irresponsibility, 2) Dovish Yellen taking the big chair, 3) Bottoming in EM…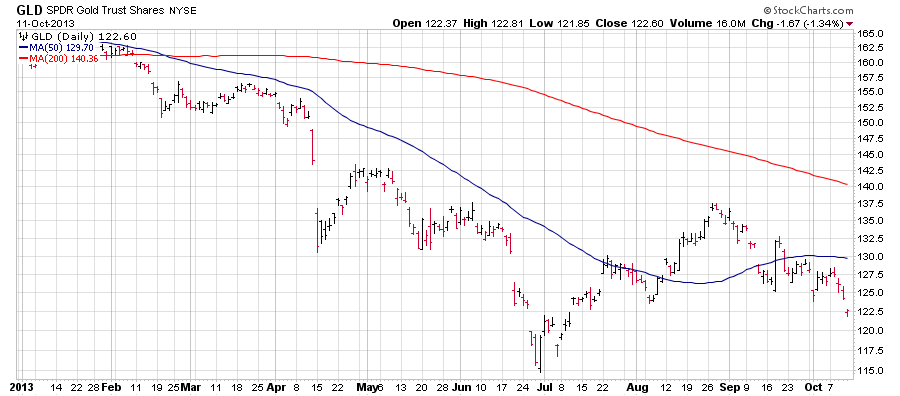 The 2nd largest stock in the U.S., Exxon Mobil, remains on a death march…
@chessNwine: Go home $XOM. You're drunk.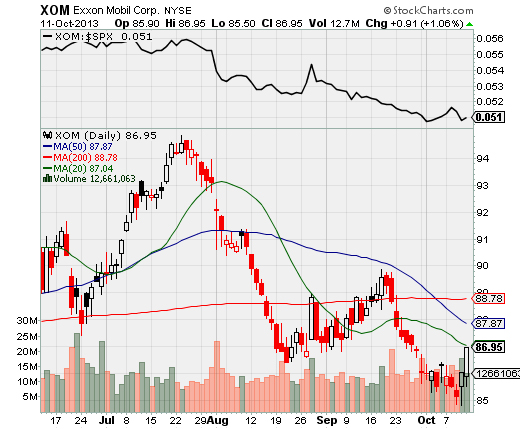 Leuthold Group points out that Global Valuations have recovered, but are not rich by any means…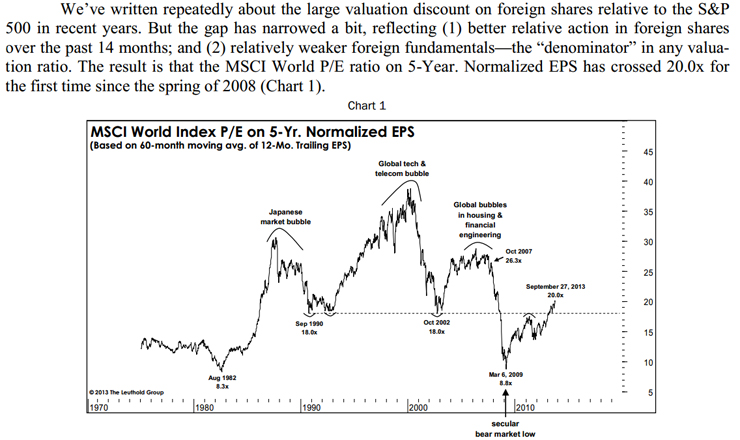 (TheLeutholdGroup)
A great chart of total Global Managed Investment Assets…
@bySamRo: A breakdown of who's managing $89 trillion worth of assets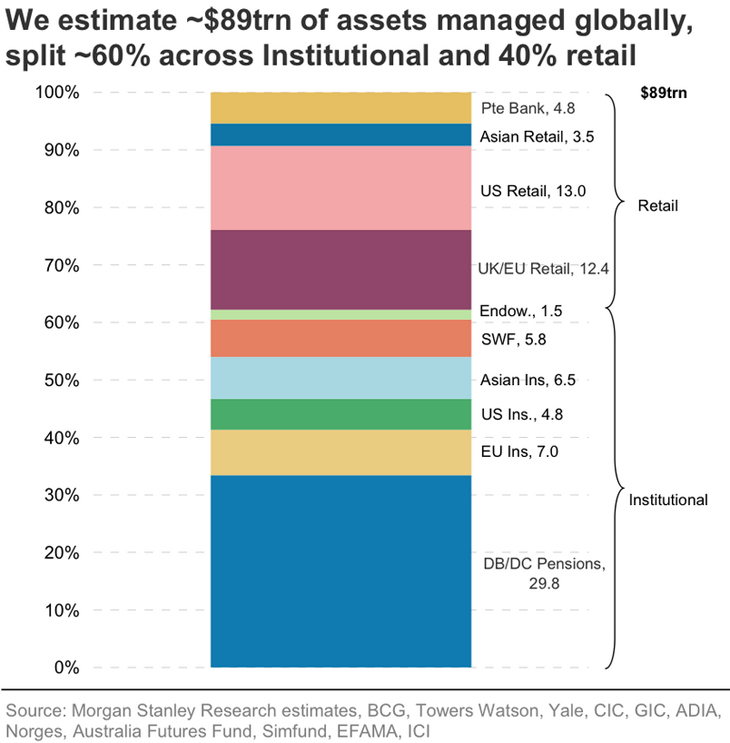 Only a few bank earnings to look at for the Q3, but the Net Interest Margins came in better than expected and bank stocks jumped…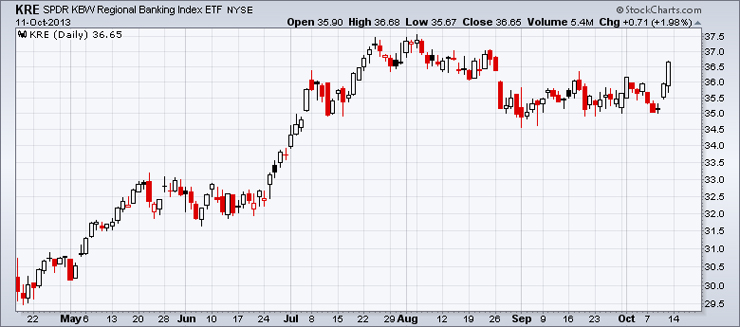 Plenty of new earnings data to look through for the rest of the week…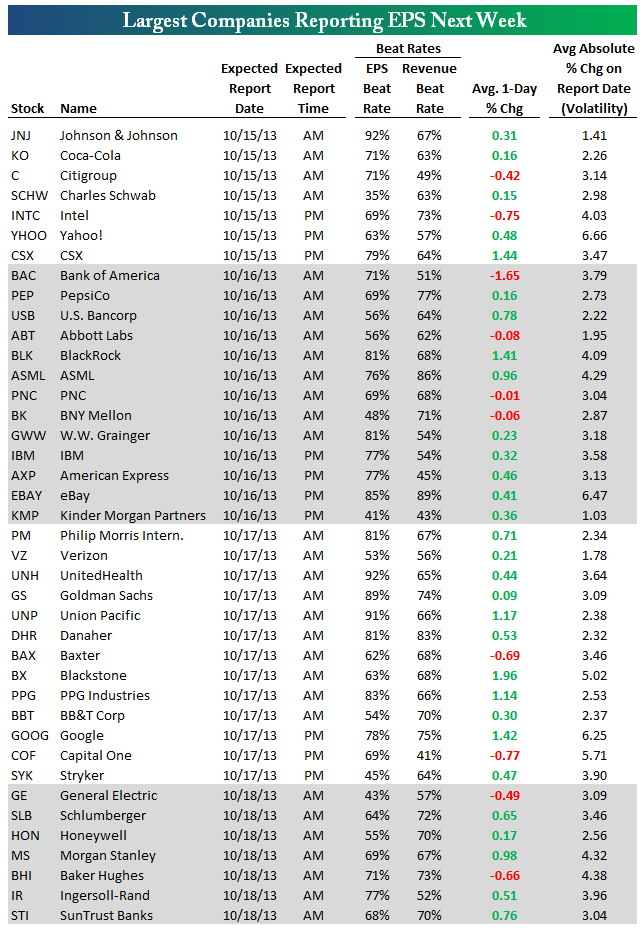 For the week, most sectors gained with defensive sectors leading…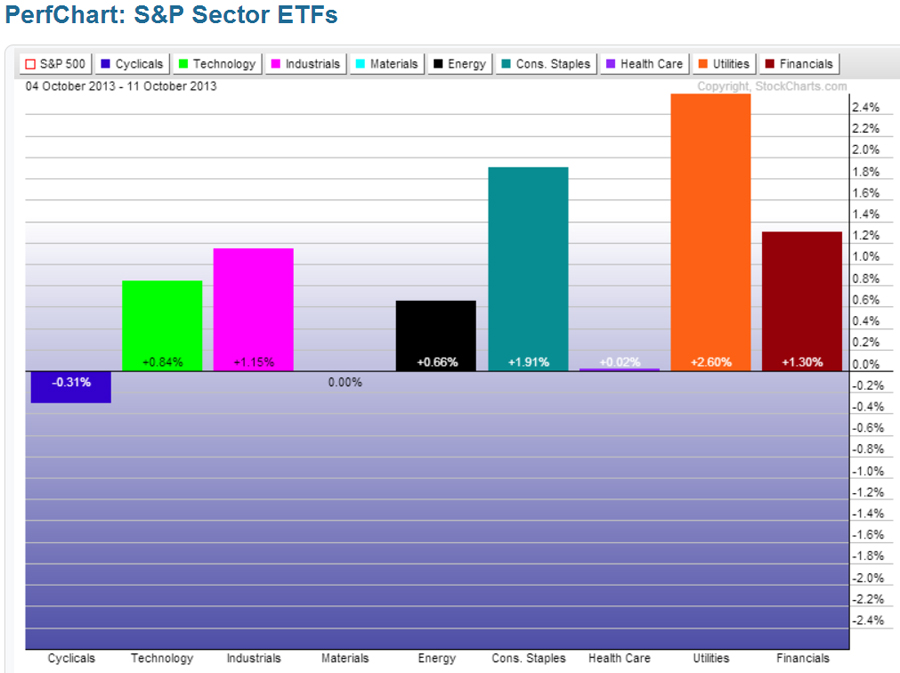 Besides Defensives, International Equities also did well. Gold, Internets, & Biotechs underperformed…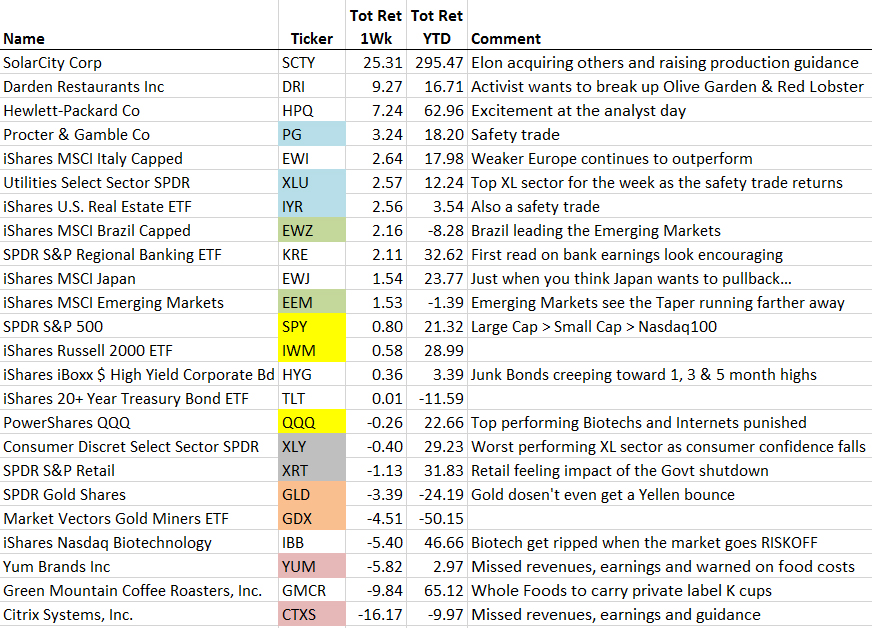 A glance at the largest market cap stocks hitting all-time highs…
A Canadian Bank, a couple energy names (even with oil prices in retreat), Kroger and its arch-nemesis Whole Foods (interesting given the little food inflation), drug distribution (gets paid easier with O'Care), and of course the rapidly growing Macao pure play.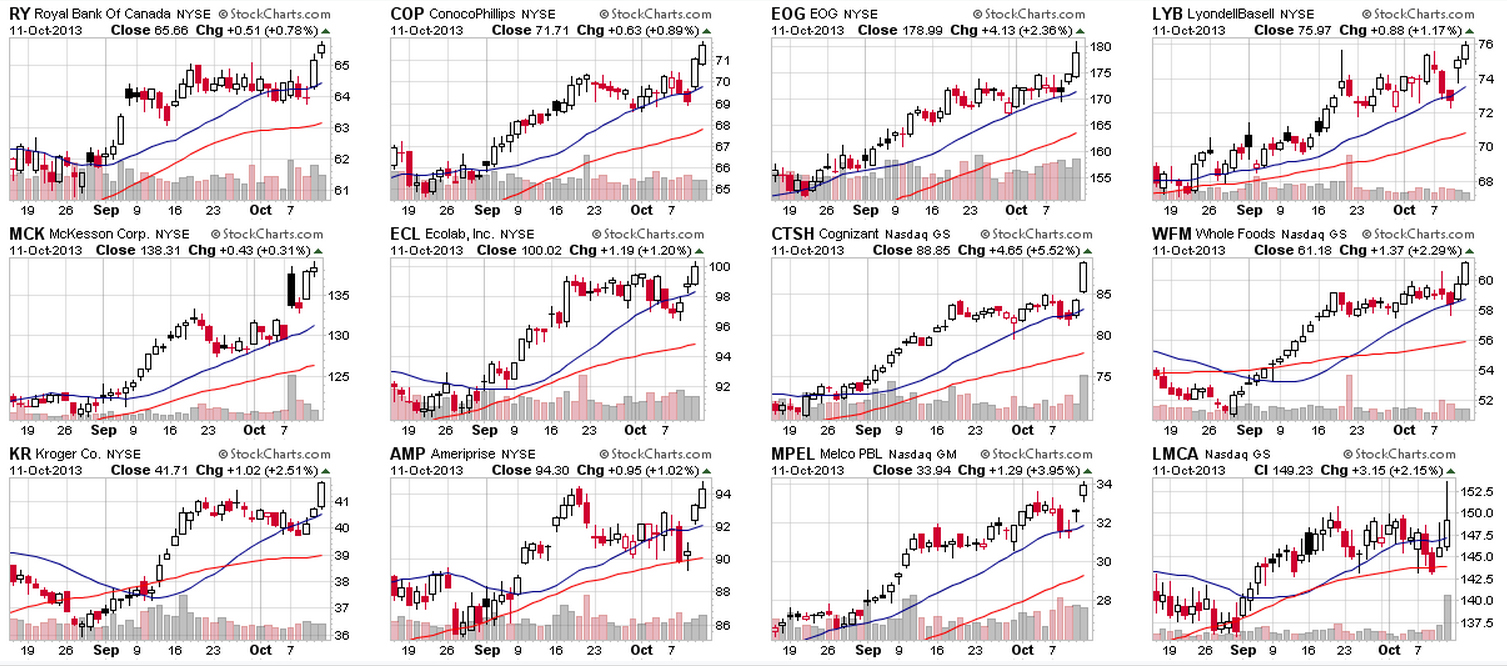 A snapshot at monthly mutual fund flows shows investors are most focused on non-U.S…
And Mr. Florence, look at the demand for Alternative mutual funds.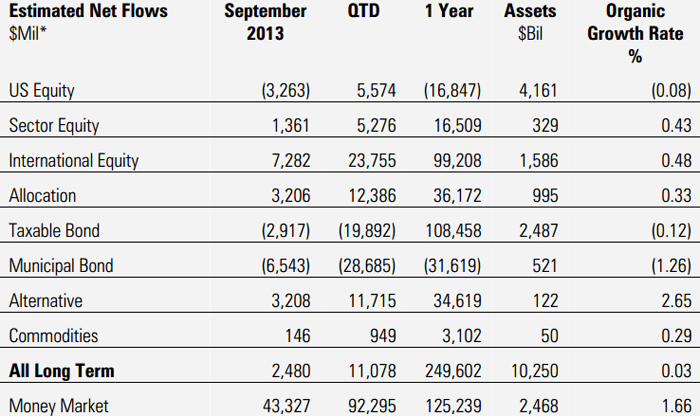 I would think twice about initiating new positions in Canadian real estate today…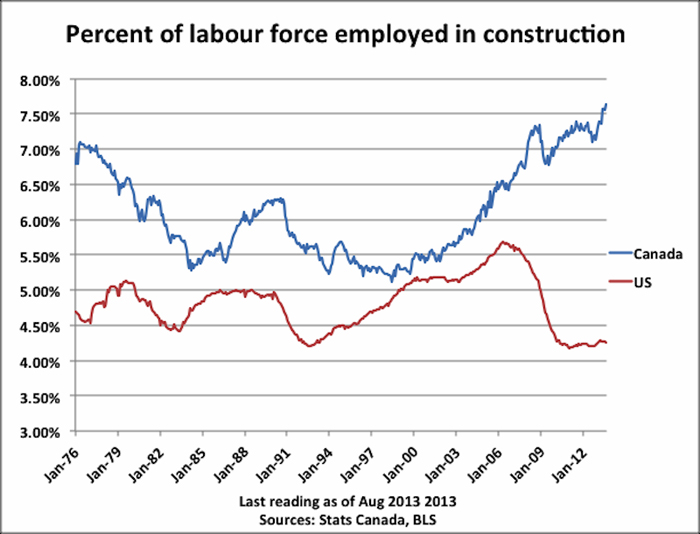 If you are looking for new customers for your business, focus on the light blue States…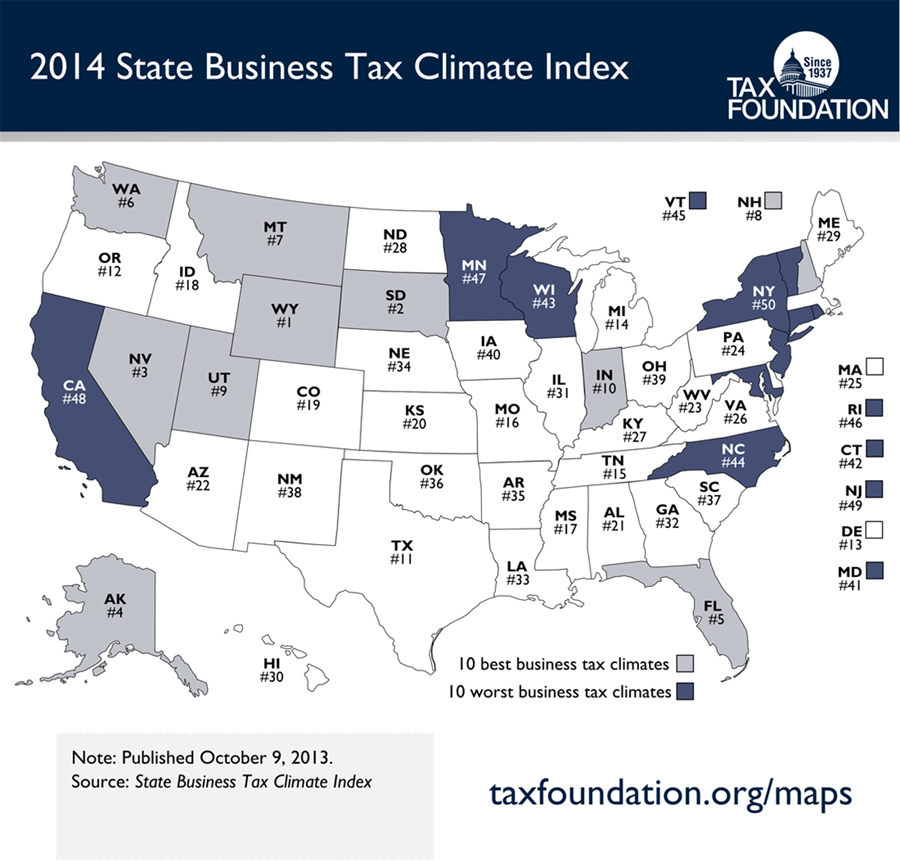 What Sticks to the Roof of Your Mouth and May Be an Alzheimer's Indicator?
Peanut butter isn't just for bread and jelly anymore. According to researchers at the University of Florida McKnight Brain Institute (not to be confused with the Brian McKnight Institute), the smell of peanut butter may be used in a test to determine if a patient has Alzheimer's disease. See, one of its first targets is the olfactory nerve, and because peanut butter is a "pure odorant," it can only be detected by that nerve. In other words: All hypochondriacs need is a ruler and a spoon full of peanut butter to determine their fate du jour.
(University of Florida via Wired)
Your dinner table challenge for the week…
@Bill_Gross: Did you know that the Fibonacci series (1,1,2,3,5,8,13,21,34) can be used to roughly convert miles into kilometers? 3 mi =5 km. 13 km =8 mi.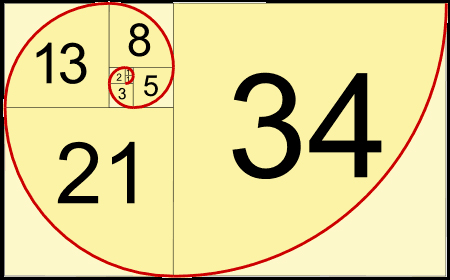 Finally, a great Indian Summer day in the big City…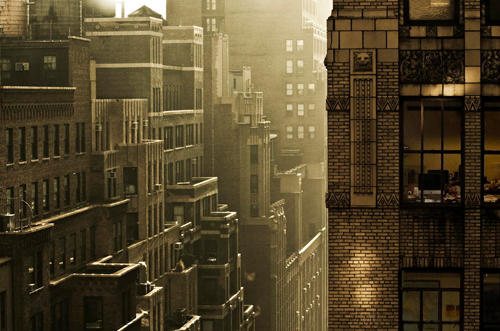 (Pascal Bobillon)
361 Capital Research Briefing Archive
The information presented here is for informational purposes only, and this document is not be construed as an offer to sell, or the solicitation of an offer to buy, securities. Some investments are not suitable for all investors, and there can be no assurance that any investment strategy will be successful.
Blaine Rollins, CFA, is managing director, senior portfolio manager and a member of the Investment Committee at 361 Capital. He is responsible for manager due-diligence, investment research, portfolio construction, hedging and trading strategies. Previously Mr. Rollins served as Executive Vice President at Janus Capital Corporation and portfolio manager of the Janus Fund, Janus Balanced Fund, Janus Equity Income Fund, Janus Aspen Growth Portfolio, Janus Advisor Large Cap Growth Fund, and the Janus Triton Fund. A frequent industry speaker, Mr. Rollins earned a Bachelor's degree in Finance from the University of Colorado, and he is a Chartered Financial Analyst.