361 Capital portfolio manager, Blaine Rollins, CFA, previously manager of the Janus Fund, writes a weekly update looking back on major moves, macro-trends and economic data points. The 361 Capital Weekly Research Briefing summarizes the latest market news along with some interesting facts and a touch of humor. 361 Capital is a provider of alternative investment mutual funds, separate accounts, and limited partnerships to institutions, financial intermediaries, and high-net-worth investors.
361 Capital Weekly Research Briefing
September, 16 2013
Timely perspectives from the 361 Capital research & portfolio management team
Written by Blaine Rollins, CFA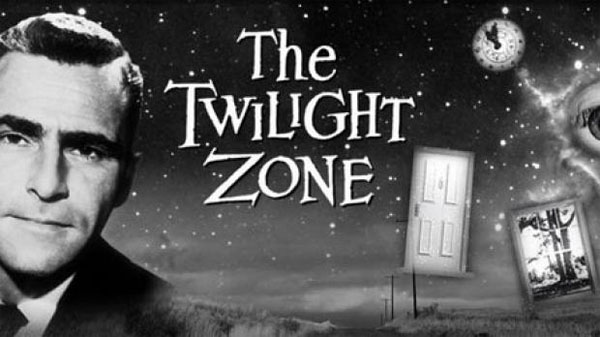 "You're travelling through another dimension, a dimension not only of sight and sound, but of mind…"
In this month's episode of The Twilight Zone, Congressional Democrats and U.S. public opinion will organize to thwart a White House attack on Syria and their #1 choice for the next Fed Chairman. To conclude the show, Vladimir Putin will be the front runner for the 2014 Nobel Peace Prize and the Financial Markets will soar. You have just crossed over into The Twilight Zone!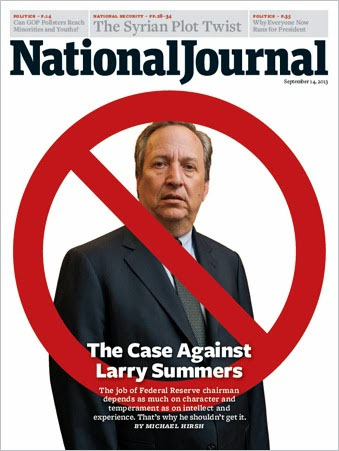 Summers withdraws from Fed race…
Lawrence Summers has taken himself out of the running to be the next chair of the Federal Reserve, withdrawing his name after opposition from key Democratic senators indicated they would oppose his nomination. Mr. Summers, a former Treasury Secretary and senior economic adviser to Barack Obama in his first term, galvanized opposition among left-of-center Democrats who painted him as symbol of the wrongs of financial deregulation.
(FinancialTimes)
Mr. Summers, a former Treasury secretary who has been one of the president's top advisers, withdrew in a phone call with Mr. Obama Sunday morning. In a subsequent letter to Mr. Obama, he wrote: "I have reluctantly concluded that any possible confirmation process for me would be acrimonious and would not serve the interest of the Federal Reserve, the Administration or, ultimately, the interests of the nation's ongoing economic recovery."
(WSJ)
@mark_dow: Crap. Had Larry Summers in my Fantasy Fed league.
@JohnJHarwood: After counter-productive drama that hurt WH, expect swift turn to Yellen on same timetable planned for Summers. If not next wk, soon after
@jonathanwald: Big win for the Winkelvii.
Shoelaces tied on Syria…
A deal was struck early Saturday morning to identify and dismantle Syria's stockpile of chemical weapons; the country must provide a comprehensive list of its armaments within the next week and international inspectors will be on the ground no later than November. By the middle of '14 Syria is supposed to have removed or destroyed all its chemical weapons. Any failure to comply would be referred to the UN Sec Council under Chapter 7- which authorizes to use of force.
(JPMorgan)
And then the bear was sad and there was nowhere left for him to go…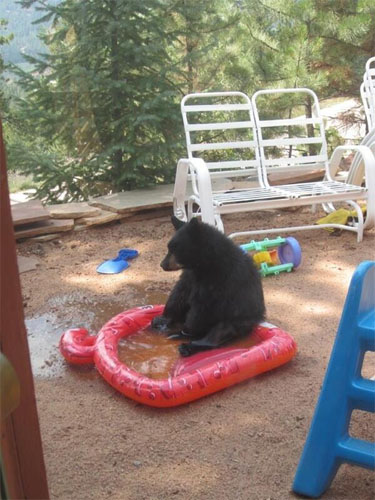 (@FelicityMorse)
So now back to analyzing the Fed moves…
The market is back to a 50%+ probability of +50bps and 100% probability of +25bps in 15 months…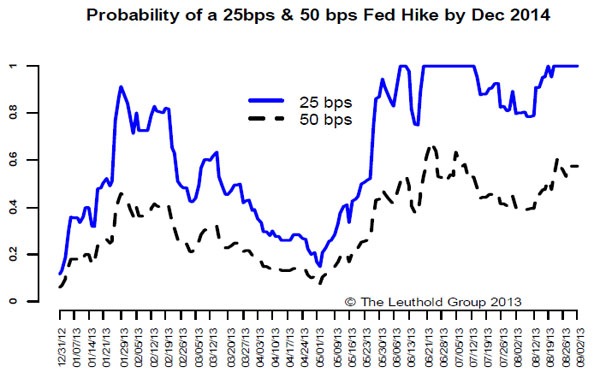 (LeutholdGroup)
While you were reading about Syria and Summers, the Baltic Dry Index broke higher (confirming the up move in global yields?)…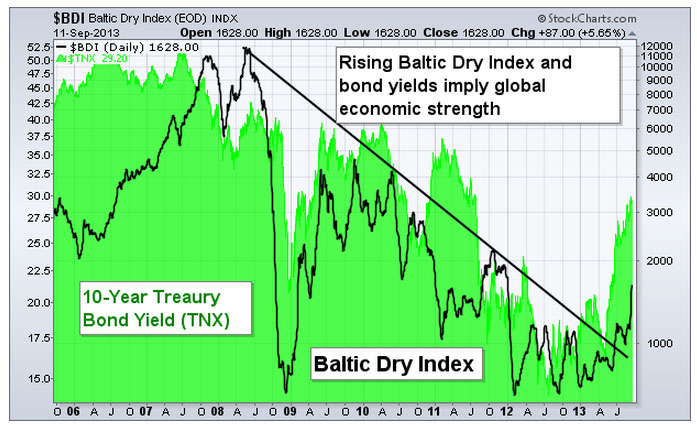 (@stockchartscom)
Bonds remain weak, but avoided making a new low even as Fund outflows continue to run high…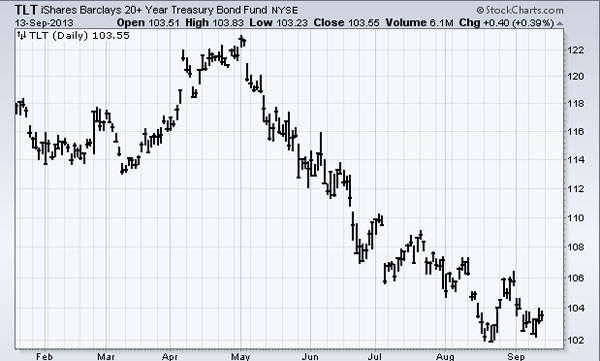 Financial stocks are still the weaker than expected group to keep an eye on. Bulls will want to see confirming new highs…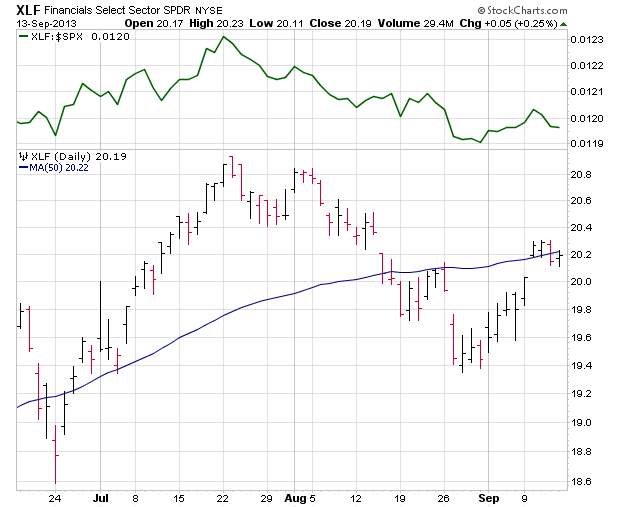 2 cyclical groups confirming the markets strength are Materials…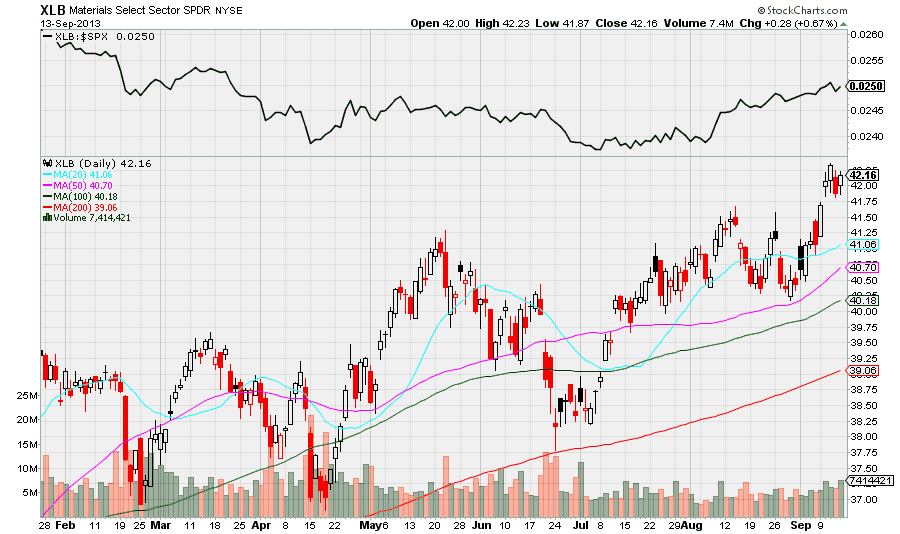 …and Industrials…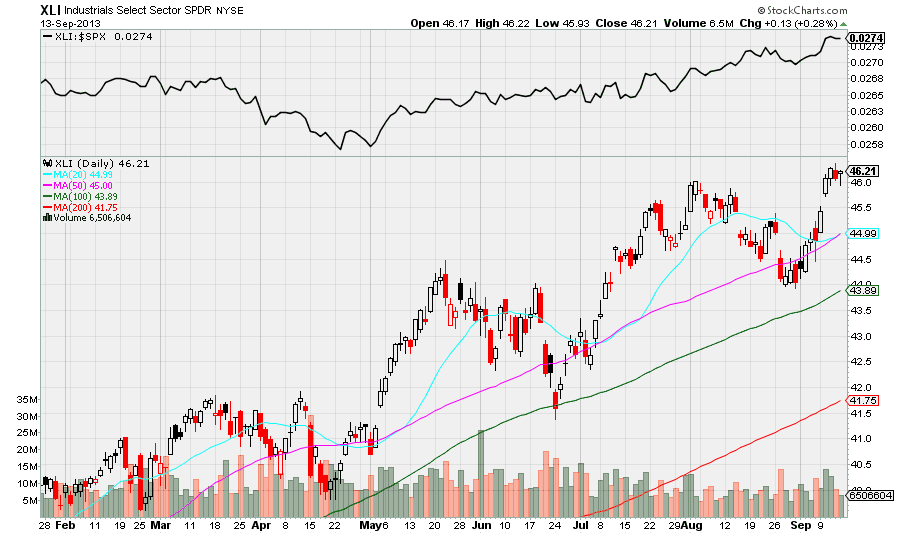 The Nasdaq100 made new highs this week without Apple as Biotechs, Internets, and Semis continued to carry the Index…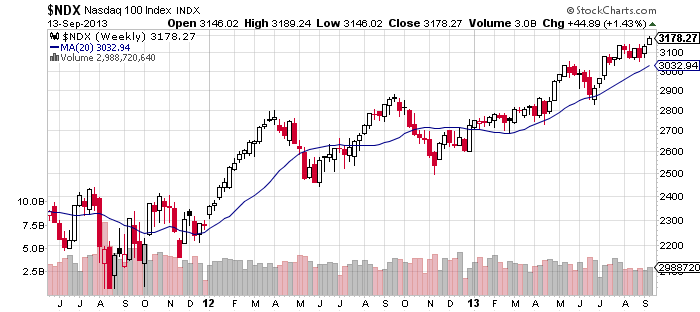 Gold bugs will be watching the recent pullback off the +15% bounce from the June lows. Is the safety trade off or will prospects for a new Fed Chair send the yellow metal higher?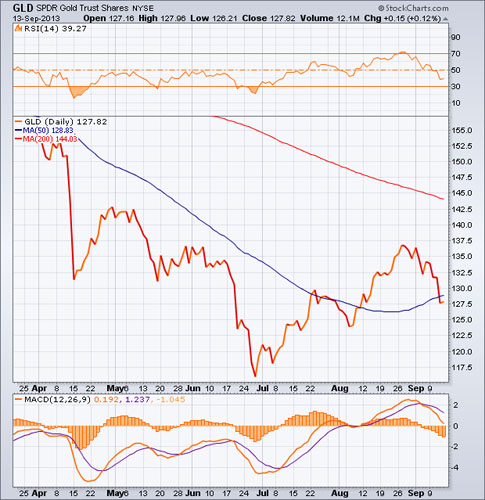 And with only 2 weeks left in the 3rd quarter, will the positive economic surprises be able to work their way into improved forward earnings guidance for the upcoming corporate releases and conference calls?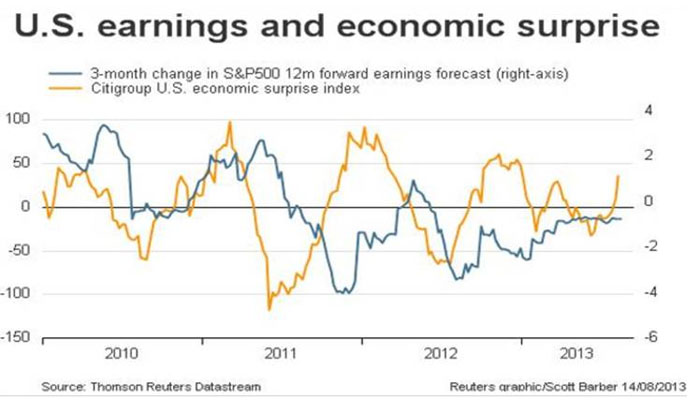 If earnings guidance does increase, it may only guarantee solid Q4 stock performance…
@RyanDetrick: Remember, past 25 yrs 3Q is only negative Q for the $DJIA. 4Q by far strongest. $DIA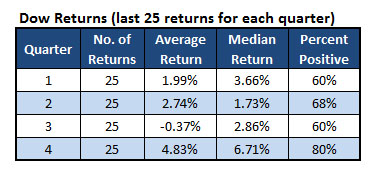 For the week, all S&P500 sectors finished higher with the RISKON sectors leading the charge…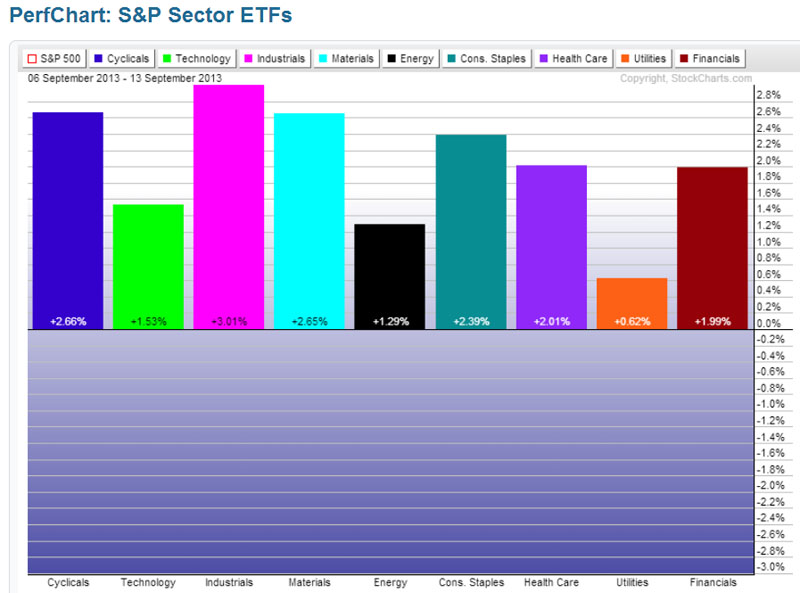 RISKON sentiment continued in the broader ETFs with International markets leading the U.S. markets. Small Caps again led Large Caps, while Metals and Bonds lagged…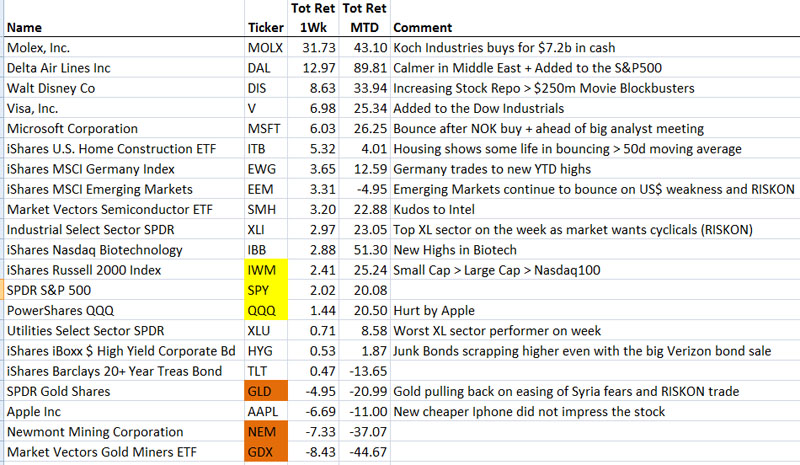 JPMorgan highlights the busy month ahead for market moving news/data…
Wed 9/18 – FOMC meeting. Bernanke press conference.
Sun 9/22 – German elections (odds of a "grand coalition" are rising, but Merkel's position as Chancellor seems assured).
Mon 9/23 – flash PMIs for Sept (first major Sept data points).
Mon 9/30 – current continuing resolution funding the government expires
Wed 10/2 – Abe supposed to announce his decision on the consumption tax on 10/2.
Fri 10/18 – U.S. could hit debt ceiling as soon as October 18.
Contrarians take note…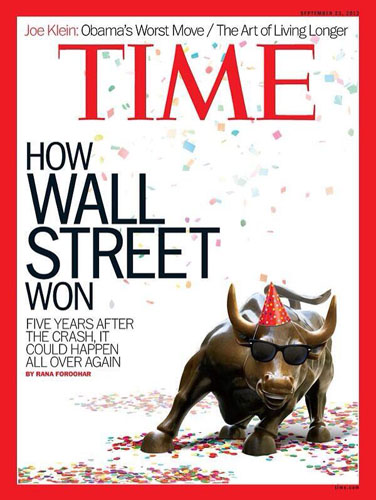 Interesting move by Vanguard: Reverse splitting their S&P500 ETF to make it cheaper for customers to trade…
Vanguard, the Valley Forge, Pa.-based fund provider known for its at-cost model, said today it will do a 1-for-2 reverse share split on the Vanguard S&P 500 ETF (VOO| A – 96 ) in an effort to lower overall transaction costs for the fund. Effective Oct. 24, the reverse split will essentially double the price for shares of the $11 billion VOO, but decrease by half its number of outstanding shares. That will lower per-share transaction costs for the fund because it will make its already-competitive spreads—currently an average of 0.01 percent of the share price—even lower, a company representative told IndexUniverse.
(IndexUniverse)
A similar action is being taken by companies (no splitting of shares), which is also helping to lower the commission cost of stock investors…
And as the average price of a share of stock has increased, trading volumes have fallen as a result. But important to note that total Dollar Trading Volume is running at the same level as 6 years ago. Bears often like to point to the lower Share Volume charts as a key reason to be short equities.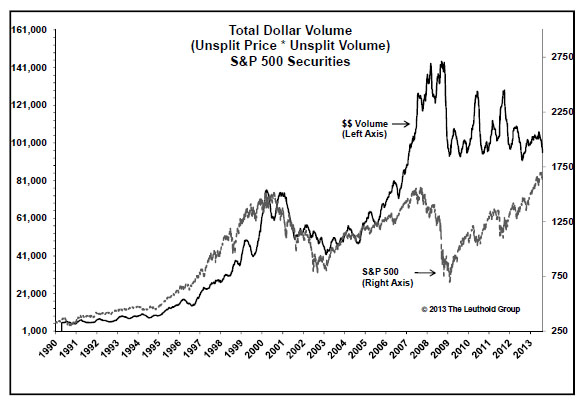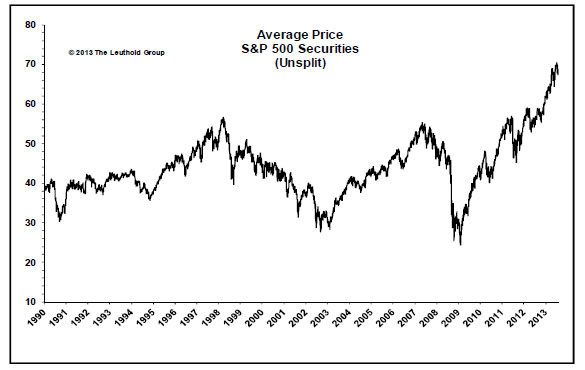 (LeutholdGroup)
Something I found interesting this week… Not only good for Marriott, but all travel and restaurant companies…
Government per Diem Up +8% Positive for MAR… GSA has recently raised government per diem rates by +8% ($83/diem from $77) effective 10/1/13 thru 09/30/14 (1st increase since '11). While government-related business is only 5% of MAR's room nights (~12% of DC room nights), it is slightly higher than HOT's less than 2% of North Am. Exposure. Also, MAR has a disproportionately higher exposure to DC, which may also benefit from increase in government per diems.
(UBS)
New iPhone? Yawn. As the chart shows, Google's Android is taking over the world of computing…
Meanwhile, I received my Google Chromecast this weekend. As soon as Google ramps the content for this $35 device, it will be a game changer.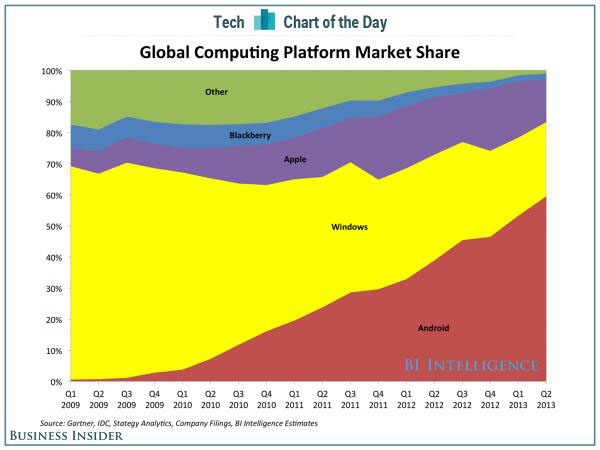 Twitter is going public. So you had better know what MoPub does…
MoPub is the world's largest mobile ad exchange. That means people trade eyeballs on mobile devices for money through the technology MoPub provides. And they do it billions of times a day. Why is that important to Twitter? The MoPub acquisition allows Twitter to fundamentally change how mobile ads are purchased and places them at the forefront of how mobile, Web, and social ads interact. This makes Twitter the most interesting company in advertising right now.
(Medium)
No more mosquito bites would be BIG on a global scale…
The Kite, developed by scientists at University of California Riverside and commercialized by an impact investing group called ieCrowd, works by confusing the bugs' sense of smell. Usually, they hone in the CO2 we breathe out; the Kite keeps this from happening. As you can see in the video, when an intrepid scientist sticks his hand into a cage full of mosquitoes, the Kite prevents them from finding him and sucking his blood.
(FastCompany)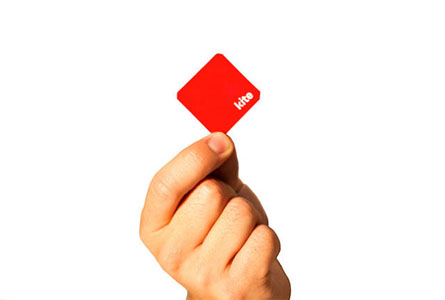 Pretty certain that my 9 year old planted this story in The New York Times…
While parents — my sister included — might worry that all these pixels and the occasional zombie might be bad for children, a lot of experts say they shouldn't fret. Earlier this year, for example, a school in Stockholm made Minecraft compulsory for 13-year-old students. "They learn about city planning, environmental issues, getting things done, and even how to plan for the future," said Monica Ekman, a teacher at the Viktor Rydberg school. Around the world, Minecraft is being used to educate children on everything from science to city planning to speaking a new language, said Joel Levin, co-founder and education director at the company TeacherGaming.
(NYTimes)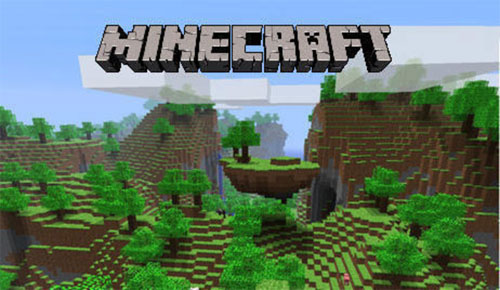 Geek Tweet of the Week…
@BoredElonMusk: Time-travelling mechanical hand that goes back to smack all your teachers who forced you to learn cursive "because everyone uses it."
36 years ago this month, some kids who played with Lego's and dreamed about a future Minecraft launched Voyager-1. And now it is leaving our solar system to explore deeper space. How cool is that?
No knowledge of cursive was required in its design, engineering and construction.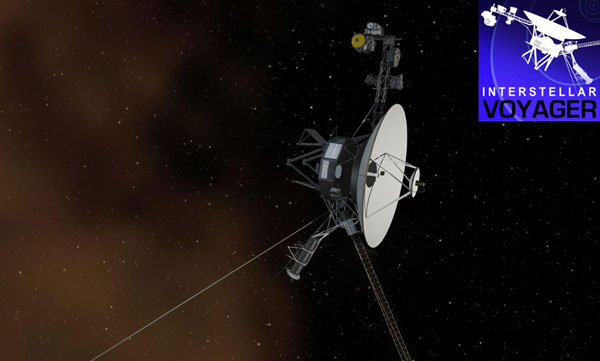 In the event that you missed a past Research Briefing, here is the archive…
361 Capital Research Briefing Archive
The information presented here is for informational purposes only, and this document is not be construed as an offer to sell, or the solicitation of an offer to buy, securities. Some investments are not suitable for all investors, and there can be no assurance that any investment strategy will be successful.
Blaine Rollins, CFA, is managing director, senior portfolio manager and a member of the Investment Committee at 361 Capital. He is responsible for manager due-diligence, investment research, portfolio construction, hedging and trading strategies. Previously Mr. Rollins served as Executive Vice President at Janus Capital Corporation and portfolio manager of the Janus Fund, Janus Balanced Fund, Janus Equity Income Fund, Janus Aspen Growth Portfolio, Janus Advisor Large Cap Growth Fund, and the Janus Triton Fund. A frequent industry speaker, Mr. Rollins earned a Bachelor's degree in Finance from the University of Colorado, and he is a Chartered Financial Analyst.