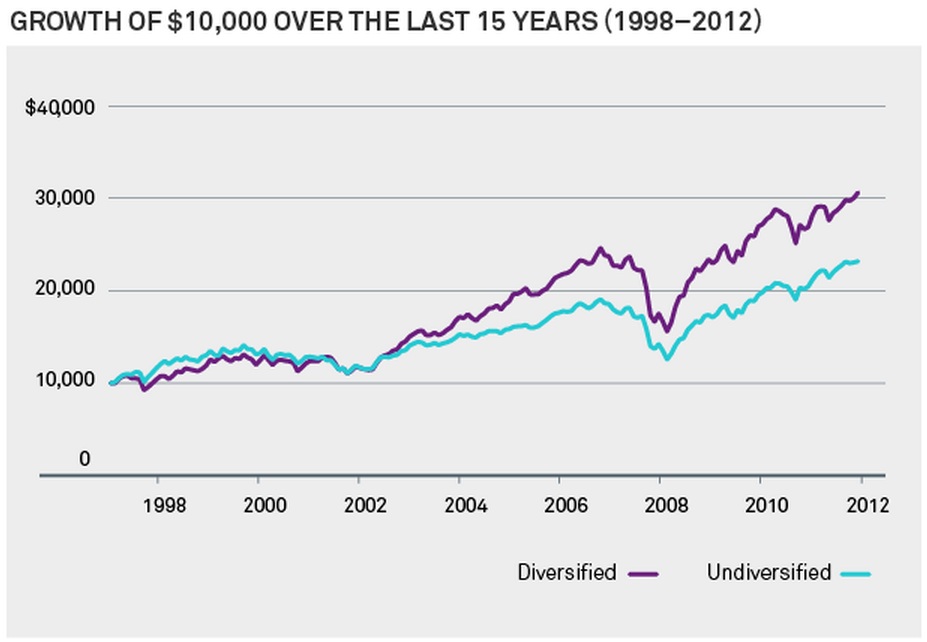 The above chart comes to us from BlackRock – they're showing us the difference between what many people believe is a diversified portfolio and a real diversified portfolio.
The turquoise line is a portfolio made up of just 60% S&P 500 (large cap US stocks) and 40% Barclays Credit Index (generic bond market exposure).
The purple line represents a portfolio made up of:
12% S&P 500
12% S&P MidCap 400
12% S&P SmallCap 600
12% MSCI EAFE (foreign developed country stocks)
12% MSCI Emerging Markets (stocks)
13.3% Barclays Credit Index
13.3% Barclays US Treasury Index
13.3% Barclays Capital High Yield Index (junk bonds)
Both have done very well, but the widening gap since 2002 reflects a much more global world and bigger opportunity set away from just large cap US-based stocks.
The S&P 500 has done incredibly well versus almost everything else year-to-date and right now the temptation is to just own that and run from all other asset classes and geographies. That may work short-term…but how important is the short-term for most of us?
Chart Source: