361 Capital portfolio manager, Blaine Rollins, CFA, previously manager of the Janus Fund, writes a weekly update looking back on major moves, macro-trends and economic data points. The 361 Capital Weekly Research Briefing summarizes the latest market news along with some interesting facts and a touch of humor. 361 Capital is a provider of alternative investment mutual funds, separate accounts, and limited partnerships to institutions, financial intermediaries, and high-net-worth investors.
361 Capital Weekly Research Briefing
June 24, 2013
Timely perspectives from the 361 Capital research & portfolio management team
Written by Blaine Rollins, CFA
There is a salmon in the water and its name is 'Fed Credibility'…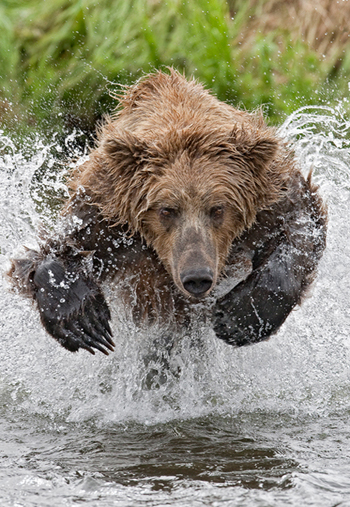 When I suggested that it may be time to go fishing, I didn't think that everyone would sell their bonds, notes, and bills to buy a new boat…
But as this chart shows, panic in the fixed income markets has set in. Big inflection points are difficult to navigate and the last month of dialog from the Federal Reserve Bank regarding their tapering of easy money has led to even more unease for those that own yield-oriented assets.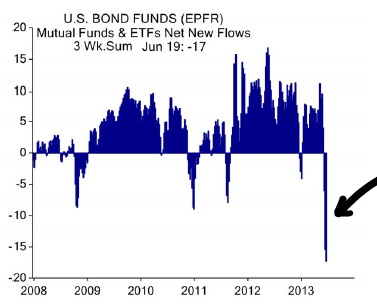 (ISI Group)
The liquidation in bonds has made this one of the better looking weekly charts in the financial markets…
But, retirees in mostly cash portfolios might be the only ones enjoying its upward trajectory.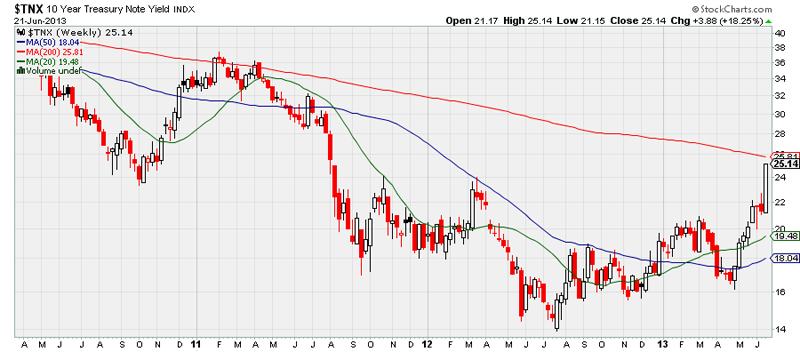 And Treasuries were just a starting point as the pain continues to unfold in junk bonds…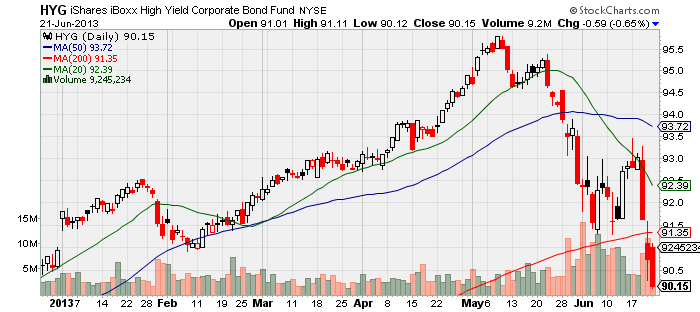 Even Emerging Market money market yields soared…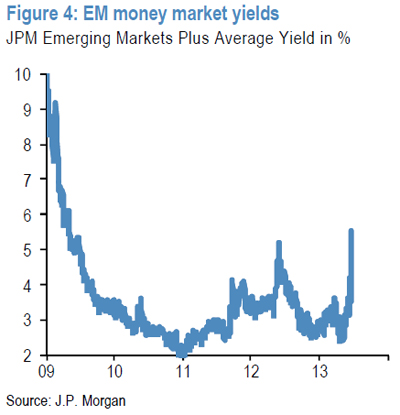 …which expressed itself in even further underperformance of Emerging Market Equities versus the S&P500…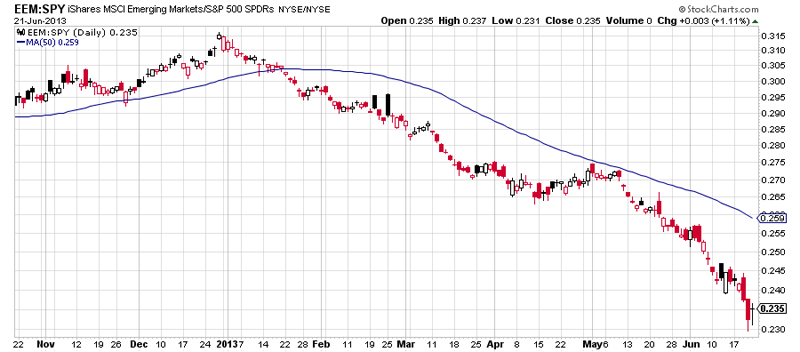 But, the Financial Times makes a good case for combing thru the EM wreckage…
The greatest factor in how investments fare in the long run is how cheap they are when bought. And on that basis, there is a case for emerging market equities… Using the ubiquitous MSCI indices, and judging by price-to-book ratios, emerging markets are selling at their deepest discount to developed world stocks since September 2005 – when Hurricane Katrina was in the headlines, U.S. house prices were heading upwards, and Ben Bernanke was best known for writing an economics textbook. Developed equities trade for almost twice (1.89 times) book value; the emerging world trades at 1.39 times book… For the long term, might this be a "when there's blood in the streets" buying opportunity? Brazilian stocks have fallen 53 percent in two years. It trades at a discount to Mexico, where investors are enthused by the new government, even though it has yet to tackle the toughest problems of energy and fiscal reform.
(FinancialTimes)
Back to the S&P500… Note to self: Buy protection the next time the Fed Chairman grabs the mic…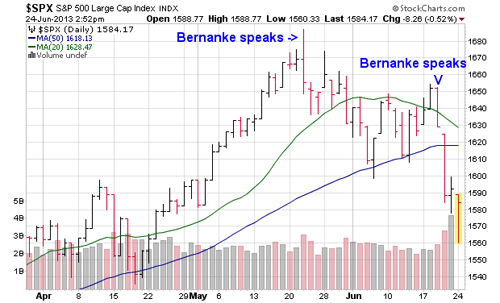 Looking broader than the S&P500, it has been a wild ride for many asset classes since both Fed Reserve announcements…
There really hasn't been anywhere safe to get a return except for the CDs at your local bank branch. Some historic 1 month moves for the fixed income asset classes. But as you will note, the U.S. Equity markets are still sending RISKON signals as Value > Growth, Cyclicals > Defensive, and SmallCap > LargeCap.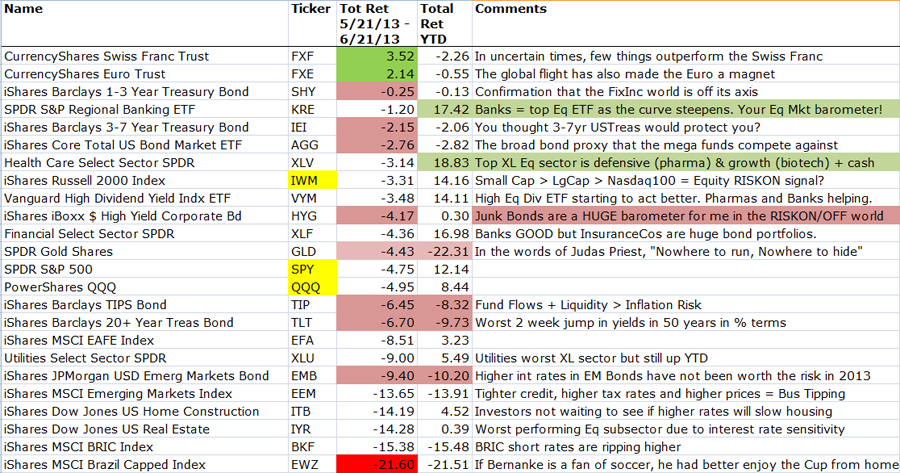 Checking the overall valuation of the market shows both the P/E and P/B in-line with the historical averages…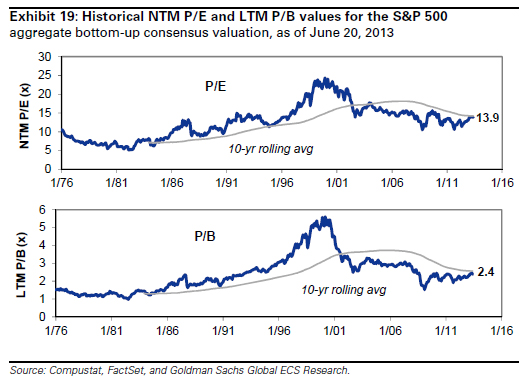 (Goldman Sachs)
If Equities are looking for future fuel for upside, 2 back-to-back quarters of down bond returns might help the rotation…

Investors in the largest and best performing bond funds might also receive a difficult to read June monthly statement…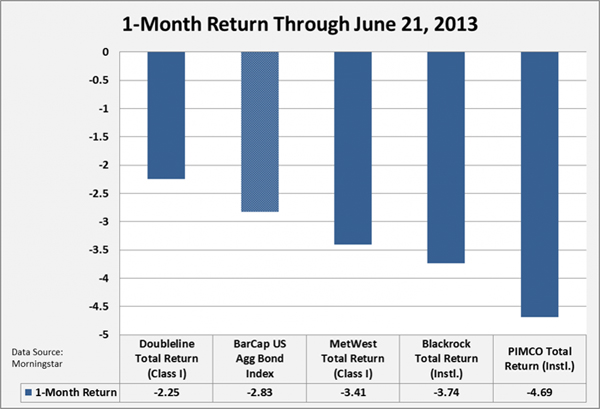 El-Erian writes that there is "No end in sight to wild markets"…
Financial markets are on tenterhooks after yet another wild week. Triple-digit intra-day moves in the Dow have become the norm rather than the exception. Conventional asset class correlations have broken down. Virtually every financial security has lost money. And liquidity dislocations are common. Damage is not contained to financial markets. If these factors persist, they will undermine global economic fundamentals, thereby threatening adverse vicious cycles… From my perspective, it appears that the West is nearing the end of the era where central banks are able to impose stability on a still-inherently-unstable set of economic and financial fundamentals. Going forward, fundamentals (rather than financial engineering) will play a greater role in determining the level and correlation of asset prices. Should this indeed materialize, you should expect the current phase of generalized disruption to give way over time to greater differentiation.
(FinancialTimes)
And behind the jump in daily volatility will be many opportunities to capture returns just as in the past.
RenMac points out the near term oversold situation created late last week…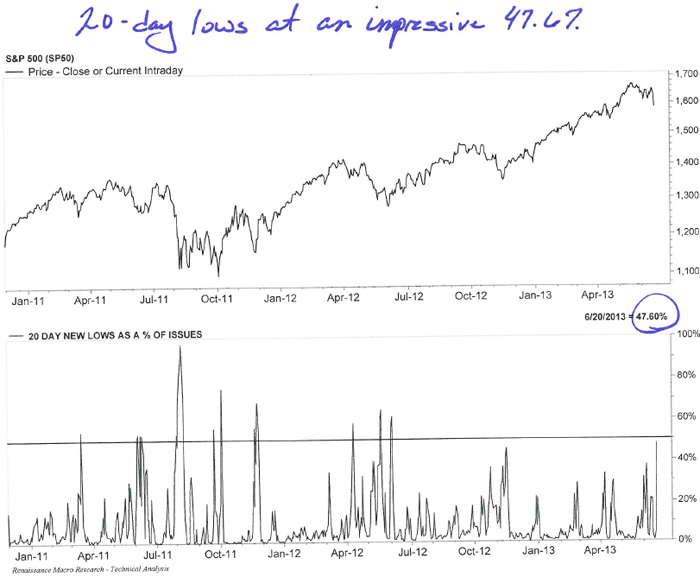 (RenMac)
If you are looking for stocks, I see some of the best investors I know long Schwab. Interest rates are rising. Keep this one on your hunting list…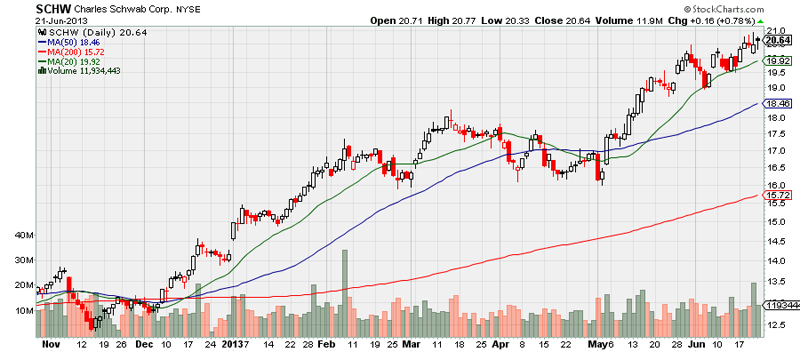 Intel has the cash to do anything they want. If they have a best of breed GUI and a speedier interface than current cable and satellite TV, they will make big waves entering the market…
Without giving too much away, the user interface seemed to hover beautifully above the currently playing show. An elegant simple menu made it easy to switch between channels or to pick and rent a recent film. It was light years from the cumbersome garbage that takes up most of the screen when using a standard cable-channel picker. There was a wide array of popular channels to choose from that would be familiar to any couch potato, though the final lineup is still being formulated. Equally important, when you hit the button on the remote, the TV seemed to jump to the next channel faster than is typical on cable. There also is a time-shifting aspect that goes beyond DVR, allowing you to go back through recent episodes. One wonders: Why hasn't TV always been this way?
(Barron's)
Best financial market relevant quote that I came across while fishing last week…
@suleikajaouad: #Quote of the day: "Life is like photography, we develop from the negatives." ~ unknown
And when you are done fishing, grab your long board. The water is a little rough right now.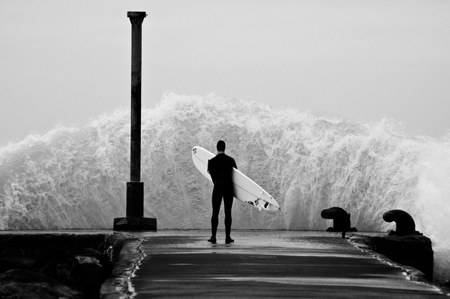 Blaine Rollins, CFA, is managing director, senior portfolio manager and a member of the Investment Committee at 361 Capital. He is responsible for manager due-diligence, investment research, portfolio construction, hedging and trading strategies. Previously Mr. Rollins served as Executive Vice President at Janus Capital Corporation and portfolio manager of the Janus Fund, Janus Balanced Fund, Janus Equity Income Fund, Janus Aspen Growth Portfolio, Janus Advisor Large Cap Growth Fund, and the Janus Triton Fund. A frequent industry speaker, Mr. Rollins earned a Bachelor's degree in Finance from the University of Colorado, and he is a Chartered Financial Analyst.
In the event that you missed a past Research Briefing, here is the archive…
361 Capital Research Briefing Archive