361 Capital portfolio manager, Blaine Rollins, CFA, previously manager of the Janus Fund, writes a weekly update looking back on major moves, macro-trends and economic data points. The 361 Capital Weekly Research Briefing summarizes the latest market news along with some interesting facts and a touch of humor. 361 Capital is a provider of alternative investment mutual funds, separate accounts, and limited partnerships to institutions, financial intermediaries, and high-net-worth investors.
361 Capital Weekly Research Briefing
April 1, 2013
Timely perspectives from the 361 Capital research & portfolio management team
Written by Blaine Rollins, CFA
Hello 2nd Quarter and Hello Baseball. It's 'Go' time for both players and stat geeks…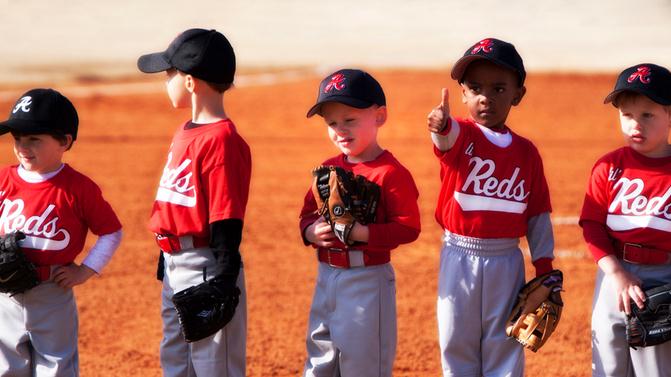 It was a very good First Quarter for U.S. Equities. As you can see from the Year to Date charts below, risky sectors did well, but so did many lower risk sectors like Health Care, Consumer Staples, Utilities and MLPs. The Q1 goal as an asset allocator was to be fully invested, but not in Gold, Long Bonds, Emerging Markets and Apple.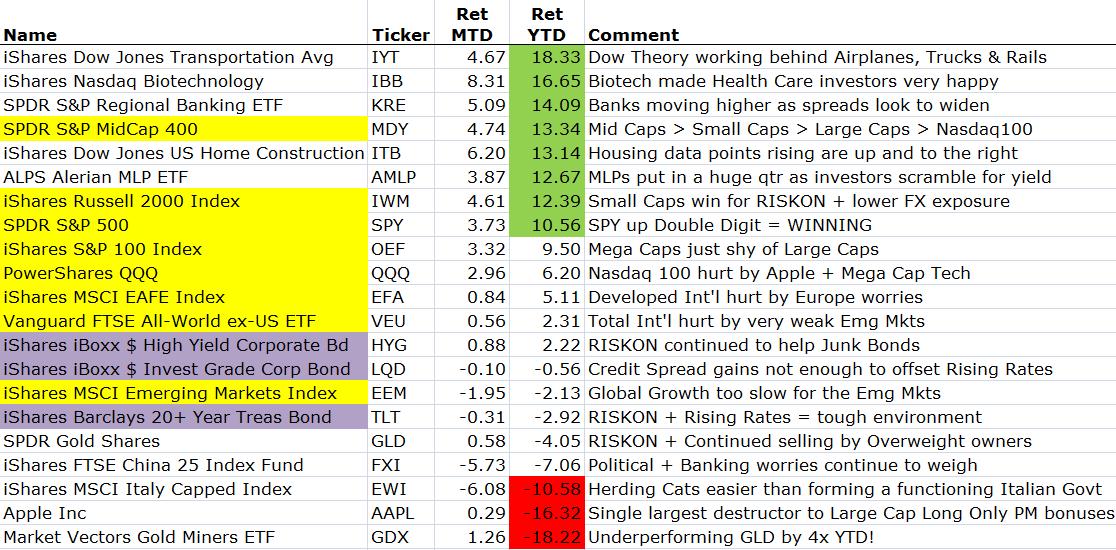 A U.S. investor only had to be underweight Materials and Tech to see the ball in the Q1…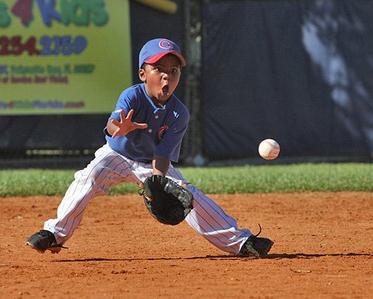 Large Cap investors owning the GREEN performers get a W for the Q1. If you owned the RED in your top 10 then you get an L and maybe an early trip to the Minors…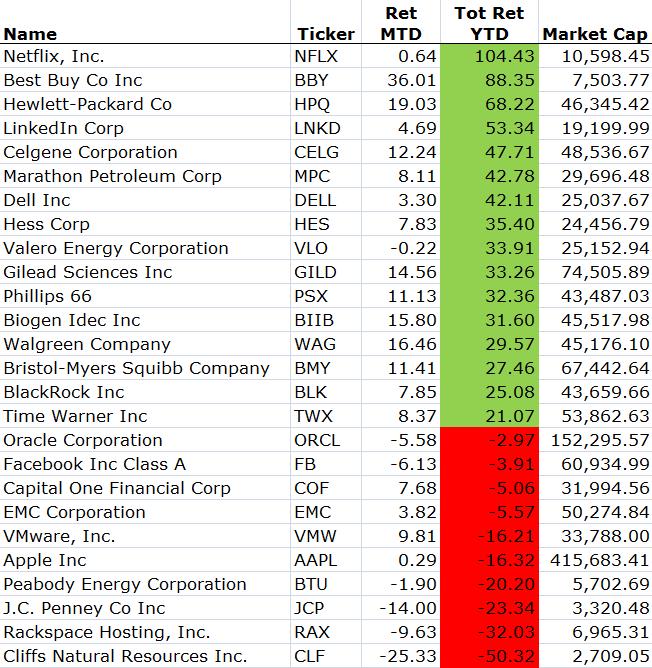 In case you were wondering which CNBC market seer gets a W for the Q1…
@bySamRo: Mila Kunis is in the money
On to April… and if history can tell us anything, the month has been a profitable one for LONGs…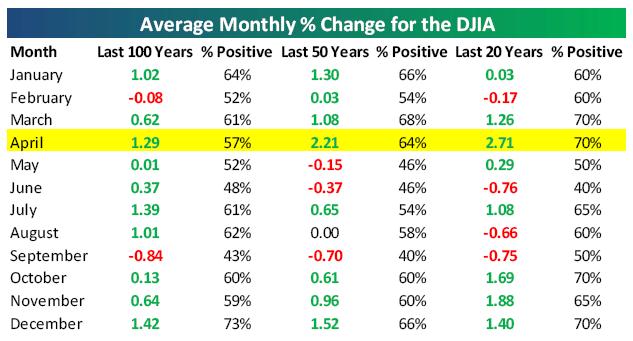 (Bespoke)
Something to keep an eye on is the level of Economic Data 'Beats' which has slowed in recent weeks.
The Jobs data on Friday, as well as the start to the Q1 earnings reporting season, will give the markets plenty of new data to analyze.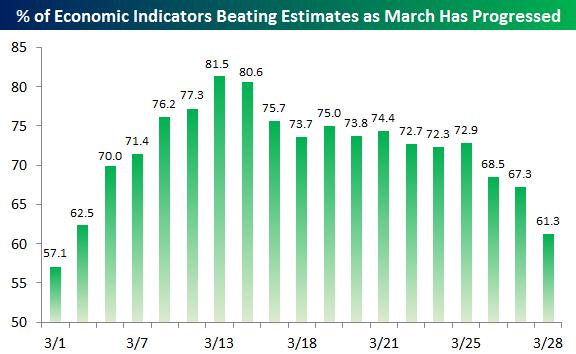 One of the more uncomfortable, but confirming data trends showing the improvement in the U.S. economy has been the rise in traffic congestion…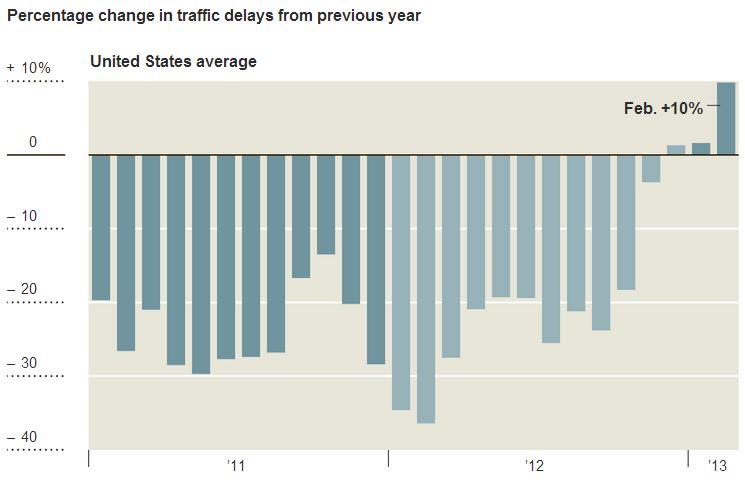 Traffic is getting worse in the United States, according to a company that monitors driving time by tracking cellphones and GPS devices in cars and trucks. And while that is not good news for those facing delays, it is for the economy. "Traffic is a great indicator of confidence on the ground," said Bryan Mistele, the chief executive of Inrix, which compiles what it calls the Inrix Gridlock Index. "People hit the road as they return to work, and businesses ship more freight as their orders increase." The rise in the Index, he said on Friday, "shows the pulse of the economy is starting to beat faster." (NYTimes)
If you have clients asking why their fixed income portfolios no longer increase in value, here is a good piece by Marty Feldstein who keeps it simple on the current interest rate environment…
Long-term interest rates are now unsustainably low, implying bubbles in the prices of bonds and other securities. When interest rates rise, as they surely will, the bubbles will burst, the prices of those securities will fall, and anyone holding them will be hurt. To the extent that banks and other highly leveraged financial institutions hold them, the bursting bubbles could cause bankruptcies and financial-market breakdown.
The very low interest rate on long-term United States Treasury bonds is a clear example of the current mispricing of financial assets. A ten-year Treasury has a nominal interest rate of less than 2%. Because the inflation rate is also about 2%, this implies a negative real interest rate, which is confirmed by the interest rate of -0.6% on ten-year Treasury Inflation Protected Securities (TIPS), which adjust interest and principal payments for inflation. Historically, the real interest rate on ten-year Treasuries has been above 2%; thus, today's rate is about two percentage points below its historical average. But those historical rates prevailed at times when fiscal deficits and federal government debt were much lower than they are today. With budget deficits that are projected to be 5% of GDP by the end of the coming decade, and a debt/GDP ratio that has roughly doubled in the past five years and is continuing to grow, the real interest rate on Treasuries should be significantly higher than it was in the past. (ProjectSyndicate)
Investors continue to hunt for yield which as noted above helped the MLP indexes in the Q1…
@DavidSchawel: Neuberger Berman launches $1bil IPO of MLP Income Fund, will trade under $NML – people can't get enough yield
An update from Dr. Damodaran on the current Equity Risk Premium suggests the foundation for equities continues to improve…
@AswathDamodaran: S&P 500 keep rising, but cash flows on index rising faster. ERP increases to 5.79% on April 1 from 5.43% in March. (Damodaran)
As May nears, expect to see many articles on the simple (but effective) 'Sell in May and Go Away' strategy. Here is one take…
An alternative to the "sell in May, go away" strategy, Secret Sauce is sell the S&P 500 in May and then invest in the Long Government / Credit bond index (rather than sit in cash).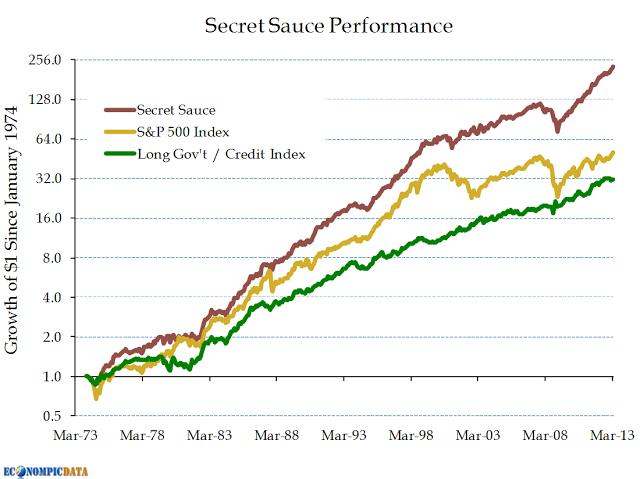 A good intangible to look for when selecting that next active portfolio manager…
When blame prevails, toxic fear becomes the main motivator of behavior. In that culture, people tend to hide problems and/or to be uninvolved, unaware, and unaccountable with regard to anything that might look like a problem. They will not be identifying or solving problems. And a special few might just be too willing to point fingers with righteousness and, of course, with hindsight. It is difficult to imagine long-term investment success from an organization rooted in blame. On the other hand, we would believe that superior long-term investment results can be produced by an organization which (1) unflinchingly identifies problems, (2) debates them with openness and without blame, (3) emphasizes fixing them, and (4) focuses on learning to avoid similar mistakes in the future. (ResearchAffiliates)
While everyone is debating the value of a College education, this High Schooler just made the conversation a bit more interesting…
One of Yahoo's newest employees is a 17-year-old high school student in Britain. As of Monday, he is one of its richest, too. That student, Nick D'Aloisio, a programming whiz who wasn't even born when Yahoo was founded in 1994, sold his news-reading app, Summly, to the company on Monday for a sum said to be in the tens of millions of dollars. Yahoo said it would incorporate his algorithmic invention, which takes long-form stories and shortens them for readers using smartphones, in its own mobile apps, with Mr. D'Aloisio's help. "I've still got a year and a half left at my high school," he said in a telephone interview on Monday. But he will make arrangements to test out of his classes and work from the Yahoo office in London, partly to abide by the company's new and much-debated policy that prohibits working from home. (NYTimes)
You thought Homeland and Game of Thrones were good… Just wait until the DELL reality show hits the cable networks…
Michael Dell was first approached about taking his personal computer maker private by Southeastern Asset Management, the shareholder that now opposes what would be the largest buyout since the global financial crisis. Southeastern, which owns 8.4 per cent of the shares in Dell, proposed the idea on June 15, 2012, outlining the proposed transaction in a spreadsheet and saying it hoped to roll shares into any go-private deal. Mr. Dell said he would think about the idea and continued talks with Southeastern for a few weeks. A month later, however, Mr. Dell was discussing a management-led buyout with Silver Lake Partners, the private equity firm he eventually partnered with on the $24.4bn deal that Southeastern now opposes.
(FinancialTimes)
Others can swing for the fences, put together a team of players that will get on base and not strikeout, and you will accumulate the Ws…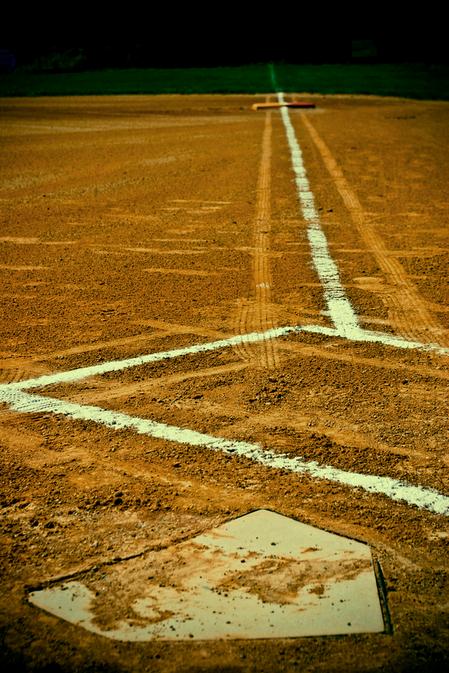 (JayH)
Jeff Keppinger, like Albert Pujols and Dustin Pedroia, is one of the few major leaguers with more extra-base hits and more walks than strikeouts in his career. He has come to bat 2,705 times in the majors and struck out 173 times. His career average of 15.64 plate appearances per strikeout is the best among active American League players. The White Sox, whose hitters set a franchise record for strikeouts last season, pursued Keppinger aggressively after he hit .325 for Tampa Bay. Keppinger said he hoped for a two-year contract, but Chicago gave him three years and $12 million, valuing his versatility but mainly his increasingly rare skill of making contact. "Those kinds of guys extend innings," Manager Robin Ventura said. "They put it in play, get a base hit, or somebody makes an error. You start looking at innings that you have over the last season: we needed a hit here instead of a strikeout, or we needed to move a guy up into scoring position instead of a strikeout. Sometimes, that changes the dynamic of a game."
(NYTimes)
Play Ball!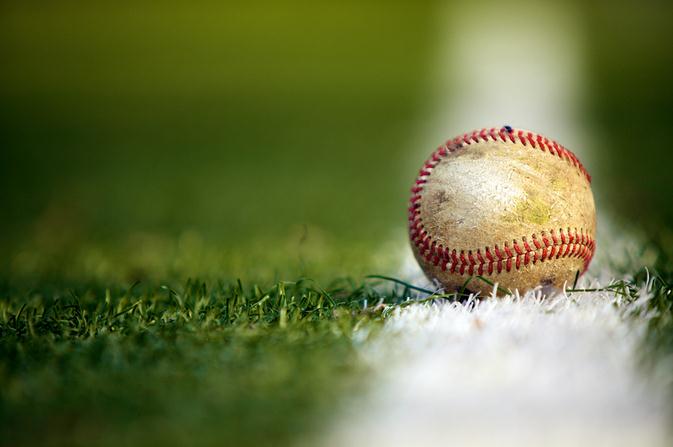 Blaine Rollins, CFA, is managing director, senior portfolio manager and a member of the Investment Committee at 361 Capital. He is responsible for manager due-diligence, investment research, portfolio construction, hedging and trading strategies. Previously Mr. Rollins served as Executive Vice President at Janus Capital Corporation and portfolio manager of the Janus Fund, Janus Balanced Fund, Janus Equity Income Fund, Janus Aspen Growth Portfolio, Janus Advisor Large Cap Growth Fund, and the Janus Triton Fund. A frequent industry speaker, Mr. Rollins earned a Bachelor's degree in Finance from the University of Colorado, and he is a Chartered Financial Analyst.
In the event that you missed a past Research Briefing, here is the archive…
361 Capital Research Briefing Archive