I get asked all the time about our secular bear market view, Barry has been pretty vocal about the thesis that we are perhaps two thirds to three fourths of the way through a secular bear market that began in March of 2000.  There are many other demographic realities that coincide well with this view and some major historical precedents, even though our sample size of prior secular bears is small (three!).
Rick Ferri asks the question of whether or not this should enter into one's investment thinking at all. The answer is "maybe".
He highlights the below chart about earnings multiple peaks and troughs in making the case that these shifts in secular bull vs secular bear phases are very detectable at extremes.  The multiple we are willing to pay on the market's earnings changes quite a bit given the economic environment and sentiment /psychology / perception based on it…
From RickFerri.com:
Figure 1 highlights the secular nature of U.S. equities. It illustrates the peak price-to-earnings ratio of US equities since 1871.  Peak cyclical earnings are used in this Peak PE analysis.
Figure 1: U.S. Equities Peak PE since 1871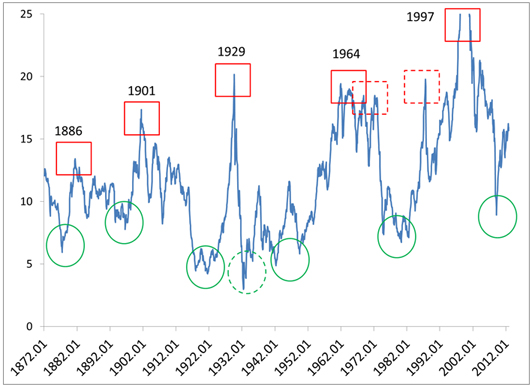 Source: