The most recent estimates for the cost of Hurricane Sandy are at $50 billion. I'll take the over on that, purely on informed instinct having seen the damage myself up-close at friends houses and at major destruction points throughout LI and NYC. Plus, whatever something costs around the country, add 50%. Pizza is $3 a slice here, parking is $400 a month in Manhattan, martinis are $12, etc.
Anyway, how will Sandy stack up? The estimate for Sandy below is a day or two outdated at only $20 billion, but check it out versus prior storms.
This comes to us from Scott Minerd , Chief Investment Officer at Guggenheim:
Top 10 Costliest Hurricanes in the U.S. – Damages Ranked in 2010 Real U.S. Dollars
According to the latest estimates, hurricane Sandy will cause in excess of $20 billion in total economic damage, which includes damage to private and public property and public infrastructure. Given this estimate, Sandy will be the fourth costliest hurricane in U.S. history. The impact of the hurricane on U.S. economic activity will be mixed; business activities will be negatively impacted in the coming days and weeks as the impacted area recovers from the damage, but rebuilding activities such as construction will lead to a boost in the coming quarters.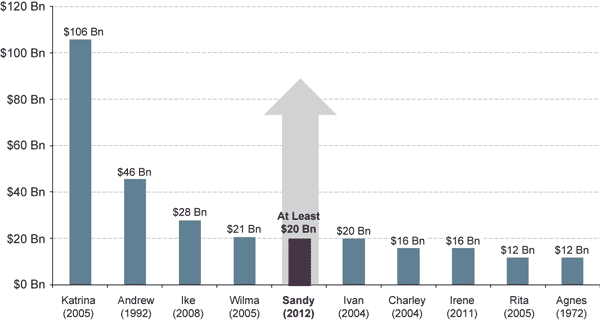 Source: