361 Capital portfolio manager, Blaine Rollins, CFA, previously manager of the Janus Fund, writes a weekly update looking back on major moves, macro-trends and economic data points. The 361 Capital Weekly Research Briefing summarizes the latest market news along with some interesting facts and a touch of humor. 361 Capital is a provider of alternative investment mutual funds, separate accounts, and limited partnerships to institutions, financial intermediaries, and high-net-worth investors
361 Capital Weekly Research Briefing
October 15, 2012
Timely perspectives from the 361 Capital research & portfolio management team
Written by Blaine Rollins, CFA
Thank you Felix and Red Bull. THE JUMP WAS AWESOME.
Felix Baumgartner shatters sound barrier by free falling at 833.9 mph.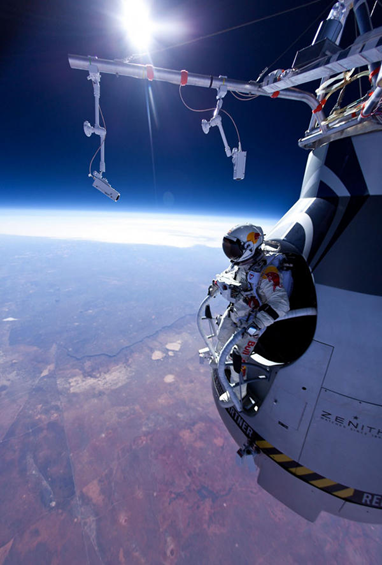 (Felix) 
Returning to planet Earth, the recent polls have turned red along with the October leaves…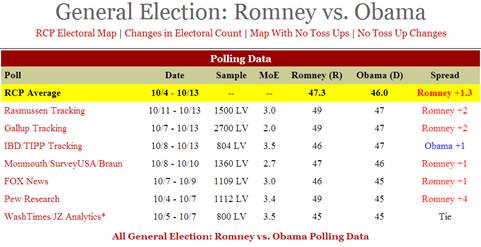 (RealClearPolitics)
If history is any guide, a down October in the markets = trouble for the incumbent party…
But while the October returns have started out negative for equities, they are surging green for European bonds. This should be HIGHLY supportive for RISK ON investments (like U.S. Equities):
@FreeMrktCptlst: *PORTUGAL 5-YR YIELD DROPS TO 5.927%, LOWEST SINCE JAN 2011
The calm that has befallen Europe is very fragile and can easily be disrupted but the decline in peripheral yields (Ireland's 10yr yields hit multi-year lows Fri while Portugal isn't far away from achieving a similar feat and even Greece's borrowing costs are well off their highs) is a powerful sign that while the region may still have severe fiscal and economic problems, the market no longer fears a "tail event"- like financial panic. (JPMorgan)
Even the yields of 10 year Greek bonds are attempting to break the sound barrier…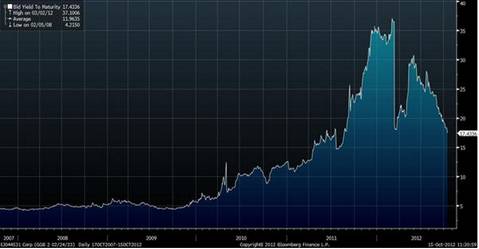 Is Barron's cover this week watching Euro sovereign yields or signaling a top in equities?
Last week was definitely a risk off one for the U.S. equity markets as every major sector posted a decline…

Carbon-based fuels and some of their equities had a good week, but that was it. Big tech led the decliners behind the disappointing Q3 PC sales data point, plus the further slide in Apple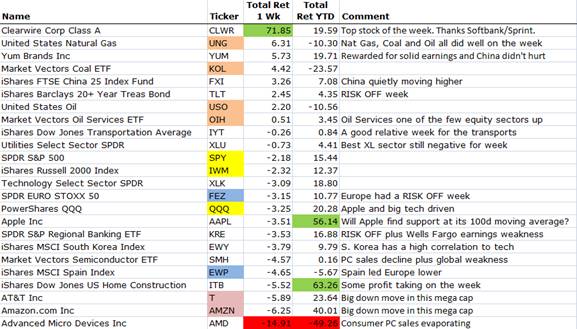 Q3 Earnings have started and the earliest results have been a bit weaker…
JPMorgan – CEO James Dimon said he believes "the housing market has turned the corner."
Wells Fargo – "Underlying credit quality continued to show improvement in the third quarter, as the overall financial condition of businesses and consumers strengthened, the housing market in many areas of the nation improved, and we continued to work to reduce problem assets and make new, high quality loans," Chief Risk Officer Mike Loughlin said.
Cummins Engine – "We continued to see weak economic data in a number of regions during the third quarter increasing the level of uncertainty regarding the direction of the global economy. As a result of the heightened uncertainty, end customers are delaying capital expenditures in a number of markets, lowering demand for our products," said Tom Linebarger, Chairman and CEO. "We have lowered our full year revenue forecast for several markets, with the most significant changes in North America heavy duty truck and international power generation markets. Demand in China has weakened in most end markets and we have also lowered our forecast for global mining revenues."
AMD – Sees revs off 10% Q/Q for the Sept Q – they previously had guided to off ~1%.
Gartner – PC units fell >8% Y/Y in Q3, missing already very low expectations. The consumer market accounted for the bulk of the decline
But if the Citigroup Economic Surprise Index is any indication, corporate earnings revisions should be headed toward positive territory again…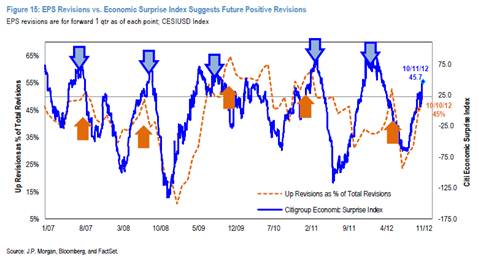 But one top market seer highlighted this chart as a top reason to worry…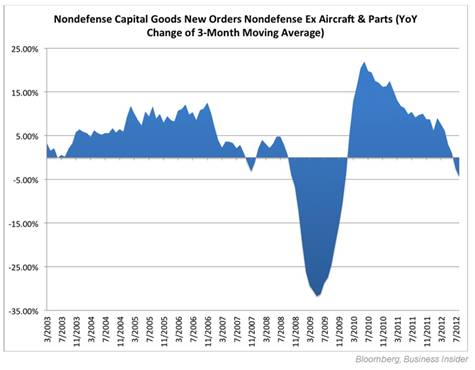 (BusinessInsider/DavidRosenberg) 
Equity Mutual Fund investors don't care as they appear to be accelerating their shift toward fixed income funds…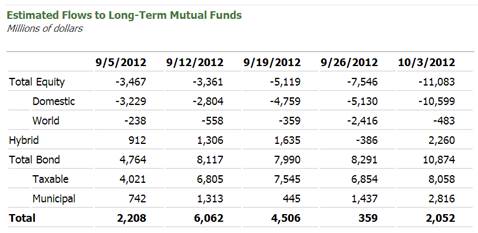 (ICI) 
Maybe retail investors should take a long look at GMO's new Asset Class forecasts…
And Jeremy Grantham's team has a VERY good track record, so take an extra-long look at this chart.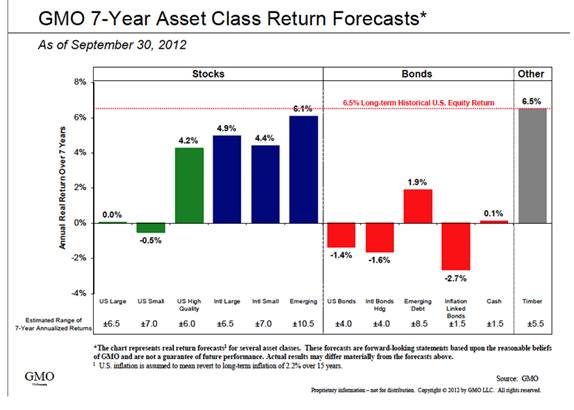 (mebanefaber) 
Quotes & Tweets of the week…
"The next three to four months we are going to probably have greater uncertainty and the market may test itself one more time," BlackRock CEO Laurence Fink
"If Simpson-Bowles had been adopted a year ago the U.S. economy would be booming" JPMorgan CEO Jamie Dimon
@justinwolfers: Irony of the EU winning the Nobel Peace Prize is that it is awarded out of Norway–who would fit the union naturally–but opted not to join.
"I do not know a single start-up founder who accept the idea that creating a company, in which it will invest all his savings and years of effort often without a salary, must then give to the State 60.5 percent of gain when he sells his company if he succeeds." Pierre Chappaz, French entrepreneur
Michael Mauboussin is a great thinker. His soon to be released book is called, "The Success Equation". The first chapter is free at the link below.
"Much of what we experience in life results from a combination of skill and luck. A basketball player's shot before the final buzzer bounces out of the basket and his team loses the national championship. A pharmaceutical company develops a drug for hypertension that ends up as a blockbuster seller for erectile dysfunction. An investor earns a windfall when he buys the stock of a company shortly before it gets acquired at a premium. Different levels of skill and of good and bad luck are the realities that shape our lives. And yet we aren't very good at distinguishing the two. Part of the reason is that few of us are well versed in statistics. But psychology exerts the most profound influence on our failure to identify what is due to skill and what is just luck. The mechanisms that our minds use to make sense of the world are not well suited to accounting for the relative roles that skill and luck play in the events we see taking shape around us. Let me start with some examples that are clearly controlled by either luck or skill…"
Read the 1st chapter here for free:
(HBR)
Congratulations to New Jersey…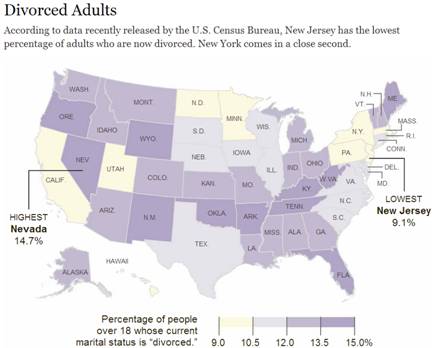 "The composition of New Jersey married individuals is quite favorable across several indicators, providing some evidence for the low divorce rate," said Susan L. Brown, a sociology professor and co-director of the National Center for Family and Marriage Research at Bowling Green State University in Ohio. "These factors include education, race-ethnicity, age, and age at first marriage." (NYTimes)
Four observations on life from Leon Cooperman (Omega):
there's nothing more important than family,
it's great to have friends but you have to be one,
never do anything that you'd be embarrassed about if it appeared in the paper, and
when you've achieved success then share with others less fortunate
In case you were wondering, most of the U.S. is very close to a Starbucks…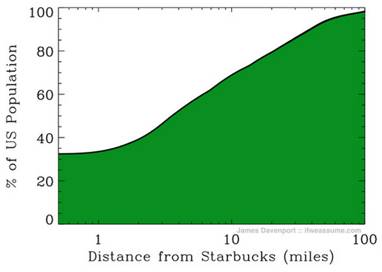 (FastCoDesign) 
But…Starbucks vans with sliding doors are a bad idea.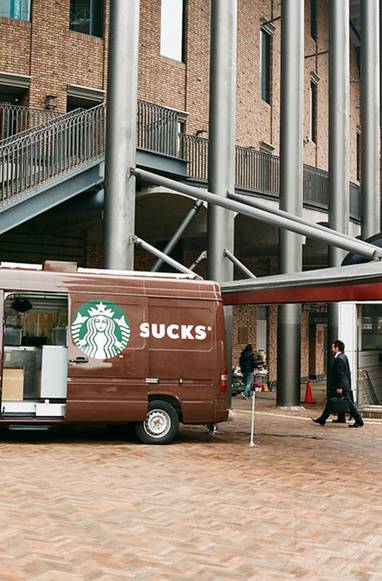 @SlopeOfHope
Most interesting business idea of the week…


(BridalBrokerage)
Meanwhile, a 'Walking Dead' business from 2008 has risen from the grave…House flipping is back!
As many housing markets stage a recovery, there is a deep inventory of foreclosed or bank-owned properties that investors can tap at below-market prices. House flippers have grossed an impressive $29,342 on average for each property in the first half of this year, according to RealtyTrac, a foreclosure industry data supplier. From purchase to sale, the average flipped home is turned in 106 days. (USAToday)
Blaine Rollins, CFA, is managing director, senior portfolio manager and a member of the Investment Committee at 361 Capital. He is responsible for manager due-diligence, investment research, portfolio construction, hedging and trading strategies. Previously Mr. Rollins served as Executive Vice President at Janus Capital Corporation and portfolio manager of the Janus Fund, Janus Balanced Fund, Janus Equity Income Fund, Janus Aspen Growth Portfolio, Janus Advisor Large Cap Growth Fund, and the Janus Triton Fund. A frequent industry speaker, Mr. Rollins earned a Bachelor's degree in Finance from the University of Colorado, and he is a Chartered Financial Analyst.
In the event that you missed a past Research Briefing, here is the archive…
361 Capital Research Briefing Archive