361 Capital portfolio manager, Blaine Rollins, CFA, previously manager of the Janus Fund, writes a weekly update looking back on major moves, macro-trends and economic data points. The 361 Capital Weekly Research Briefing summarizes the latest market news along with some interesting facts and a touch of humor. 361 Capital is a provider of alternative investment mutual funds, separate accounts, and limited partnerships to institutions, financial intermediaries, and high-net-worth investors
361 Capital Weekly Research Briefing
October 8, 2012
Timely perspectives from the 361 Capital research & portfolio management team
Written by Blaine Rollins, CFA
Have you ever seen a more discussed and argued day of data then Friday's Jobs statistics?
If you have a bias read on the economy (or politics) you can find any angle that you want in the numbers. The less volatile Non-Farm Payroll data showed a gain of +114k which was in line with expectations. But remember that the U.S. needs 150k+ just to offset population growth. July and August revisions were each revised +40k higher, but the gains were due to government jobs. While average hourly earnings and hours worked both gained, manufacturing jobs lost -16k. Over in the more volatile Household phone survey, the job increase showed a gain of +873k pushing the U-3 rate down to 7.8%. This was the biggest monthly jump in 30 years and at odds with the Payroll survey. Within the +873k, temp/part time jobs accounted for +582k and government jobs added +187k. Bottom line in looking at both sets of numbers, it is a good thing that more people are leaving the house for employment, but sad that not enough high quality, full time jobs are being created.
Always good to look at the monthly trends in the data…



(Capital Economics)
The big outlier in the Household phone survey is that respondents reported getting jobs, but with U-6 holding flat at 14.7%, it is not the full time job that they would prefer…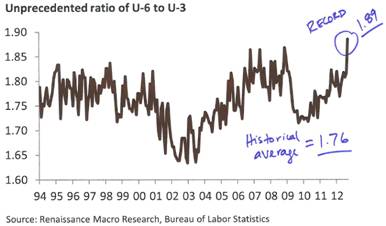 Meanwhile, the Fed's #1 jobs target is not responding to lower mortgage rates…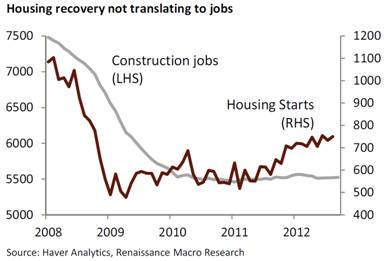 But if the NAHB Sentiment Index is correct, housing should continue to gather steam…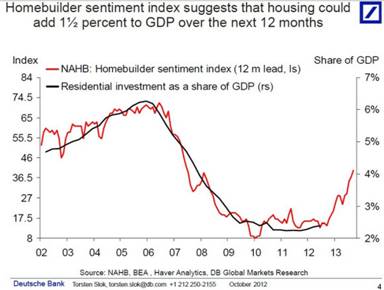 One series of Jobs data that needs no assistance…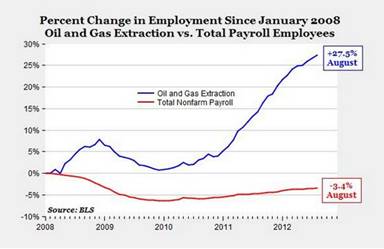 The most interesting data series that came out on Friday. Start worrying if you have direct exposure to higher education…
For the first time in the series, 20-24 year olds gained employment in September which of course means fewer went to college. Has college tuition pricing finally put pressure on demand? We know that MBA application counts are in free fall, but could this have happened across undergraduate application counts? If so, how would this impact the public and private university systems?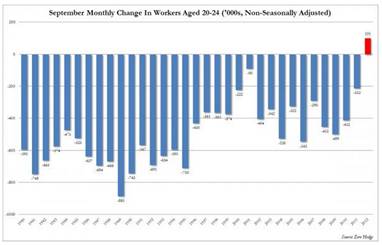 (ZeroHedge) 
Full economic data on the week was pretty positive versus expectations…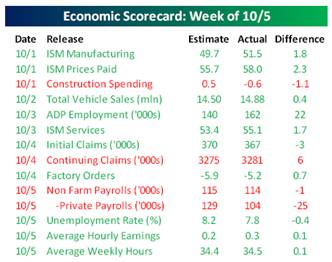 (Bespoke)
For the financial markets, it was a RISK ON week…
European equities led the markets higher behind better than expected PMI data and more strong words from Mario Draghi and the ECB. In the U.S., financial stocks led while energy underperformed with a lower move in crude oil. S&P 500 outperformed the Nasdaq due to more financials & cyclicals and less technology (AAPL). Safe fixed income had a tough week and the TLT chart looks like a ball bouncing down a hill.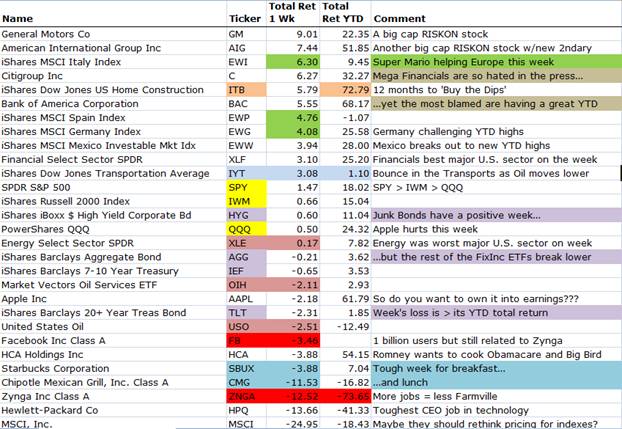 Next up, the Q3 Earnings period…
It has always been easy to make money buying a down market into a healthy earnings period. Unfortunately, the current situation is the exact opposite so be careful going into each earnings report.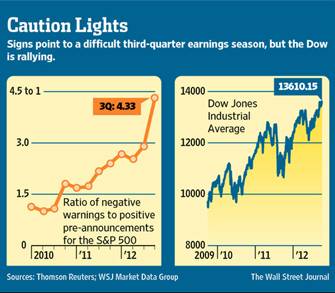 (WSJ)
Investors continue to want to hunt in the more cyclical areas of equities which is usually good for a RISK ON move…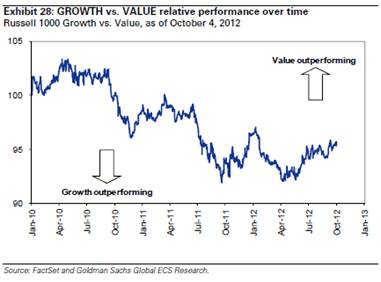 Another RISK ON measure is the markets' ravenous appetite for junk bonds…
Just please keep an eye out for a repeat of the 2007 issuance evaporation.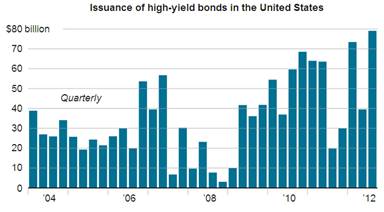 (NYTimes) 
And hedge funds are still looking to play catch up into the year-end…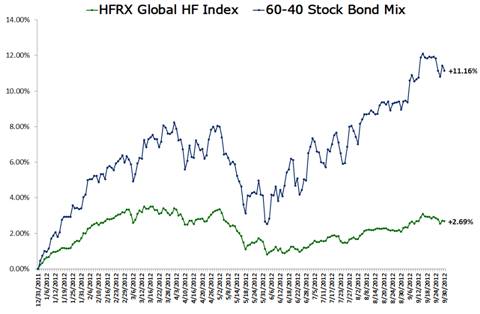 Another look at the Fiscal Cliff impact on the Dividend tax hike mentioned last week…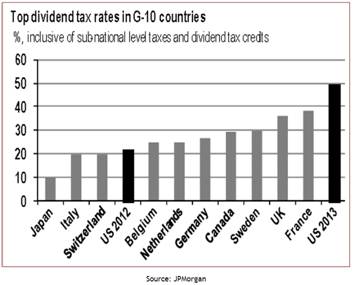 (Soberlook) 
New Urban-Brookings study shows how crippling the U.S. fiscal cliff would be for everyone…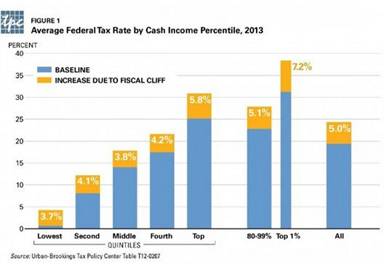 (BusinessInsider) 
A big new idea inserted into the fiscal debate by Gov. Romney…
"As an option you could say everybody's going to get up to a $17,000 deduction; and you could use your charitable deduction, your home mortgage deduction, or others – your healthcare deduction. And you can fill that bucket, if you will, that $17,000 bucket that way," he said during a visit with Denver's FOX31. "And higher income people might have a lower number." (Bloomberg)
A coincidence between Apple maps and the top in AAPL stock price?
@M_McDonough: Apple maps has honestly taken map technology back five to ten years; I may be upgrading to a Samsung.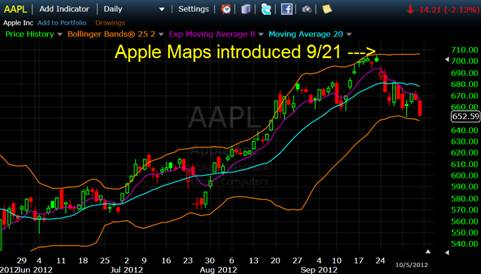 Top Tweets and Quotes for the week…
@felixsalmon: Since the beginning of 2011, EM stocks are down 10% in $ terms, while EM bonds
are up 25%.
@mjmauboussin: The Two Common Fallacies That Explain Why NFL Coaches Punt on Fourth
Down (Slate.com)
"The U.S., in fact, is a serial offender, an addict whose habit extends beyond weed or cocaine
and who frequently pleasures itself with budgetary crystal meth." (Bill Gross, PIMCO)
"What do you call a stock that's down 90%? A stock that was down 80% and then got cut in half." (David Einhorn)
Good news for Homer Simpson…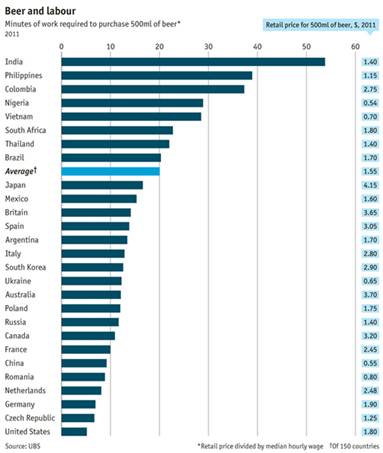 (Economist)
Bad news for car owners in California…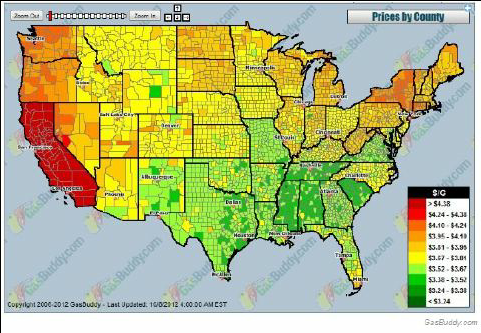 Good news for political sales promotions…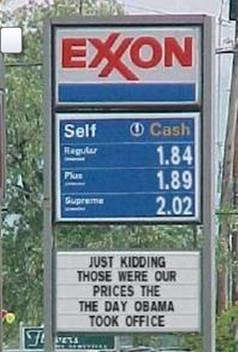 Morris Township Beacon & Bridge gas station had traffic backed up nearly a half mile to I-475 today as it rolled back prices to $1.84 per gallon for the first 150 motorists. The gas station announced early today that it would host a gas rollback event for the Americans for Prosperity-Michigan's "Obama's Failing Agenda" bus tour. The group said that the $1.84 per gallon price reflects the cost of gas in 2008, before President Barack Obama took office. (Mlive.com)
Long exposure shot of a bottle rocket. Feel free to insert your own simile here…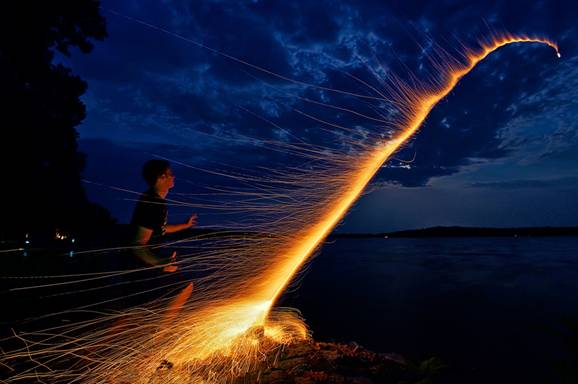 (imgur.com) 
And as Grandma always said, good things come to those that smile most often…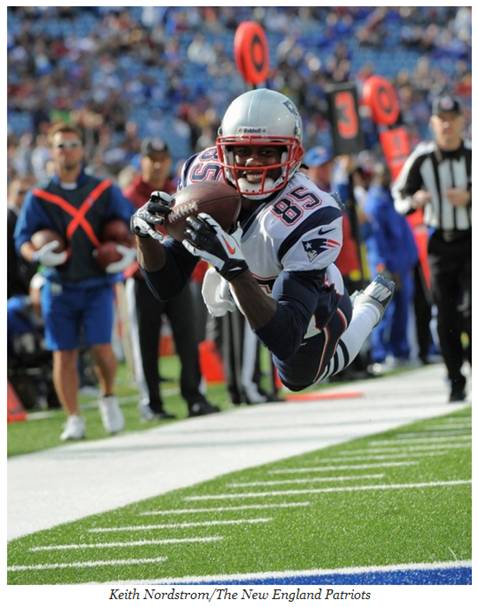 (BostonMagazine) 
Blaine Rollins, CFA, is managing director, senior portfolio manager and a member of the Investment Committee at 361 Capital. He is responsible for manager due-diligence, investment research, portfolio construction, hedging and trading strategies. Previously Mr. Rollins served as Executive Vice President at Janus Capital Corporation and portfolio manager of the Janus Fund, Janus Balanced Fund, Janus Equity Income Fund, Janus Aspen Growth Portfolio, Janus Advisor Large Cap Growth Fund, and the Janus Triton Fund. A frequent industry speaker, Mr. Rollins earned a Bachelor's degree in Finance from the University of Colorado, and he is a Chartered Financial Analyst.
In the event that you missed a past Research Briefing, here is the archive…
361 Capital Research Briefing Archive