361 Capital portfolio manager, Blaine Rollins, CFA, previously manager of the Janus Fund, writes a weekly update looking back on major moves, macro-trends and economic data points. The 361 Capital Weekly Research Briefing summarizes the latest market news along with some interesting facts and a touch of humor. 361 Capital is a provider of alternative investment mutual funds, separate accounts, and limited partnerships to institutions, financial intermediaries, and high-net-worth investors
361 Capital Weekly Research Briefing
October 1, 2012
Timely perspectives from the 361 Capital research & portfolio management team
Written by Blaine Rollins, CFA
The books are now closed on Q3/2012. Now let the Hunger Games begin!
It was a great quarter for RISK ON with the S&P500 outperforming Bonds (AGG) by almost 500bps. If your benchmark was equity risk, you did extremely well if you were long Google, Sprint, Apple, Energy, and Homebuilder stocks. If a hedge funder, being short Transports, Facebook, and Groupon would have helped your numbers. As portfolio managers enter the battle arena for the last quarter of 2012, many are looking at a 'Hunger Games' scenario. PMs need significant outperformance to salvage even a marginal 2012. Few PMs will be sitting on their hands and many will be running for the battle axes and big moving equities that can get them to the finish line in one piece.

Besides the protests in Europe, a big reason for the pullback in equities last week was the many softer than expected data points…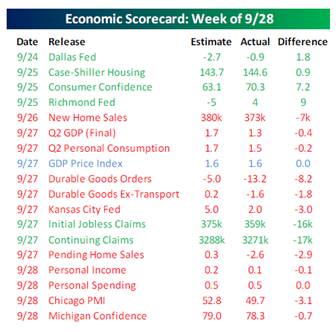 (Bespoke)
At the top of the list was the Chicago Purchasing Managers Index which played worse than the Cubs…
The Chicago PMI fell to 49.7 in September from 53.0 in August. This is the first reading below 50 since 2009.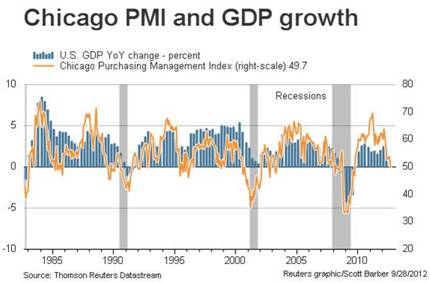 (TheReformedBroker)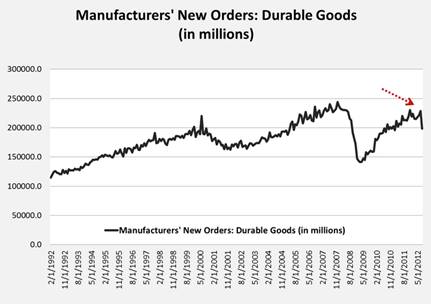 Across the pond to the east, toy sales also facing austerity headwinds…
FERRARI SALES IN ITALY DOWN 50% ON CRISIS, TAX EVASION MEASURES. (Bloomberg)
And across the pond to the west, Nike is not the only global multinational feeling the slowdown from China…
Nike global future orders = only 6% growth (8% on a currency neutral basis) and a 6% decline in China.
VOLVO SEES `SOFTENING DEMAND' ON CHINA TRUCK DEMAND. (Bloomberg)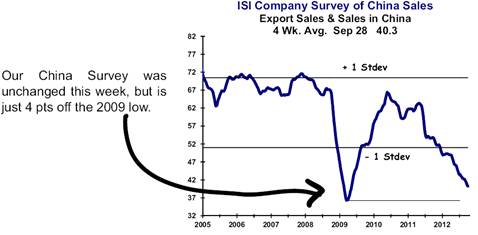 (ISI Group)
Speaking of Zingers, this comment from a Fed Head ripped the market 1% lower last week…
Federal Reserve Bank of Philadelphia President Charles Plosser said new bond buying announced by the Fed this month probably won't boost growth or hiring and may jeopardize the central bank's credibility. "We are unlikely to see much benefit to growth or to employment from further asset purchases," Plosser said in the text of a speech prepared for delivery today at the reserve bank in Philadelphia. "Conveying the idea that such action will have a substantive impact on labor markets and the speed of the recovery risks the Fed's credibility." (Bloomberg)
Enough of the bad news, don't forget the seasonal trend: "Sell in May and Go Away"…Until October!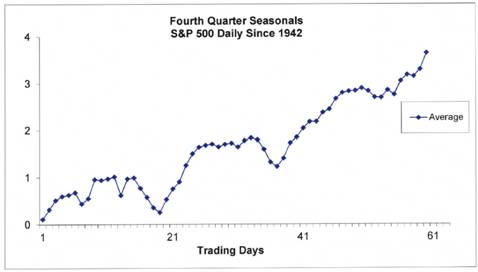 (RenMac)
The only equity exposure retail investors want is the one labeled ETF…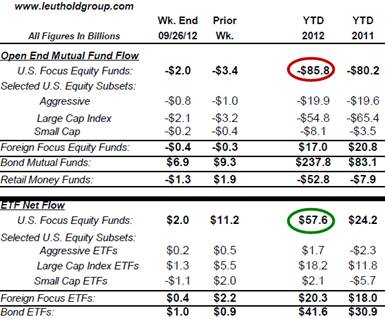 An estimated net outflow of $2.0 billion was recorded for U.S. focus equity mutual funds this week; these net outflows have persisted for ten consecutive weeks. Plugging in official ICI flow data through August, and including our estimates for September, brings YTD net outflow to over $85 billion. YTD, net outflows for this broad fund subset are now about $5 billion higher than that recorded this time last year. U.S. focus equity ETFs, on the other hand, recorded estimated net inflows for the third consecutive week; YTD this ETF subset has seen nearly $60 billion in net inflows. (Leuthold Group)
If you are long dividend paying equities, now would be a good time to start your letter writing campaign to your elected officials. (Note the solid grey bar that is the OPPOSITE of the Fiscal Cliff. Call it the Fiscal Rocket.)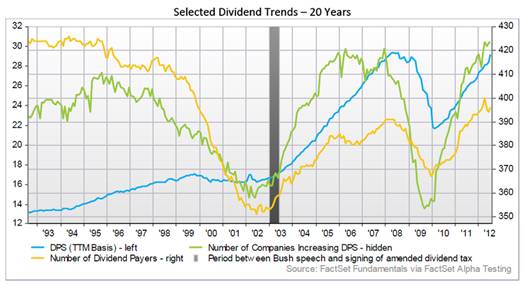 (Factset) 
Time for a visit to Dr. Damodaran to determine what the Rx for your dividend stocks will be if Washington D.C. decides to 'Thelma and Louise' the Fiscal Cliff…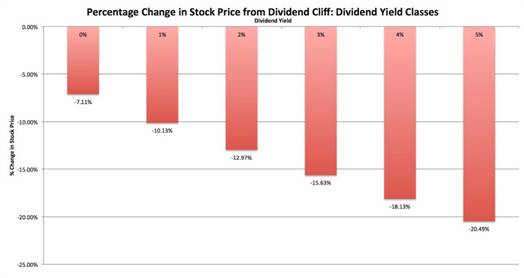 Bottom line: I may be overly pessimistic, but the dividend cliff scares me and I am planning for the eventuality that the tax code will change drastically on January 1, 2013. I am and will continue pruning my portfolio, shifting my money from large dividend-paying U.S. stocks to non-dividend paying or low-dividend paying foreign stocks. I won't go overboard and sell short/ buy puts on high dividend paying stocks. After all, the dividend tax effect is one of many forces that will affect equity markets over the next few months and it is possible that one of these effects will drown out the tax effect. (AswathDamodaran)
@PIMCO: Gross: How many Treasuries you own is not the question. How many 3 and 3.5% 30 year mtges is. Own mortgages.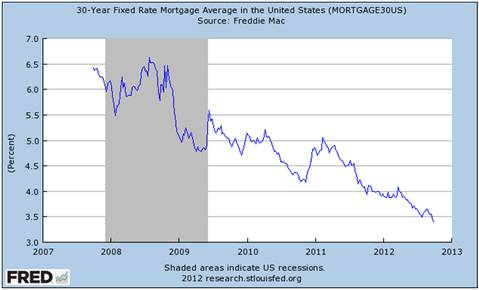 Average U.S. rates on fixed mortgages fell again to new record lows. The decline suggests the Federal Reserve's stimulus efforts may be having an impact on mortgage rates. Mortgage buyer Freddie Mac said Thursday that the rate on the 30-year loan dropped to 3.40 percent. That's down from last week's rate of 3.49 percent, which was the lowest since long-term mortgages began in the 1950s. The average on the 15-year fixed mortgage, a popular refinancing option, fell to 2.73 percent, down from the record low of 2.77 percent last week. (TimeBusiness)
That money that you are saving on your monthly mortgage has found a new home…your cellphone bills…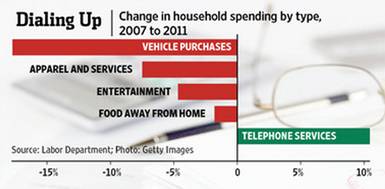 Almost nine in 10 of all U.S. adults have a cellphone, according to a Pew Research Center survey. Middle-income consumers increased their telephone spending in 2011 by $59, almost as much as the $64 in additional telephone spending by the 20% of consumers with the highest incomes, according to the Labor Department data. As wireless service gets more expensive, the trade-offs become more painful. That could threaten to further crimp consumer spending elsewhere—or slow the upward swing in consumer spending on wireless. (WSJ)
Consumers are saving $$$ on utilities switching from coal to gas, but it has been tough on railroad volumes…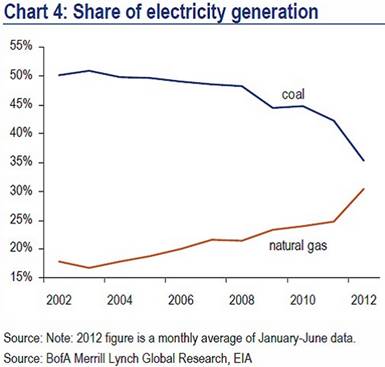 If you are looking for very LONG exposure, Ken Heebner has CGMFX wound up to eat QE with a knife and fork…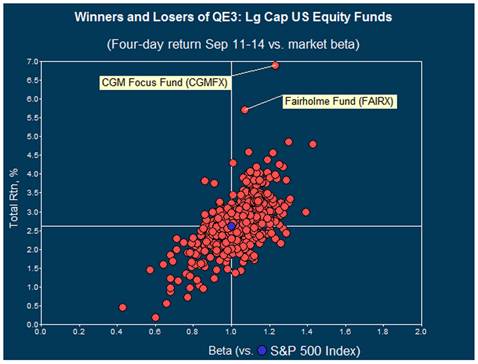 (MPIResearchCorner) 
Facebook has taken a beating, but they nailed their April acquisition of Instagram…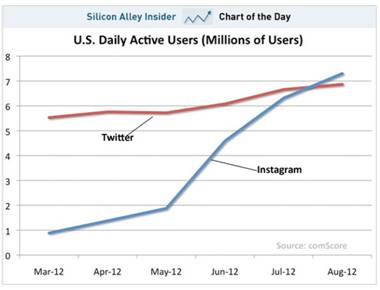 (BusinessInsider) 
 Someone in Springfield, IL should call Paris and tell them how raising personal and corporate taxes will not fix their budget deficit…
The new budget aims to reduce the French government's budget deficit by 1.5 percentage points to 3 percent of GDP in 2013. That would bring it in line with the 3-percent budget deficit limit laid out in the Maastricht Treaty (the EU's founding document). To do this, the 2013 budget imposes a controversial 75 percent tax rate on millionaires, which the government believes will raise income tax revenue by 23 percent. The other big tax hike is on corporations, which the government expects will raise 30 percent more corporate tax revenues in 2013.(BusinessInsider)
 Or the French could look at the population change of increasingly taxed California over the last 20 years…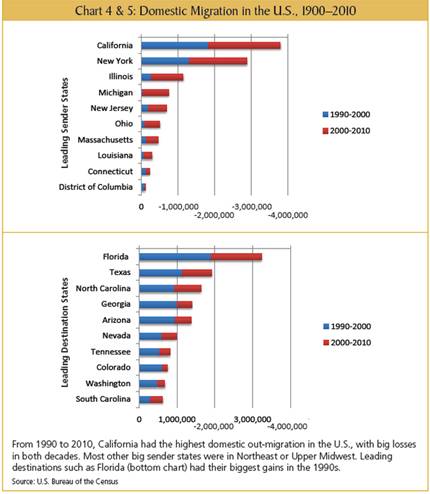 (Manhattan-Institute) 
One major burden on the economy, your property taxes, never fell with the plunge in your home value…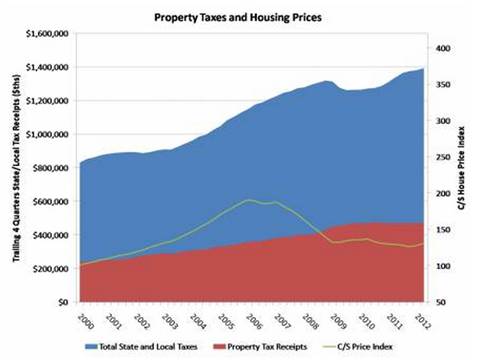 (EyeOnHousing) 
 Full employment in the U.S. would be a great thing…
"Do you know how President Obama could almost instantly create full employment? Abolish the corporate income tax."
(WashingtonTimes) 
Instead, everyone wants bonds and gold…
The signature of our times is the fever for investing in government bonds and $1,700-an-ounce gold rather than in job creation and small businesses.
(David Malpass, WSJ)
What's Jeff Gundlach Thinking?
Given his penchant for quoting the Bard, we asked him how Shakespeare would have described conditions to come. Quoting Mark Antony in Act Three, Scene Two of "The Life and Death of Julius Caesar," Gundlach left us with, "If you have tears, prepare to shed them now." (AdvisorOne)
A Great Article…
"Finally it came to me: The one thing nearly all the partners had in common was they loved their work."
(DealbookNYTimes)
If you have a kid that likes sports and computers, give him/her this link. A great way to get them thinking more about logic and programming.
@khanacademy: Monte Carlo simulation to answer LeBron James' question about whether to shoot a 3 or take a 2. (KhanAcademy)
But then take your kid outside and grab a ball…
Today's youth could be the first generation in history not to outlive its parents' generation. That's part of a new study unveiled Monday by "Designed To Move," a group of organizations led by Nike, the American College of Sports Medicine and the International Council of Sport Science and Physical Education that are hoping to boost physical activity among young people. The study's eye-popping stat is that today's children are on track to have a life expectancy five years shorter than their parents. (ESPN) (DesignedToMove)
Best tweets of the week:
@richardbranson: "There's nothing dangerous about swimming with sharks. If they attack just poke them in the eye with your finger…" @richardbranson: And if that fails then just poke them in the eye again – with your stump."
 @MTRinCO: "Today is your day, your mountain is waiting, so get on your way." – Dr Seuss
Rest in Peace Michael Regan. Your smile, personality, and great conversation touched many in the worlds of Wall Street, Corporate Finance, Cancer, Cycling, our kids' schools, New Jersey, Colorado, and Twitter. You will be missed, but not forgotten.
Blaine Rollins, CFA, is managing director, senior portfolio manager and a member of the Investment Committee at 361 Capital. He is responsible for manager due-diligence, investment research, portfolio construction, hedging and trading strategies. Previously Mr. Rollins served as Executive Vice President at Janus Capital Corporation and portfolio manager of the Janus Fund, Janus Balanced Fund, Janus Equity Income Fund, Janus Aspen Growth Portfolio, Janus Advisor Large Cap Growth Fund, and the Janus Triton Fund. A frequent industry speaker, Mr. Rollins earned a Bachelor's degree in Finance from the University of Colorado, and he is a Chartered Financial Analyst.
In the event you missed a past Research Briefing, here is the archive…
361 Capital Research Briefing Archive