361 Capital portfolio manager, Blaine Rollins, CFA, previously manager of the Janus Fund, writes a weekly update looking back on major moves, macro-trends and economic data points. The 361 Capital Weekly Research Briefing summarizes the latest market news along with some interesting facts and a touch of humor.
361 Capital is a provider of alternative investment mutual funds, separate accounts, and limited partnerships to institutions, financial intermediaries, and high-net-worth investors
361 Capital Weekly Research Briefing 
September 3, 2012
Timely perspectives from the 361 Capital research & portfolio management team
Written by Blaine Rollins, CFA
---
Best actions to have taken in August: 1) Sell Volatility, 2) Copy this investor…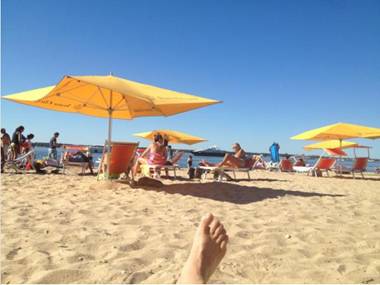 @JeffMacke: Sandy toes feel bliss, markets bore workers senseless, leave work and go swim. #haiku
Hope you enjoyed the beach, because history says you are going to need the relaxation if you are still long…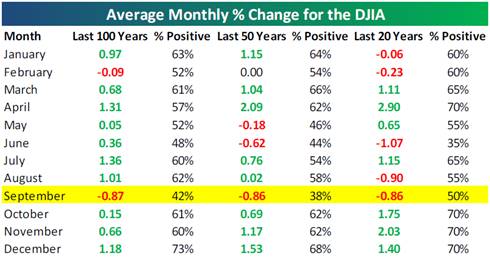 (Bespoke)
And contrarians would note that Barron's is not helping the longs…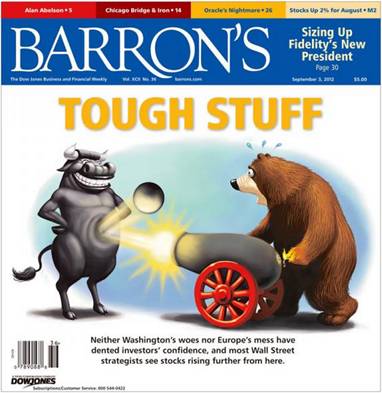 For the month of August, there was only 1 day with a move more than +/-1%. This was the lowest amount since May 2007. On a daily basis, it was like watching paint dry or a preseason NFL game. But if you were long or short for the whole month, there were some interesting moves:
Spain/EWP +13.8% (biggest Risk On move in the market)
Gasoline/UGA +13.0% (hurricane + refinery accidents + usage up)
Homebuliders/XHB +12.1%Italy/EWI +10.8%
Apple/AAPL +9.4% (new products + world domination in the patent courts)
Silver/SLV +8.2% (global QE interest)
Nasdaq100/QQQ +5.1% > SmallCap/IWM +3.3% > LargeCap/SPY +2.2%
Canada/EWC +4.2% > Australia/EWA +0.2% (keep reading below)
U.S. Treasury 20+Yr/TLT -1.3%
U.S. Dollar/UUP -1.9%
Utilities/XLU -4.1% (big risk off move in equities seen here)
China/FXI -4.4% (the fundamentals have no bottom)
Natural Gas/UNG -14.2%
S&P500 VIX/VXX -15.6% (option sellers had a great month)
Facebook/FB -16.8% (over $40b in market cap is gone from the IPO)
A worrisome housing note from one of our Florida readers. Isolated event or start of a new trend?
Luxury home builder Toll Brothers has suspended sales at Lake Juliana Estates in Auburndale. Toll Brothers sent a letter to homeowners in the gated community last week saying sales had been halted, but officials said all homes under construction would be completed. "We anticipated the recent real estate market rebound would have led to significant improvement in Lake Juliana Estates sales, similar to our other Central Florida communities," the letter reads. "Unfortunately, we have not experienced this turnaround and need to re-evaluate our options."   (TheLedger) 
Key comments from the Joy Global CEO last week give insight into China and the global commodity markets…
"The demand for commodities has slowed, adjusting to weaker global economic growth. Recent economic data is mixed, but is generally consistent with low U.S. growth, Europe contracting and China decelerating. With demand slowing, recent capacity additions have created supply surpluses and depressed pricing for most commodities. Customers are responding by cutting capital expenditures, reducing overhead and trimming production. Production cuts have been greatest in U.S. coal, but the closure or reduction of higher cost coal mines is also in process in Australia and Russia. As noted, U.S. coal has experienced the most severe decline, driven primarily by lower electricity demand and electricity generators switching to natural gas…The outlook for our business has continued to decline over the past quarter…Although the U.S. market has progressed in line with our expectations, the deceleration of China demand has deteriorated international markets more quickly and severely than previously expected…As we look forward, we see our fiscal year 2013 revenues to be flat to down slightly under a continuation of current market conditions."
An interesting idea for you arbs = Go Long Canada, Short Australia…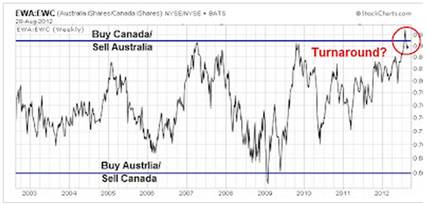 The fundamentals in China continue to show no bottom:
Chinese steel prices at 3 year lows…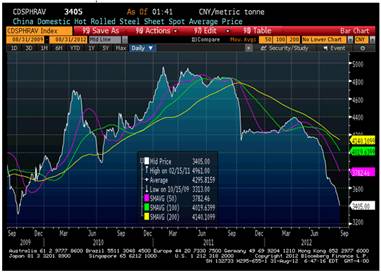 (ISI Group)
2. China Freight Traffic Volume – Railways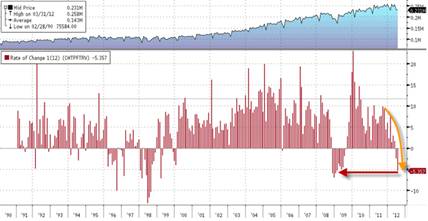 (Sean Corrigan of Diapason Commodities)
So what did we learn from Jackson Hole?
@PIMCO: Gross: #Bernanke to go out with his guns blazing. #QE3 a near certainty. It will be open-ended but increasingly impotent.
A new data point out of Spain looks like the run on bank deposits continues…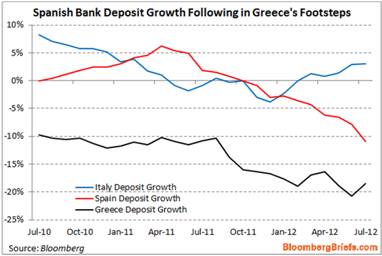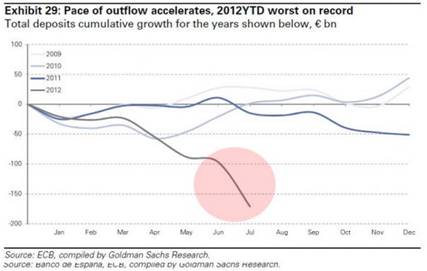 During the month of June alone $70.90 billion left the Spanish banks and in July it was worse at $92.88 billion which is 4.7% of total bank deposits in Spain. For the first seven months of the year the outflow adds up to $368.80 billion or 17.7% of the total bank deposits of Spain and the trajectory of the outflow is increasing dramatically. The Spanish ten year now yields a 6.81% and their thirty year is yielding 7.34%. Spain has now set up a fund for its regions to tap of $22.6 billion and this may not even be close to what is asked for or required with the regions needing some $50-75 billion in assistance. Many of the regions in Spain are not paying suppliers or their other local debts and the situation is clearly out of control. On top of this Bankia, late Friday, reported out bad loans of $8.24 billion and an operating loss of $5.58 billion causing the government to promise to inject $5-6 billion into the bank immediately to prevent its collapse. (Zerohedge)
Meanwhile, a new poll out of Europe shows little further support for Greece by the Germans…
Only a quarter of Germans think Greece should stay in the eurozone or get more help from other countries in the currency union, a Financial Times/Harris poll has found. The overwhelming verdict highlights Angela Merkel's domestic dilemma as she comes under pressure in Europe to agree more time or money for Greece to get its €174bn second bailout back on track… The FT/Harris poll of 1,000 adults in Germany, Italy, Spain, France, and Britain showed that while there were significant disagreements between northern and southern Europe over several aspects of the eurozone crisis, Greece was most divisive. Only 26% of Germans believed Greece "will ever repay its bailout loans", compared with 77% of Italians and 57% of Spaniards. (FT)
Illinois receives a rating downgrade. Guess that individual and corporate income tax hike didn't increase revenues like the politicians said it would (and the economists said it wouldn't)…
Stubborn pension problems and government gridlock earned Illinois another reduction in its credit rating Wednesday, potentially costing taxpayers millions of dollars. Standard & Poor's Ratings Services said it lowered Illinois' rating a notch because of "weak pension funding levels and lack of action on reform measures." (BusinessWeek)
How long until your local newspaper moves to less than 7 days a week?
Under the new company, The Patriot-News will change its print schedule to three days a week beginning in January 2013. At the same time, the organization will intensify its online and digital news-gathering efforts 24 hours a day, seven days a week… "We are not making this move lightly," Kirkpatrick said in announcing the changes to readers on PennLive.com Tuesday morning. "We understand how important the daily print paper is to a large number of people in our region. However, this is a major step to make sure we are leading, not trailing, in the world of innovation and solutions." (PennLive)
The massive shrink of the financial sector is headed upstream…
@KatyFinneran: As Wall Street bonuses shrink, so does the incentive to go to biz school. Columbia reports its MBA applications are down 19% this year
Pretty painful at the pump when driving to the beach, eh?
@MandyCNBC: Get ready for the highest ever Labor Day gasoline prices. #AAA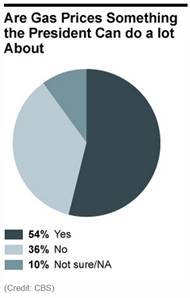 Imagine what it is like to be a politician in Europe then…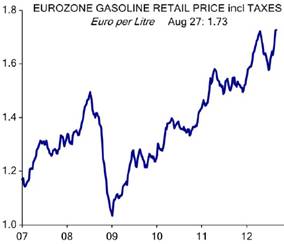 The question that could be answered in Charlotte this week..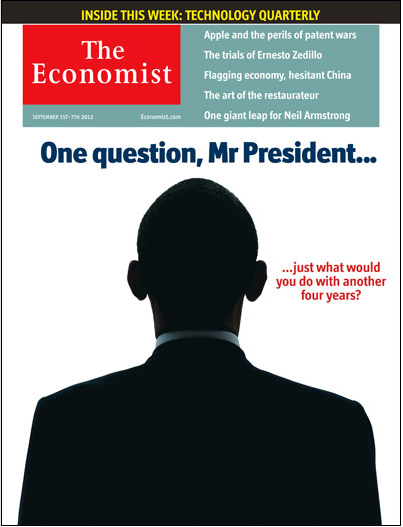 And the Economist grades the POTUS as we head into the DNC convention…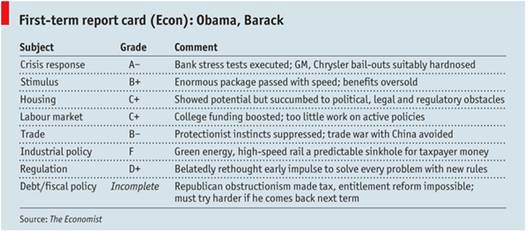 As for the RNC convention in Tampa, some memorable lines…
"When a nation loses control of its finances, it loses control of its destiny." Dr. Condoleezza Rice
"I'll be damned, we're Republicans." Gov. Suzanna Martinez
"We own it. It is not you owning it, and not politicians owning it. Politicians are employees of ours. And when somebody does not do the job, we got to let them go." Clint Eastwood
"College graduates should not have to live out their 20s in their childhood bedrooms, staring up at fading Obama posters and wondering when they can move out and get going with life." Rep. Paul Ryan
"People need dramatic examples to shake them out of apathy." Christian Bale "Batman Begins" 2005 (okay, it wasn't a line in Tampa, but I am hoping that it makes it to Charlotte because all of the pols need to wake up and get fixing!)
As for the final battle, it all comes down to Florida. (Enjoy the TV ads Dad.)

If Obama keeps his seat in the Oval Office, he will either need to learn to horse trade or get a big VETO Sharpie…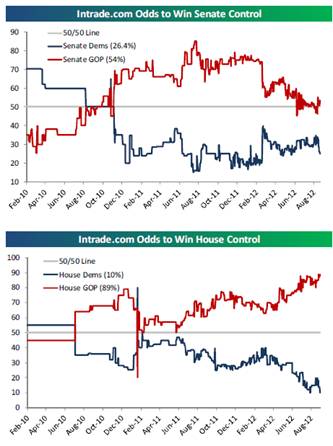 (Bespoke)
In picking a fight with John McClane, Apple may have overstepped its bounds. (Queue the background music: Beethoven Symphony 9 in D minor)…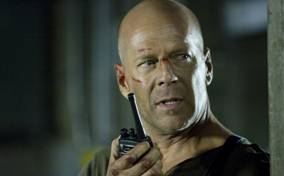 Bruce Willis, the Hollywood actor, is said to be considering legal action against Apple so he can leave his iTunes music collection to his three daughters. The 57-year-old action star has reportedly spent thousands of dollars on digital music, which he wants to leave to daughters Rumer, 24, Scout, 20, and Tallaluh, 18. Existing iTunes rules mean he cannot do so however, as purchased music is only "borrowed" under a license. (Telegraph)
Time for an EXIT sign X-Prize. Give the winner 1% of the annual energy cost savings = $25m…
Each one uses relatively little electricity, but they are on all the time. And we have a lot of them in our schools, factories, and office buildings. The U.S. Environmental Protection Agency estimates that there are more than 100 million exit signs in use today in the U.S., consuming 30–35 billion kilowatt-hours (kWh) of electricity annually. That's the output of five or six 1,000 MW power plants, and it costs us $2-3 billion per year. Individual buildings may have thousands of exit signs in operation. (BoingBoing)
If someone doesn't help CT voters with their math, Colorado is more than happy to bid $115m in tax breaks to bring Bridgewater Associates to our beautiful State…
Connecticut Gov. Dannel Malloy has called his state's agreement to help Bridgewater Associates build a new headquarters in Stamford a "home run." The people who currently use the waterfront site eyed for the $750 million complex think it's more of a foul ball…Malloy's deal with Bridgewater has also been criticized for the $115 million in incentives for the hedge fund giant. The governor has defended the deal, noting that it keeps more than 1,000 high-paying jobs in Connecticut, when Bridgewater could have easily moved from its current Westport campus to New York or New Jersey. (FinAlternatives)
Good-bye summer. See you in 9 months…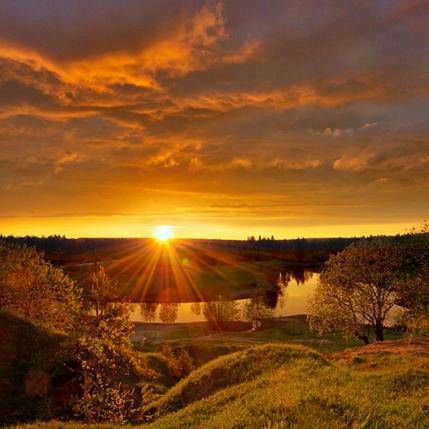 @uncucumbered: Late summer in Dover Tennessee. Tonight's #sunset.

Blaine Rollins, CFA, is managing director, senior portfolio manager and a member of the Investment Committee at 361 Capital. He is responsible for manager due-diligence, investment research, portfolio construction, hedging and trading strategies. Previously Mr. Rollins served as Executive Vice President at Janus Capital Corporation and portfolio manager of the Janus Fund, Janus Balanced Fund, Janus Equity Income Fund, Janus Aspen Growth Portfolio, Janus Advisor Large Cap Growth Fund, and the Janus Triton Fund. A frequent industry speaker, Mr. Rollins earned a Bachelor's degree in Finance from the University of Colorado, and he is a Chartered Financial Analyst.
In the event that you missed a past Research Briefing, here is the archive…
361 Capital Research Briefing Archive