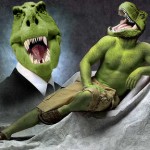 The following post is written by Dinosaur Trader. He is a stock trader. He writes about the daytrading lifestyle, parenthood, marriagehood and the often combustible mixture of the three. He adores sex workers.
Thanks to my sister, a lifelong librarian, I made over 50 points in my first stock trade.
She taught me what I knew about the stock market when I was 9. We were playing the game of Life. I had six kids, auto insurance, life insurance, fire insurance and things were looking good for me. I was way ahead. I retired early, collected a small bonus for that and was chilling. Then she somehow got some stock certificates. She placed them on a couple of numbers on a colored ruler, spun the wheel, and cleaned the fuck up. She settled into her new house in Millionaire Acres, a winner.
From that point on, I knew to win you had to play the market.
Unfortunately, this knowledge was not helpful in the context of "winning" 300 shares of stock from my employer, Ticketmaster Citysearch. They had a special meeting, at which they served beer and pizza (since it was an internet company and 1998), to discuss the IPO. I learned two things at the meeting. First, the stock was going to open higher than our strike prices. If we sold, we'd make money. Second, the president of the NYC office and a couple of other dudes, including my boss, were about to make a lot of money.
Numbers were bouncing around the office. The big guys were rumored to have received thousands, possibly tens of thousands of shares.
The day of the IPO, four large boxes arrived full of those little plastic balls that kids jump into at theme parks. We were told they were there to relax us and to create a feeling of "fun community." The dart board, ping-pong table and weekly softball games weren't working. A little over a year earlier I had graduated from an Ivy League school. I had some self respect. Apparently, this company was trying to take that self respect away.
I didn't want to feel like I was a kid anymore. I had bills to pay. What would have made me relax was a respectable salary.
When the stock opened the next day, the buzz in the office was intoxicating. Even the artistic creative types, the music critic who strolled in each day at noon stinking of alcohol, and the art critic who only wore black and never smiled, seemed jubilant. I called Albert. He was watching it from his trading desk and giving me the numbers. "It's at $45… $50… $55…$60!" It was, in short, like any other internet stock that debuted in 1998. A big winner.
It was beginning to dawn on everyone that they were making solid money. Not much work was done that day. In the following weeks, the stock went even higher. Business ground to a halt. People were just managing their shares.
My shares were easy to manage since I barely had any. I sold 200 the first day about 50 points higher than my strike price and I was pissed. Here's why…
I'd been at the company less than a year. I was making $26,500. I had taken a pay cut to start working there but they assured me that after six months they'd give me a raise. Then they lied. After six months they told me they just couldn't afford a raise. Other people were turned down also so I took them at their word. But once the IPO hit, it was obvious that the office was swimming in shares. There was a party happening but I hadn't really been invited. The stock option morale game can cut both ways.
A month later my phone rang. It was Albert. Ticketmaster Citysearch just bought some auction company. The stock was ripping. A cheer went up in the office. People were celebrating all over again. I hung up with Albert and walked into the back of the office to toss some darts with my deskmate. He had also received 300 shares. He was out. The stock was nearing $70.
The plastic balls from the IPO day still littered the office. Across the room my boss, who had given me a hard time about taking a couple of days off to help my mom, was smiling and laughing with the president of the NYC office. They were rich!
I picked up one of the plastic balls and looked over at my boss. Without much thought I threw it as hard as I could at his head. Then I calmly turned around to throw another dart. I never saw it land and was forced to ignore the immediate aftermath, but I was told it was a clean shot.
That night I had drinks with Albert. He paid. He told me he made $75,000 in December.
I quit my shitty internet job the next day.
Discussion Points
Did I really throw the ball at the guys head?
Do you hate your boss?
Should I have just been happy for my co-workers?
Do you have fond memories of playing board games with your siblings?
You like my Dinosaur avatar?
Click here to follow me on Twitter for health and beauty advice.
And for most definitely indeed, circle me, plus me, plus this, whatever me on Google+.