Shalom, dear TRB readers.  I come to you with a troubled mind over the recent media coverage of Lindsay Lohan's alleged theft.
It's sickening.
Just look at these recent headlines, one nastier than the next:

Hoochie?  Very nice.  How about this one…

And finally, the absolute worst headline imaginable…

An endorsement from Lucifer herself?  It's as if they want this girl dead!
They've been hounding this poor girl for years now.  She's not even a movie star anymore, I haven't seen her do a film in years.
And now, after all the rehab, hollywood studio rejection and publicly-aired lesbian breakups, they're going to accuse her of stealing.  They're going to put her very freedom in jeopardy by claiming she stole a stupid necklace.
What a shonda!  I say Leave Lindsay Lohan Alone!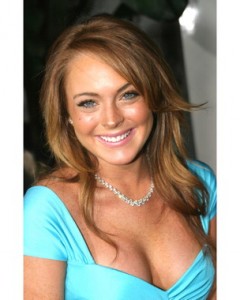 She's too pretty to be actually guilty of any of this stuff.  They are ignoring the Law of Hot Girls which simply states that young ladies who look like Lindsay can do whatever they want.  State, local and federal laws do not apply to you when you have bewitching emerald eyes, long Shiksa-red hair flowing down your back and a raspy bedroom voice from the time you're 18.
The meanness surrounding coverage of this young lady has been abhorrent, but this flagrant violation of the Law of Hot Girls simply will not stand.  I ask you in all honesty how it could possibly be that Lindsay could ever be truly guilty of anything?
If the leggings and furry boots fit, you must acquit.