On November 7th, 2013, a stock was born.
Twitter priced its initial public offering Wednesday night at $26 a share. The stock debuted at 10:49 a.m. ET on Thursday on the New York Stock Exchange, and the first trade came in at $45.10 a share.

Shares quickly jumped to a high of $50.09 — a gain of 93% over the IPO price — before dropping back a bit to close the trading day at $44.90.

A price near $45 a share values Twitter (TWTR) at $24.4 billion.
Twitter closed at $45 per share on its first day as a public company. On Friday, it closed at the same price.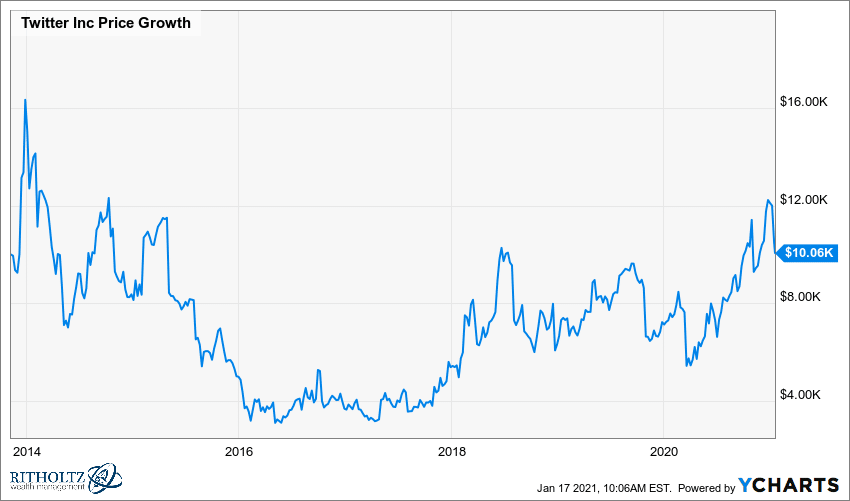 $10,000 invested that day yielded a total return seven years later of about six hundred bucks, give or take. You actually lost money – the cost of living since 2013 is up a cumulative fifteen percent or so: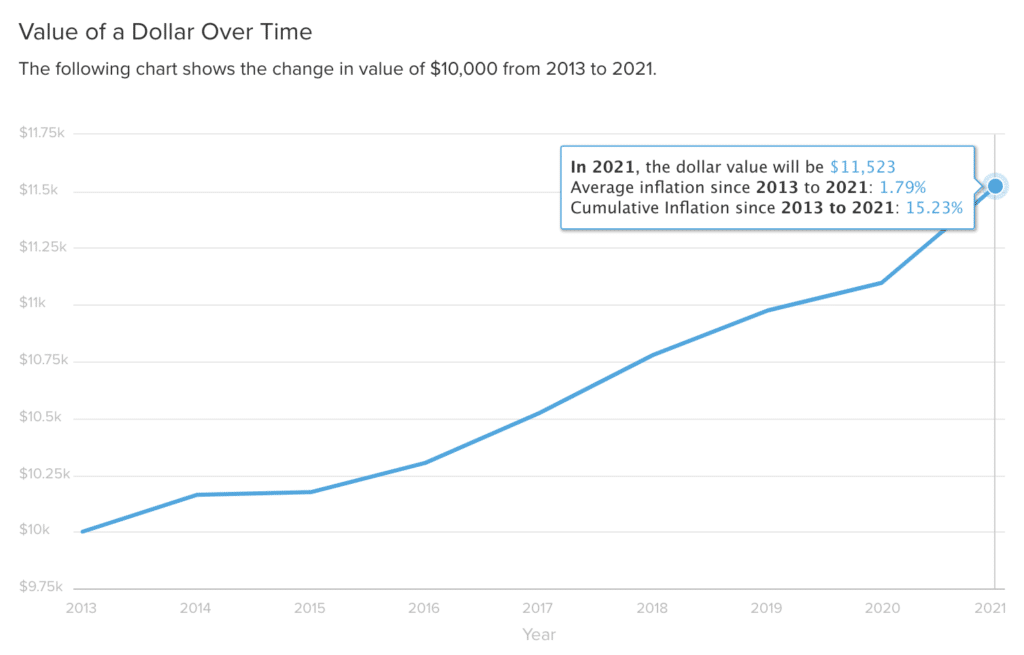 It would be incorrect to say that no value has been created whatsoever. It's just that no value has been created for shareholders. All of the value created by Twitter has accrued to someone other than Twitter – I'll get to that shortly.
Employees and management have done okay, relatively speaking. Because while Twitter's share price hasn't gained by even a dollar since its IPO, plenty of new shares have been issued to executives, board members and workers.
Below is a look at the growth in Twitter's fully diluted shares outstanding (quarterly) and the growth in market capitalization that has come along with that: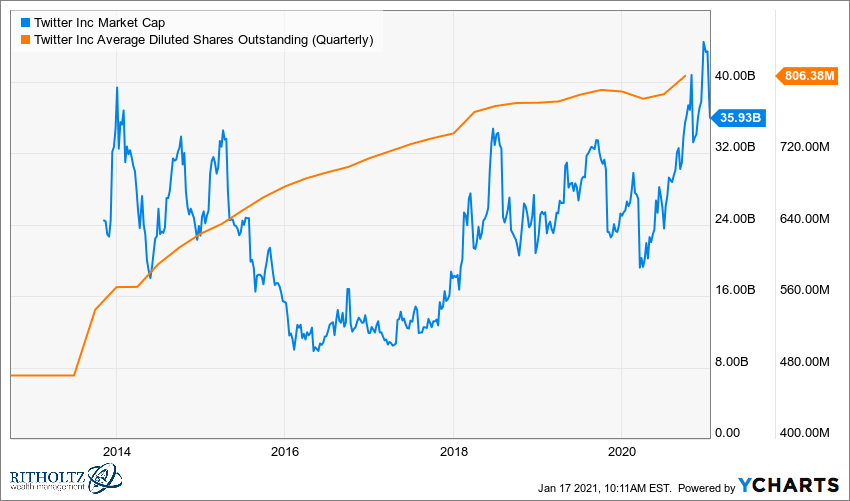 Shares outstanding have grown from 640 million to 806 million, or twenty five percent. The company is now worth $35 billion versus its first day valuation of about $24 billion – but not one long-term shareholder from that first day has benefited. There's no dividend and there's no capital gain. They've been paid nothing for their time, patience and endurance of volatility. And in real dollar terms, they've actually lost purchasing power.
So while many of this past decade's biggest winners in the stock market have been shrinking their float via buybacks and enriching their shareholders, Twitter's float has been growing. Non-employee shareholders have not been rewarded one iota and this continuing dilution has only added insult to injury.
And it gets even worse.
You could have thrown a dart at the technology sector or the Nasdaq 100 and there's a pretty good chance you would have landed on a stock that's done better than Twitter. It's lagged virtually every mid- and large-cap growth stock that you could have chosen instead. So as bad as this stock has been on an absolute basis (flat over seven years) and as horrible as its been on an inflation adjusted basis (negative returns), it looks like an outright travesty versus the triple Q's…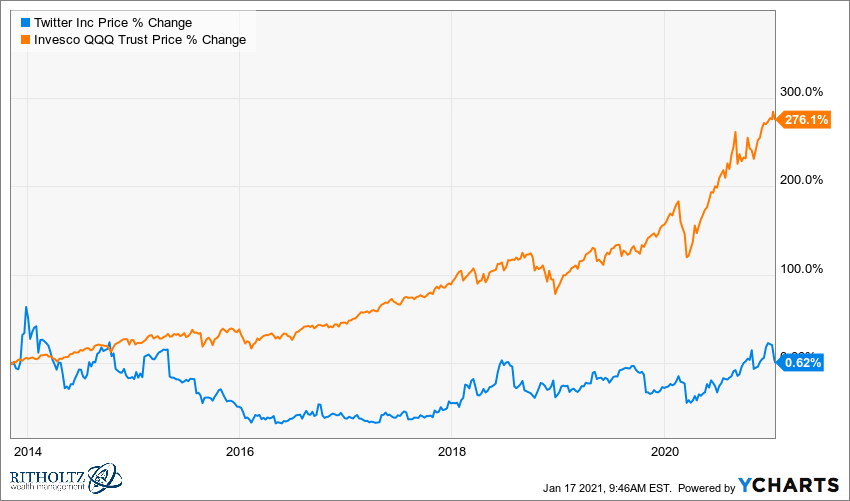 And you had been beaten up with twice the volatility had you held Twitter versus the QQQ's: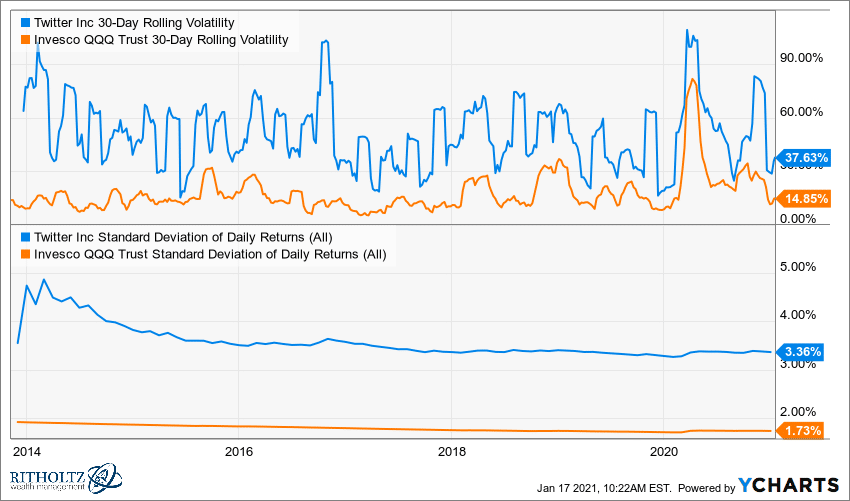 I bought shares of Twitter on the day it came public. I had amassed a large following on the service and felt that if anyone was going to monetize the amount of time I had been spending there, it ought to be me. So I invested. And I sat there waiting for the stock to work. And it never did. After having bought during some of the terrifying dips into the twenties and teens over the years, my average cost had come down significantly from the day of the stock's IPO, so I was able to exit at a profit. But certainly not a profit that could justify all that time and energy I'd spent as an engaged shareholder. When I sold last spring, it felt like a weight being lifted. Someone else's problem now.
Twitter's executives didn't ring the opening bell of trading on the NYSE on the day of the IPO. Instead, they sent Sir Patrick Stewart, a 9 year old little girl, a Boston police officer and the service's co-creator Biz Stone to the balcony – the idea being that the company owed its success to its users more than anyone else.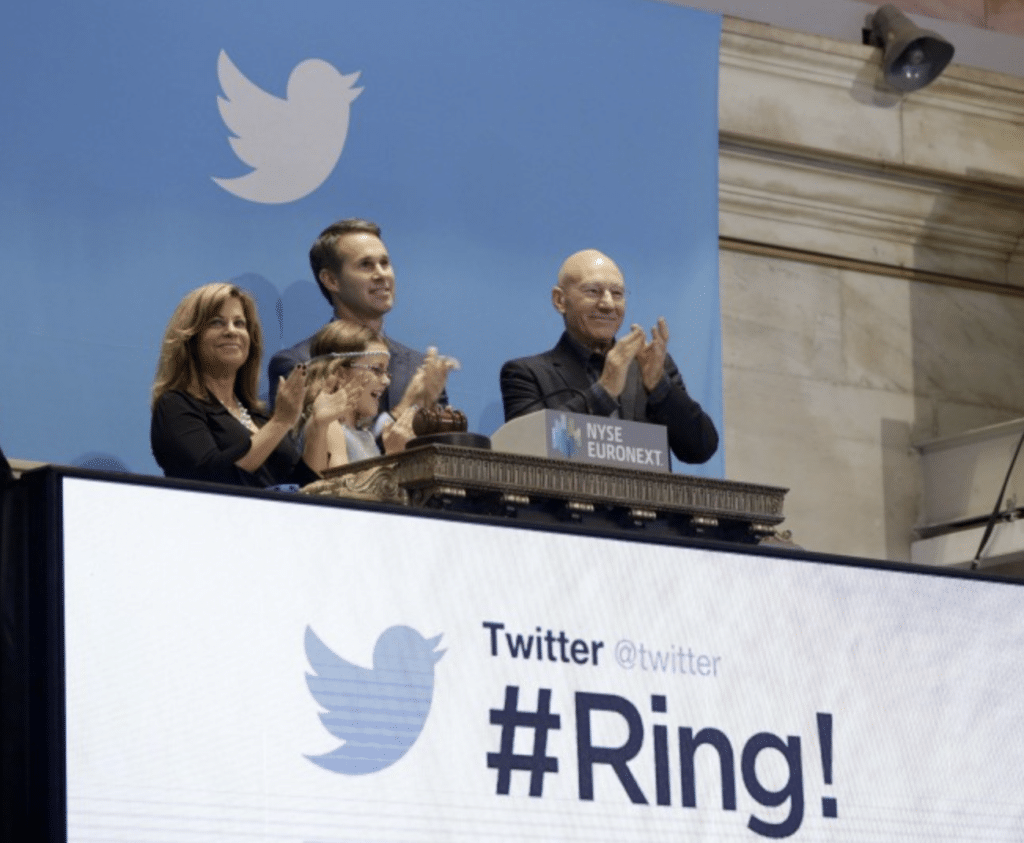 This was a nice sentiment and a magnanimous nod to the customer base. Unfortunately, it also ended up being accidentally prescient – not only were the users responsible for Twitter's success up until that point, they were also the sole beneficiaries of the service. Twitter users who have successfully built audiences on the platform have captured virtually all the value, leaving the company (and its shareholders) with very little to keep as their own.
In 2016, Donald J. Trump transformed himself from a fading reality TV star / 80's punchline into the President of the United States of America, primarily as a result of the way he utilized Twitter to suck all the air out of the room. In a world without Twitter the service, Hillary Clinton would have run against Jeb Bush that year. But that's not how it went. Trump was a virtuoso at capturing attention, playing the media, the Republican party and an American audience that has trouble distinguishing between television shows and actual reality. And as he played them all, Twitter was his Stradivarius. He used it to take the Presidency and then he actually governed via tweet. While that was going on, Twitter the corporation managed to lose half a billion dollars in 2016, after having lost half a billion dollars year before. They lost money in 2017 too and then finally reported their first full profitable year in 2018.
Twitter the company is doing between three and four billion dollars in revenue per year, give or take, which puts its business at roughly the same size as the Olive Garden restaurant chain. It's a pint-sized enterprise attached to a galaxy-sized megaphone. While Twitter barely ekes out a billion dollars in annual profit, one of its most widely followed users has spent the last five years with the entire planet's population in thrall to his every utterance on the platform. The juxtaposition between the size of the company and the impact of its product is a cosmic joke – an absurdity bordering on slapstick.
This is the guy who now decides who is able to say what to the rest of the world: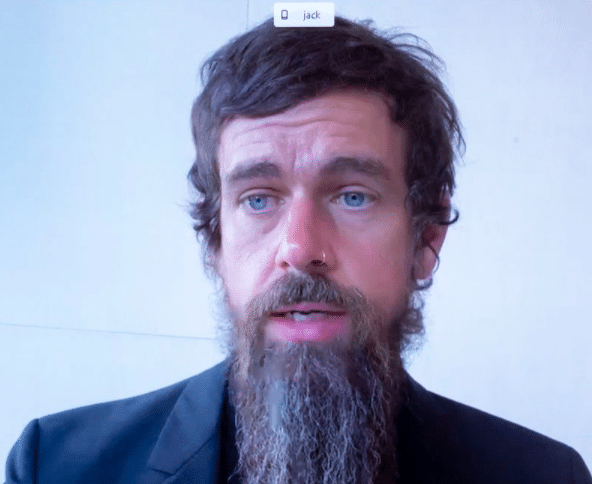 Bay Area Moses, freshly arrived from the summit of Mount Sinai with a new set of directives for the rest of us.
And now we enter a new phase, as the service's most famous user (and many of his followers) disappear from the platform forever. What will a Trump-less Twitter mean for engagement and attention? Wall Street's analysts haven't come to a consensus about that.
Here's a bear case:
Rosenblatt Securities analyst Mark Zgutowicz explained the issue in a note to clients. In short, Trump's 88 million followers on the platform generate an enormous amount of engagement on both sides of the political aisle. All that helps to sell ads.

Zgutowicz wrote the Trump account receives an average of four million mentions a day, which spiked to 16 million mentions two days before the suspension. Zgutowicz estimated that about 30 million of those followers are daily Twitter users.

Without the engagement with the Trump account, the company risks jettisoning between six and nine million Twitter members who use the site every day, a loss that will cost Twitter, Zgutowicz wrote. While acknowledging that the calculation is not an exact science, the analyst's team now models full-year 2021 ad sales of $3.28 billion, well below the consensus estimate of $3.83 billion.
Oppenheimer raised its price target on shares of Twitter (TWTR) on Wednesday as the Wall Street firm shrugged off potential negative impacts to the business after the social media company banned President Donald Trump.

"We believe the company's reinvigorated focus on revenue products creates ample catalysts for future growth, including a potential subscription offering," the analysts led by Jason Helfstein said in a note Wednesday. "We are not concerned with usage impact of blocking President Trump."

Oppenheimer set its new price target for Twitter to $58 per share, up from the $55 the firm saw previously, to imply additional upside of 23% from Tuesday's closing prices. Oppenheimer also maintained its Outperform rating on the stock.
Who knows what the impact will be? What did we even tweet about before Donald Trump? Who can remember?
Twitter shares fell for five straight days after the service had been employed by the outgoing President to foment an armed insurrection against the Capitol Building and the center of our nation's government. Trump had spent the last two months whipping his followers up into a blind rage over an election theft fantasy that has absolutely no basis in reality whatsoever – and Twitter was his primary avenue for spreading this lie and having it amplified.
As the violence got underway, Investors began fleeing the stock in preparation for whatever regulatory repercussions were sure to follow in the wake of the riot. In the aftermath, Twitter made a decision to remove the President from the service.
Two days after the riot at the U.S. Capitol, Twitter's most senior policy executive faced her 5,200 colleagues on a video conference and made an impassioned appeal.
Vijaya Gadde's voice was breaking as she implored her colleagues to have patience while her team deliberated over what they knew was the most important decision in the social media service's 15-year history…

Less than three hours after Gadde's emergency meeting, Twitter banned Trump forever. In an instant, the megaphone of the leader of the free world was wiped out, along with his following of 88 million he had built throughout his presidency — some of whom amplified his every word.
Twitter's co-creator and current CEO, Jack Dorsey, has expressed regret about having been forced to make this decision about banning the sitting president from his app. He is unsure of what will happen next and whether or not this has set a dangerous precedent. Personally I think he had no choice. Violence is violence, and it has a funny way of redirecting itself back toward its original source if left unaddressed. It was a matter of both public safety and national security.
It might be a revenue hit near-term or it might not, hard to say. The stock sold off while we wait to find out.
Twitter's stock price is now twenty percent off of its one-year high and forty percent off its all-time high. As illustrated above, its long-term shareholders have never made any money although its most talented users have literally changed the course of human history with their tweets.
There has never been a lower ratio of financial success to global impact in the history of business. In this regard, Twitter has truly managed to pull off a feat for the ages.