Yesterday marked the seventh anniversary of the founding of my firm, Ritholtz Wealth Management.
When I think about the flurry of activity that went into the launch that summer, and how clueless we all were about starting and running a business, I can't help but smile. It was hard work, stressful and there were always more questions than answers lurking around every corner.
A few things that stuck in my mind as I was thinking about it this morning…
We lost our biggest client a week before the launch. Barry and I, plus Michael Batnick and Kris Venne, had informed all of our clients that we were planning on leaving the RIA firm where we were to start our own thing. Mostly, the response was "about time!" or "I figured you would do that sooner or later." The support from clients was really important, because the whole endeavor was terrifying enough. It was like jumping from one ship to another in the middle of the ocean, but we had to build that next ship while already out at sea! Knowing that everyone was willing to come was like a life raft to grab onto. And then one morning, Kris takes a call from our only, at that time, $10 million + client. He had recently sold a business with Goldman Sachs as the M&A advisor on the sale. And one of the things he needed (wanted?) was to borrow money against his portfolio to finance something else he was doing. We could arrange third-party loans at that time, but not well. These days, we do it all the time, but back then we were really inexperienced in that area. Goldman's wealth management unit swooped in and promised him the world. He said "You know I love you guys, but I have to move my account to get the loans done. So sorry."
We weren't mad at all, but it definitely was not what we wanted to hear with the countdown clock going. I freaked out a little bit. Barry was like "Whatever," in typical Barry fashion. He knew that upon launching we'd have dozens of large clients banging down our door. I wasn't as sure as he was. But that's the beauty of our partnership. I'm the worrier. Barry was right, thank god.
I also remember how wonderful TD Ameritrade Institutional was. We had lunch with the head of the east coast region, who had become a great supporter of ours, and told him our plans. He wanted to bet big on us too. He put all of the resources of TD's institutional RIA custody business behind us with one phone call. There was a whole transition team standing by. TD even did our Fedex and UPS envelopes going out to clients. It was so above and beyond the help I'd expected, that to this day I've never forgotten it. They were there for our clients and for us before we even existed. That's one of the reasons why TD has been the go-to option for us, all things being equal, as we've opened over a thousand new accounts over the years. I'll be somewhat sad to see them get folded into Schwab's institutional business this fall when the merger closes, but hopefully Schwab retains the people we deal with there and maintains that extraordinary level of service that's made our relationship with TD so special.
In our first year, everyone had to wear a lot of hats. Barry had to figure out bill pay and banking relationships and payroll and all sorts of other stuff he'd never done before. I had to become a PR maven and a fintech / software expert overnight as we had a million choices to make between platforms and vendors. Michael was answering phones and processing trades and rebalancing accounts on top of all the research he was doing. Kris was the client-facing advisor for 100% of our accounts and responsible for onboarding all the new clients who were coming to us left and right.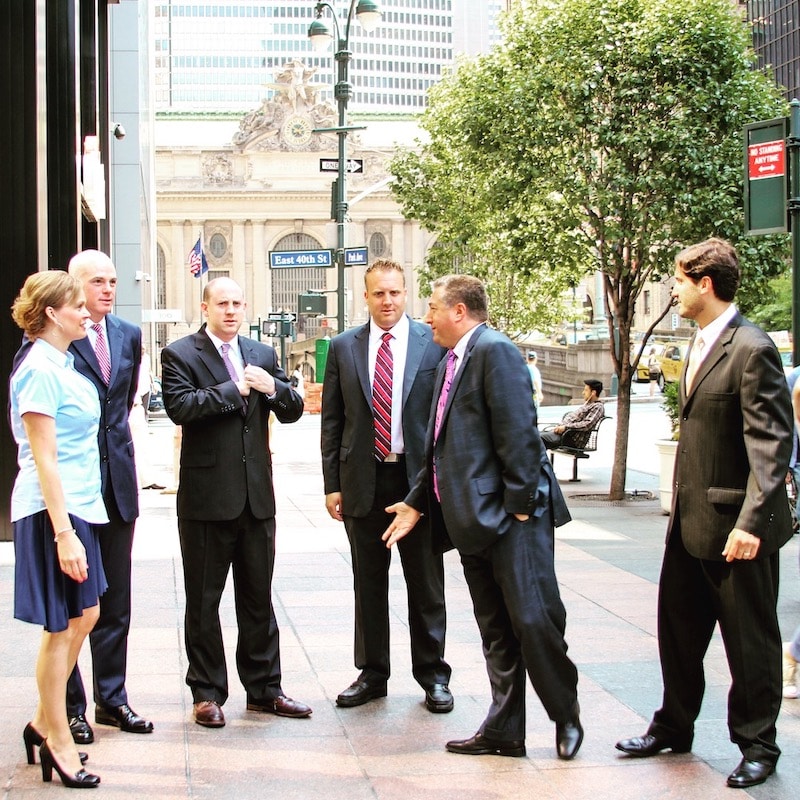 I walked by Kris one morning and said congratulations! He said "What for?" Well, I've just decided you're now our Chief Compliance Officer too. "Oh my god," he said. But he took that role on too, doing the job with help from outside consultants up until February of this year. The sheer amount and breadth of the work we were all doing wasn't sustainable, so every dollar coming in had to be reinvested in bringing on staff. We found Patrick Haley, now our chief trader and CTO, and Erika Mauro, now our Director of Client Operations, shortly after launching that year. Without them the ship would not have sailed. To this day we don't make any major operations decisions without their input.
When you start a business in Manhattan, finding an office to lease is not easy to do unless you have a lot of cash to put down. We didn't. But we found a really simple and cheap sublease arrangement at 90 Park Avenue, taking four offices from a consulting firm that had a whole floor they weren't using. This included access to their gigantic conference rooms, which made us look much bigger than we were for our meetings. Our offices were tiny but we hardly cared because every day was so packed with activity there wasn't any time to even think about our surroundings. The New York Times sent a reporter over to see us in our natural environment at the time. He had to put us in the hallway to take a photo because none of our offices were big enough to fit us all in the shot. I was a little embarrassed at the time. The article was the front cover of the New York Times Business section. The day after it came out, I hired my friend Alyssa the commercial RE broker to find us office space of our own. Time to grow up.
One last recollection – the outpouring of support and love from social media and the financial blogs was unbelievable. When you take a big leap and risk it all, having well-wishers and people who genuinely want to see you succeed means the world. That's why when my friends launch new stuff, I go out of my way to give them that support and encouragement. I know what it's like to need it.
A lot has happened since then, and things have gotten easier. But like many founders I hear talking on podcasts and in interviews, I don't remember the specific hardships or stresses of those days. What I do remember are the pizza and beer nights and the teamwork and the last minute saves and all of the lucky things that fell into place. All the stuff that's really stuck with me is the stuff I remember fondly. Sometimes it feels like it all happened yesterday, and sometimes it feels like it's been decades.
But that was 7 summers ago.