I don't have any empiricism to attach to my remarks below. There's no evidence for anything I'm about to say here, which is rare for this blog, but whatever I'm saying it because I think this is what's going on…
This week marks the ninth week of the correction that began in US stocks during the week of September 17th. So we're now more than two full months from making new highs. It's weighing on sentiment. Boredom giving way to worry, worry to fear, fear to, well, we're not at panic yet. The instant gratification of buying a big growth stock or tech name and watching it go vertical stopped working this summer. Facebook is almost cut in half. Netflix is down from the highs but only now beginning to vomit all over itself. That game is over.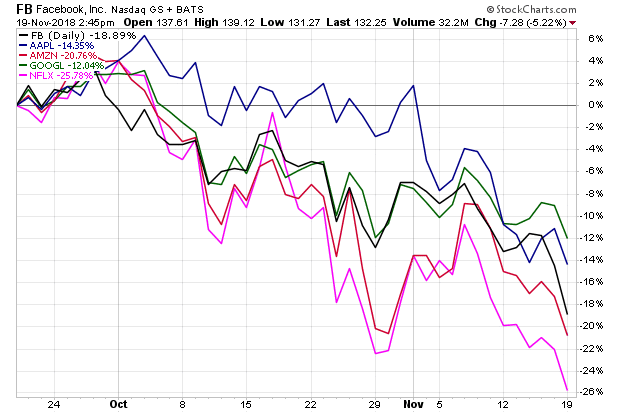 My feeling (LOL, "feeling") is that today things have changed and entered a new phase. Indiscriminate selling. Last week and the week before there seemed to have been some rhyme or reason for what was going down, and how much. Today is the first day of this thing, in my best guess, that professionals are selling things just to be able to show their investors that they're doing something. It's a new phase, we hadn't quite had the time to get to this phase during the October thrust lower or the January correction for that matter.
And so you get the Nasdaq down 3%, the Dow and S&P 500 down 2%, Russell 2000 down etc. People who report to investors need to show that they'd anticipated at least some of this. Today they're taking that step to allow themselves to do so. This sort of thing feeds on itself because money managers are herd animals when it comes to career preservation, even if they fancy themselves to be "contrarians" when it comes to selecting stocks or weighting portfolios. The one thing it's impossible to be contrarian about is the fact that you'll be fired for sitting still if that's not the expectation you've sold to a client. No one wants the other side of that trade.
There's a silver lining to this new environment. No one is carrying on about whether your ETF costs 3 basis points or 5 basis points anymore. Or whether or not financial advice is earning its keep. Investors who've got advisors that have positioned them durably for this kind of scenario are happier than those investors who've prioritized prices over process.
Asset allocation is free, but advice has a cost – to both the recipient as well as the provider. This cost is counted in dollars, time, emotion, technology, empathy and attention. It's a cost wealthy people have been savvy enough to incur since the beginning of time.
It's how they've stayed wealthy.