I don't know what this would have looked like if you had run the survey ten years ago, but my guess is it would have been much different. Schwab asked 381 registered investment advisors managing over $50 million what the most important factors were for their mutual fund / ETF choices when building client portfolios. Back in the day, things like "brand name" and Morningstar rating would have undoubtedly been more important – many more advisors used to see themselves as people who could select winning funds ahead of time.
Not anymore. Portfolios are being built based on the dictates of their clients' financial plans, and the plans require hitting objectives that do not include "beating the market" or outperformance or alpha.
Citywire has the story…
Per the study, which asked 381 RIAs managing at least $50 million in assets to self-report their sentiments, 66% of advisors said total cost of a fund was an 'extremely important' factor when choosing an index mutual funds or ETFs. The next most important factor to consider was how well a fund tracks its index.
…and the chart, my Chart o' the Day: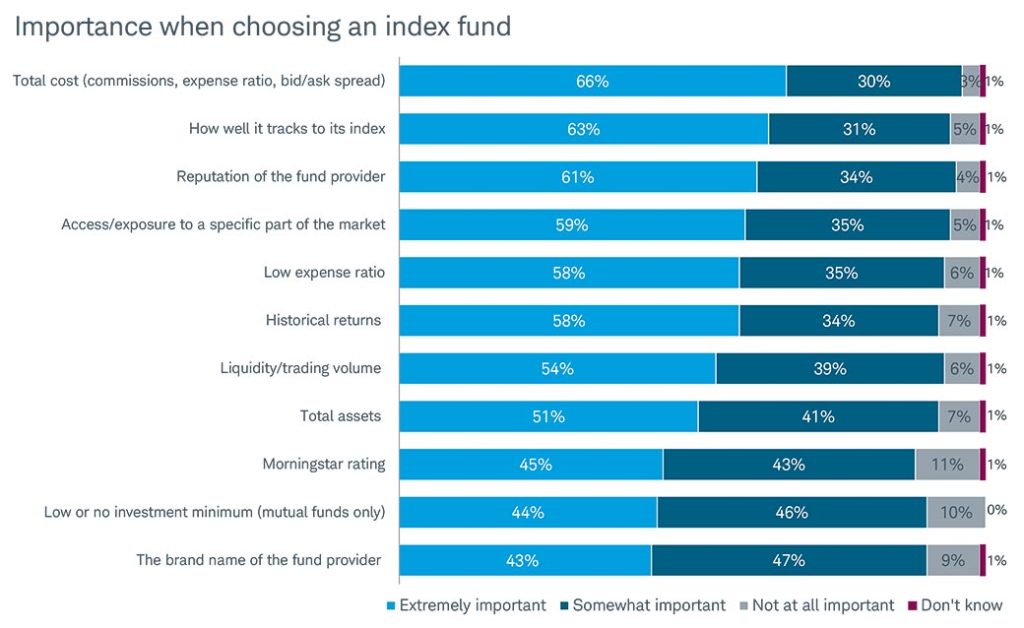 Josh here – fund families have not changed their advertising very much to account for this new paradigm, and to some extent they can't; you can't exactly take out a full page ad in Barron's saying you're the lowest cost product in the category if you aren't. And, chances are, you're not ever going to be unless your name starts with V or i.
Now, while the marketing may not be changing, the products are. In the Wall Street Journal yesterday, Justin Baer writes about a new breed of products that feature fees which slide up and down depending on whether or not the fund actually beats its benchmark…
A wave of stock-picking firms are stepping up their fight against cheap exchange-traded and index funds with new offerings that dial back fees if they can't beat the market.

AllianceBernstein Holding LP, Allianz Global Investors and a handful of other managers have debuted new funds in the past year featuring fees that rise with returns—and tumble to ETF levels when they fall short of their benchmarks.
While so-called fulcrum funds have been around for years, the new ones have other characteristics. For one, they start with a lower base fee that can rise and fall more sharply, depending on performance. Second, the fee structure is a central selling point of the fund itself.
To put it mildly, these are niche products. They may remain niche for years to come as it takes time to assemble a track record for this sort of thing and to get advisors comfortable with the concept of moving cost structures in their portfolios they're building.
Sources: