With a little more than two weeks before the midterm elections, the President of the United States is spouting utter nonsense every time there's a camera on him. Even if you love Trump and are only a little bit interested in whether or not something is a lie or the truth, you have to admit (if only to yourself) that the lies about the economy have become enormous and completely untethered from reality.
He said there will be a new middle class tax cut of 10% before the election. Congress is in recess, so of course there will not be any such thing.
He claimed that Saudi weapons purchases were worth 450,000 jobs, then the next day he said 500,000 jobs. A week later he said 600,000 jobs and then this weekend, at the lectern of one of his rallies, the number went up to one million jobs. He could say six trillion jobs, all of these numbers are made up and it would have the same exact effect (none). Don't take my word for it, here are the collected statements: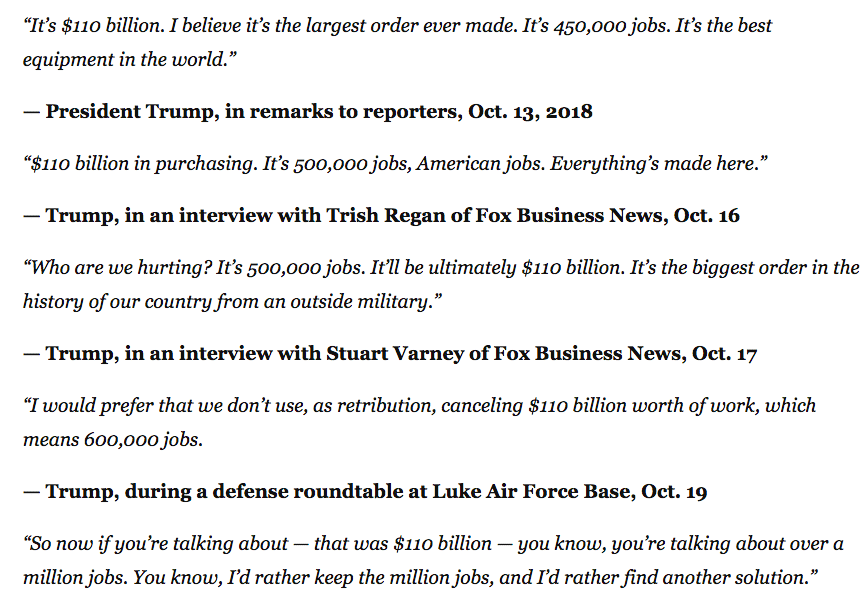 By the way, the Saudis have already invested so much money in these US based weapons systems that we are literally the only game in town for them. It's not like switching from Coke to Pepsi. The real concern about our relationship with Saudi Arabia must be based on something else. I wonder what that could be…
He also mentioned, out of the blue, that US Steel is going to open six new plants. Maybe six is his lucky number because US Steel is going to open zero plants. None. Not six. Not three. Not one.
The constant lying has been a boon to the President, during his campaign and pretty much throughout his entire life. Supporters of his policies see it as a means to an end, so they're certainly not going to turn on him. He promised to run the country for the benefit of the one third of America that loves what he's doing and he keeps that promise every day. There's never been a betrayal or a compromise or an apology for anything, they feel that they are getting exactly what he said he would give them – if not now, then soon enough.
In the meantime, the bloodless verdict of the market is beginning to call bullsh*t on his economic claims. The economic expansion is good, not great, and starting to slow down thanks to the rising cost of money (spurred on by tax cut stimulus) and the cyclical slowdown around the world. It turns out that tariffs are an impediment to everyone's economy, not just Mexico's, China's or the European Union's.
Speaking of US Steel, have a look at what the global slowdown and tariffs are doing to the stock – this is year-to-date, post-tax cuts: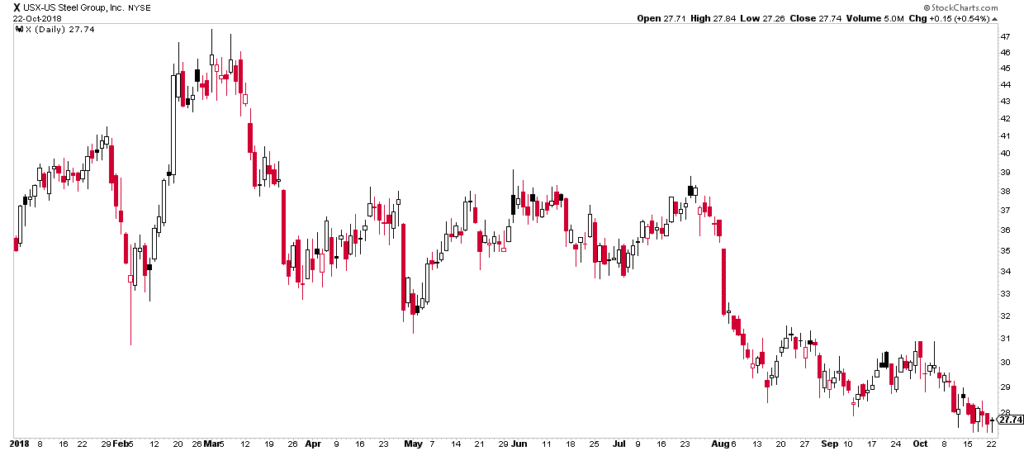 It looks like death warmed over, not exactly what you'd expect to see if markets believed in the expansion continuing past 2018.
Here's Ford, another unmitigated disaster.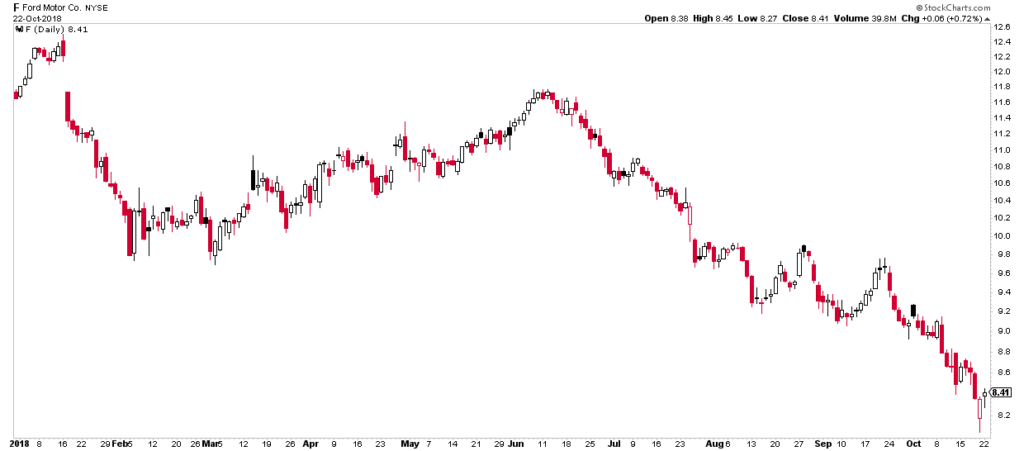 Ford's selling at a 6 PE at this point and virtually everyone thinks their dividend is no longer safe from being cut. The company tried to play Trump's way – press releases about US manufacturing onshoring, being a good soldier about tariffs, sucking it up as their Chinese auto sales figures collapsed, etc. It hasn't worked. Ford, like all US manufacturers of scale, relies on global supply chains to make products cost effectively and in a timely manner. They need Canada. They need Mexico. They need China. By extension, their customers and employees needed these supply chains to remain intact as well.
Too bad. So we don't know what's going to happen but it's not looking great for our biggest manufacturers and materials producers at the moment.
The only thing we know for sure – a promise – is the trillion dollar deficit we'll be left with from the tax cuts – a gigantic souvenir that we can enjoy and then pass down to our children. Charlie Munger liked to say "The liabilities are always 100 percent good. It's the assets you have to worry about."
Let's look around the stock market and see if anyone else is buying into the continued expansion story…
"defensive leadership"

It's becoming a cliche but it's also true.

Verizon, P&G, Hershey vs the S&P, three months. pic.twitter.com/035bai6sUd

— Downtown Josh Brown (@ReformedBroker) October 23, 2018
Here's breakfast cereal (General Mills, Kellogg's) vs social networking (Facebook, Twitter) pic.twitter.com/51zH5li0MU

— Downtown Josh Brown (@ReformedBroker) October 23, 2018
Walmart & Target vs semiconductor equipment pic.twitter.com/rQ7yp1zkNn

— Downtown Josh Brown (@ReformedBroker) October 23, 2018
Clorox and Trojans vs search and streaming pic.twitter.com/KG7afegq3P

— Downtown Josh Brown (@ReformedBroker) October 23, 2018
This is not what the stock market looks like when participants have bought into the cyclical upswing story. This is the opposite of that belief. I have more pessimism pornography I held back. If I showed you a chart of the regional banks (now in a 20% drawdown from this year's peak), you'd be horrified. If I pulled out a chart of the Homebuilders ETF you would projectile vomit in sympathy. So I won't.
For the record, President Trump doesn't deserve the sole credit for this situation. He took office toward the beginning of a Fed tightening cycle that was necessary for reasons that predated his arrival. His policies – the third largest fiscal stimulus in history in the ninth year of an expansion – have certainly exacerbated the need for continued Fed intervention and may have even sped it up.
Rate hikes are best thought of as vaccines. The worst sickness a market could develop is the delusion that assets can grow to the sky forever without any pauses or steps back. It's like a fever that overtakes us from time to time. Keynes called it Animal Spirits. Greenspan called it Irrational Exuberance. That's when you really get hurt. The Fed is doing its part to inoculate the credit and equity markets before this sickness can take hold. What you're seeing in the stock market is, in part, a reflection of this tough medicine.
We can have a cyclical bear market without it becoming a secular bear market. It happened in '90. It happened in '94. It happened in '98. It happened for a majority of stocks in '15-'16, although at the index price level this was masked. Perhaps we can expect a similar situation as money becomes more expensive and investors grow more discerning about where to place it.
Trump blowing a trillion dollar deficit in the form of a tax giveaway to the segment of the population that needed it least (stock market investors and corporations, LOL!) is just the icing on a cake that's already been baking.
Read also: