Ari Wald's new set of charts this weekend leads off with a look at the recent breathtaking advance in S&P 500 momentum, as measured by the RSI (Relative Strength Index) oscillator.
Something that has only occurred in 1% of all periods back to the 1930's is now taking place once again. What are the historical implications of an off-the-charts momentum reading like this?
Here's Ari:
Another week, another S&P 500 high, and another new overbought condition for the index's 14-month RSI, now at its highest level (87) in 22 years. However, while we're still asked if this should be viewed as a worrisome extended condition that leaves equities vulnerable to correct, our take is that this is a rare bullish signal only reached 1% of the time since 1930, most notably in 1955, 1986, and 1996 (i.e., the strongest bull markets of all-time), and thus compelling confirmation of the current secular advance.

Historically, the S&P 500 has been followed by above-average returns over the next 6, 12, 24, and 36 months when this cyclical momentum measure is above 85. On the following pages, we detail those comparative periods, and show that 1) monthly RSI peaked at least a year ahead of the S&P, 2) internal breadth peaked at least 5 months ahead of the S&P, and that 3) price action supports additional upside as well. Overall, using history as a guide, we see below-average risk of a cycle top for at least the next 6-12 months, and expect the bull to continue.
And here's his chart, which is a great visualization: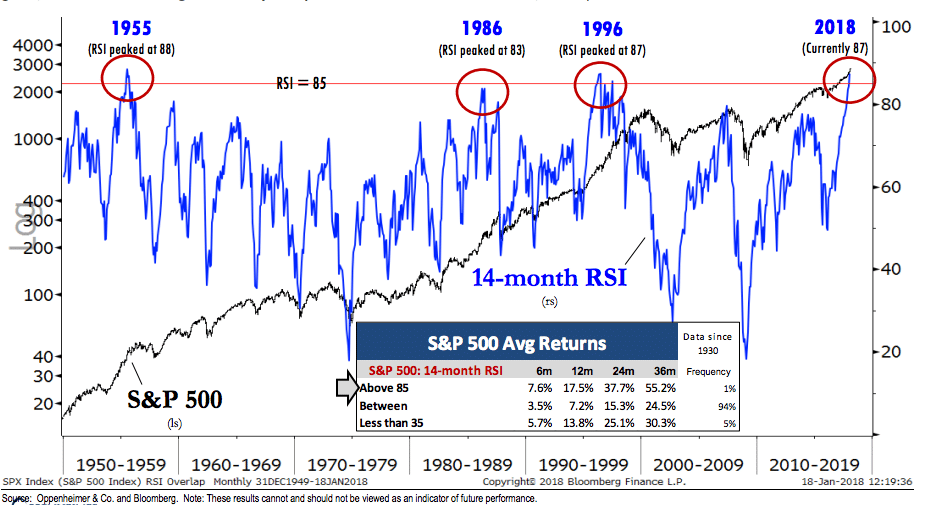 Josh here – there is a lag between peaks in momentum and peaks in the S&P 500's price. In each of the cases, overbought markets as measured by RSI led to continued price gains for awhile longer. In the case of 1986, RSI peaked at a flamboyant reading of 87, and over the following 17 months the stock market went on to return another 34%, after having run up 129% over the preceding 3 years.
The term "overbought" then, should not be conflated with market tops, which happen independently of peaks in momentum, and not concurrently.
Source:
Technical Analysis: Inflection Points
Oppenheimer & Co – January 20th, 2018