"Security is mostly a superstition. It does not exist in nature, nor do the children of men as a whole experience it. Avoiding danger is no safer in the long run than outright exposure."
– Helen Keller
Free-For-All
Stocks trading at record highs and approaching record valuations not seen since the biggest bubble in American history, seventeen years ago. You just don't understand the new economy – total addressable market, user count, revenue growth and scale are all that matter now. 
Sixty new closing record highs for the Dow Jones Industrial Average so far in 2o17 out of a total 224 business days. And we're heading into the seasonally strong period, what the hell are you doing not in Facebook and Netflix?
Tencent surpasses Facebook in market capitalization at $523 billion. Amazon's market cap explodes from $350 billion in January to $550 billion in November. Apple's market cap takes out $900 billion, surely on the way to an unprecedented trillion bucks. Wal-Mart closes the acquisition of Jet.com, a company with barely any revenues and negative profits – and it's market cap subsequently jumps by $70 billion (not a typo) over the ensuing twelve months. The old math is out the window, it's worth what I say it's worth. 
Bonds hover near highs too, around the world, with unthinkably low yields to pay back their investors for the risks they're taking. Too much money sloshing around, it's gotta go somewhere. 
Market volatility is non-existent, it's been replaced with political volatility. We're trading memes and scandals. The new Vix is the retweet count of a dick pic story. "No more, please!" you plead, as one by one, your heroes in sports, journalism, Hollywood, and business are ripped down off their pedestals, bathrobes open and text histories exposed. Oh my god, Charlie Rose?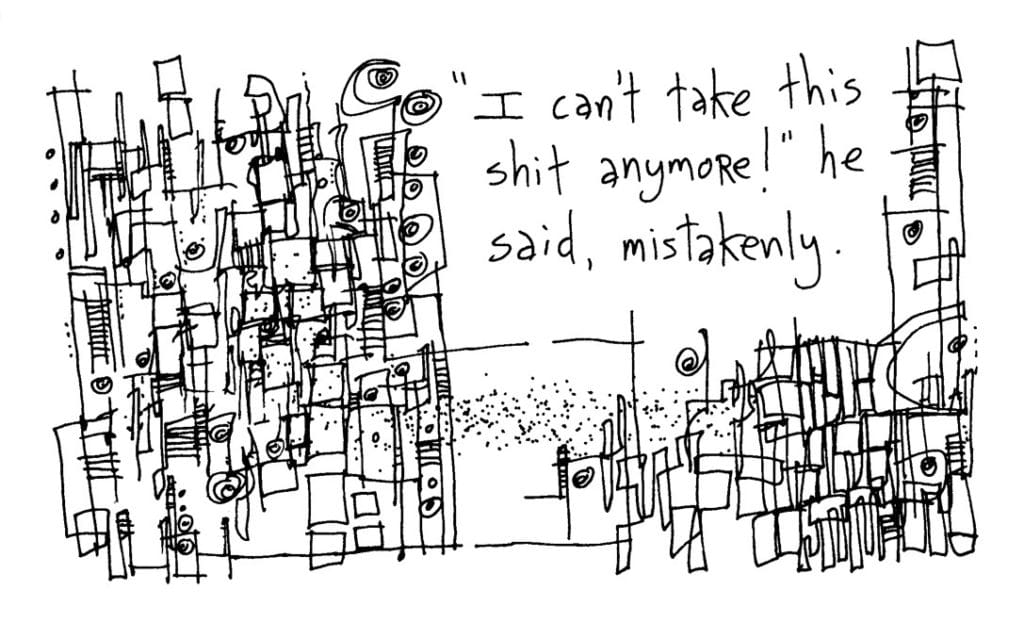 The Republicans have normalized child molesters. As long as you never admit to it, it didn't happen. Bill Clinton and Al Franken, as lecherous as they may be, were also pretty dumb for being contrite. Evangelicals and the rural middle class will excuse any atrocities and measure of cruelty so long as it brings them closer to their one burning desire – to facilitate tax cuts for billionaire donors who wouldn't be caught dead socializing with them in public. I don't want to live in an America where I don't get the freedom to have nothing while someone else has everything!
Democratic leadership, if you could call it that, is out to lunch – seventy year old pearl-clutchers who've been in congress so long they think it's the House of Lords. They're floating Joe Biden for 2020, he'll be a hundred and thirty two years old by then. Hillary won't go away. Bernie got a shoutout in the Old Testament. "Out of touch" would be an improvement. This party couldn't win a national election if their lives depended on it, and they might. Yes but look at our hashtags!
So-called experts warn of economic and market risks, just as they've been doing for most of the last eight years, and the investor class nods knowingly, while simultaneously ignoring it all. Systematically allocating to index ETFs. It's Vanguard so it's safe, it's like a money market fund, I'll be fine.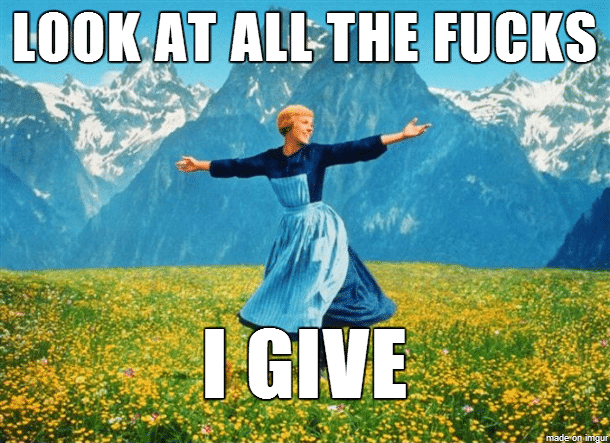 Bitcoin, a digital currency backed by nothing beyond the speculative fervor of its adherents, gains 713% since January 1st, accrues a "market capitalization" of $140 billion – worth more than McDonald's on the open market, despite not having any global government backing (or perhaps because of this fact). Do you want to miss the boat and sit on the sidelines for the most disruptive event in global commerce since the Roman Empire? 
More money has been raised in completely unregulated Initial Coin Offerings this year than in US Initial Public Offerings on the NYSE or Nasdaq. No one is paying any attention to these unregistered securities offerings, so they continue. So great is the demand for these schemes that you can do, say and advertise however you want. You can take the proceeds and stick them up your ass, who is going to stop you? Asscoin. Why not? 
"Look around. All the cops are into something. It's Christmas! You could steal City Hall!"
– Die Hard With a Vengeance
Two Princes
Prince Jared of House Trump flies to the Middle East to meet his counterpart of the House of Saud, Prince Mohammad. They stay up talking all night, two royal millennials whose families have done whatever they had to do over the last three decades, without apology, to attain power. Jared ostensibly gives Mohammad our nation's blessing for what's to come just a week later.
The Saudi prince then locks up a few hundred potential threats to his absolute rule, imprisoning billionaires and members of his own tribe at the Ritz-Carlton Hotel, pending the forfeiture of their financial assets and land holdings. It's a message, and one that's probably well recieved. The Saudi Aramco IPO, and the liquidity it will bring to the kingdom, is mission critical. It is imperative for the perception of investors around the globe that Aramco's continuity not be challenged. A good old fashioned anti-corruption crackdown is just what the banker ordered.
The US president dutifully does his part…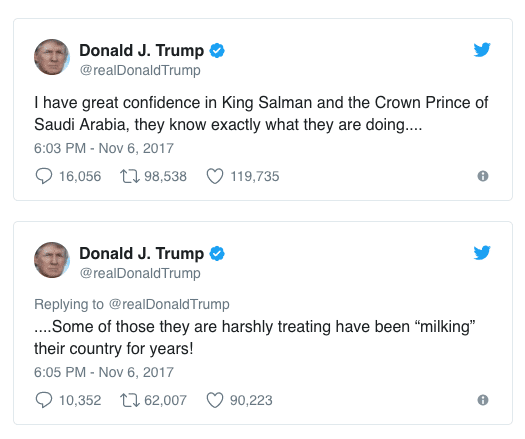 I wonder if this sentiment is at all connected to the below, from just two days prior…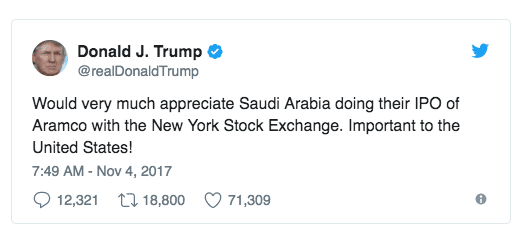 Probably a coincidence.
But we're nothing like the Saudis. They're an Absolute Monarchy and we're classified as a Constitutional Republic. It's not like we have a king mixing state affairs with personal business and his family members roaming the halls of government…
Testify! 
The Senate Judiciary Committee convenes a hearing on the ways in which foreign agents were able to influence our elections last year. It's the most brazen incursion into our election process by a foreign government in American history, and it was facilitated at a cost of pennies and dollars, without a single shot being fired. The three largest social media concerns, whose platforms are primarily responsible for this, are called to testify before the nation. The CEOs don't even bother showing up. No Zuckerberg, no Dorsey, no Pichai. Facebook, Twitter and Google send their lawyers.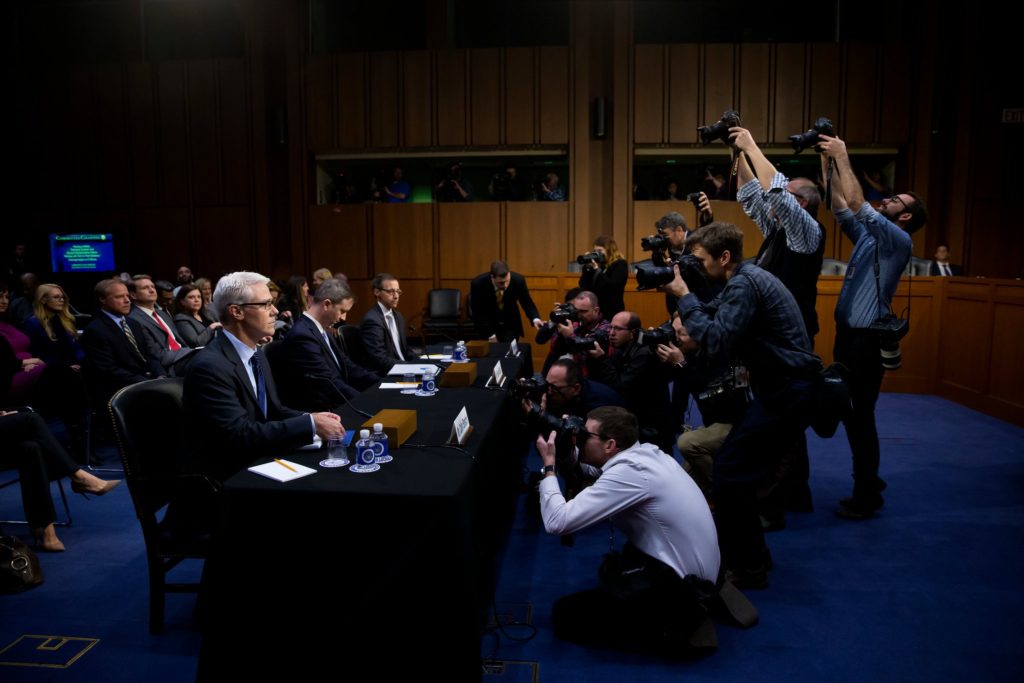 Who the hell are these people? The legal department? 
When Wall Street almost blew up the nation, it was at least tactful enough to send the head guys for their grilling. And they were visibly terrified.
These guys are a different story. They stayed in California. Monitoring a congressional hearing about yourself by cell phone is the most millennial shit ever.
Congress is a toy to them. A cash-strapped, debt-laden, in-fighting, vestigial organ of a failing state. At the current rate, these companies will someday be bigger, more influential and better capitalized than the Capitol.
In the case of Facebook, it's got more users outside the country than at home. The fact that it's domiciled in America is almost incidental. It sees itself as some sort of supra-national body conducting its affairs globally and on an equal footing with sovereign governments around the world. And with 2 billion humans checking into its apps all day, every day, why shouldn't it? Can you name a religion or a nation or even a race with a higher "user" base? 
What are they gonna do about it? 
Do you want to know the real reason why nothing seems to matter anymore and people are doing whatever they want? Why stocks now sell at a cyclically adjusted price-earnings ratio of 26? Or why over a hundred billion dollars have flooded into a virtual currency that could disappear tomorrow? What's gone on in the last year to engender this sort of consequence-free environment of land-grabbing and alternative facts and ubiquitous rule flouting?
Let me tell you one final story. Actually, I'll let Axios tell it, from the mouth of someone who was in the room…
President Trump reportedly encouraged Native American leaders to "just do it" and extract resources from their own land, despite federal regulations blocking them from doing so, Axios reported on Sunday.

After the leaders told Trump they couldn't drill for the resources because of regulations, Trump reportedly said: "But now it's me. The government's different now. Obama's gone; and we're doing things differently here."

"Chief, chief, what are they going to do? Once you get it out of the ground are they going to make you put it back in there?" Trump said, according to Axios.

"I mean, once it's out of the ground it can't go back in there. You've just got to do it. I'm telling you, chief, you've just got to do it."

Axios reported that when a Trump official in the room told the leaders that the administration was working on rolling back the regulations blocking them from extracting the resources, the president said: "Guys, I feel like you're not hearing me right now. We've just got to do it."

"I feel like we've got no choice; other countries are just doing it. China is not asking questions about all of this stuff. They're just doing it. And guys, we've just got to do it."
Chief, chief, what are they gonna do?
Take the oil.
Deny the allegations.
Buy the crypto.
Pay the highest price.
Pay off the hackers, then keep it quiet.
Pay off the women. Millions of dollars, who cares. They wanted it. They were asking for it by waking up in the morning. They were wearing skirts and makeup.
Block the muslims from getting on planes.
Block the merger, they were mean to me.
Take over the grocery business. Then get into pharmacy.
Free shipping. Free from the profit motive. No boundaries, take over everything in sight, just to say that you can.
Announce next quarter's production of the Model 3. We missed it again, sorry. But look, now we're doing trucks. And flying motorcycles, so f*** you.
Take the deposit, deliver whenever.
Put the traitor on the National Security Counsel. Then put your son-in-law in charge of everything and your daughter next to the Oval Office.
Deregulate everything.
Turn every department over to that department's biggest external nemesis. Energy, Education, the FCC, Health and Human Services, the EPA – kill 'em all.
Never admit.
Never apologize.
"You've got to just do it." 
And you wonder why people are now willing to bear more risk now than they have in generations. Why wouldn't they? The tone has been set, from the top down.
"We're doing things differently here…Guys, I feel like you're not hearing me…What are they gonna do?"