Barack Obama was hands down the single best guns and ammo salesman the world has ever seen.
Here's a chart of Smith & Wesson (since rechristened American Outdoor Brands) and Sturm Ruger, the two largest publicly traded firearms stocks, during Obama's eight years in office: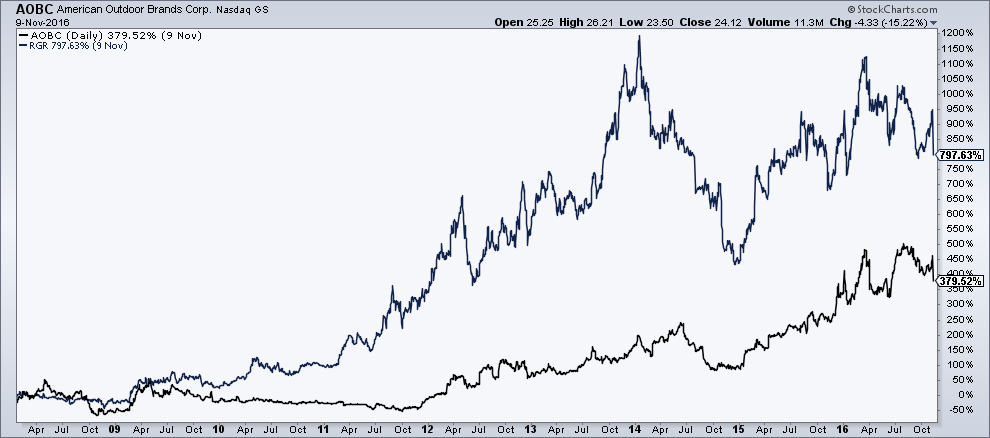 Yes, the overall stock market went up a lot too, but at one point, Smith & Wesson had been up a shocking 1200% from the day of Obama's first inauguration. As he transitioned into lame duck status and Republicans took more seats in Congress, gun sales slowed somewhat and these stocks cooled off a bit. But by any measure, Obama has been great for the gun industry.
The gun industry published a report saying it's not only doing just fine, but has actually grown by 158% since 2008. The National Shooting Sports Foundation (NSSF), the trade association for firearms manufacturers, reported that the total economic impact of the firearms and ammunition industry in the U.S. increased from $19.1 billion in 2008 to $49.3 billion in 2015. The NSSF also reported that, in that same time period, the total number of full-time jobs related to gun making in the U.S. rose from about 166,000 to almost 288,000.
Once Trump was elected, gun sales began to fall. According to the Washington Post, "Sales of guns and ammunition in the United States have dropped precipitously since Election Day, according to FBI statistics, trade groups, gun shop owners and corporate reports, what many say is the result of electing a president who has vowed to protect gun rights."
Okay, so Trump and the GOP-controlled legislature can't keep up with Obama's amazing ability to sell weapons. But there is one thing Trump is great at selling – ESG funds. Investment products characterized by an emphasis on Environmental, Social and Governance issues are red hot.
The President who wants degrade the EPA, has pulled the country out of the Paris Climate Accords and has generally demonstrated a "who cares" attitude about sexism, racism, gender equality, pollution and regulation in general has galvanized a vast component of the investment community. ESG is the biggest mega-trend in investing after the rise of passive and indexing. I talked about how investors can resist with their portfolios here. You should read it if you haven't.
Anyway, here's Barron's:
The Trump administration may want to gut the Environmental Protection Agency and roll back transgender rights, but increasing numbers of investors are pushing back by searching out companies with the best environmental, social and governance records, says Morningstar.

The fund tracking firm is reporting a four-fold increase since President Trump's January inauguration in the use of ESG data in its Morningstar cloud platform, which is tapped for research by asset managers, advisory firms and independent wealth managers.
and…
So far, there is little evidence of a chilling effect. If anything, Trump in the White House is having a galvanizing effect, as sustainable investors become more committed to the idea and draw even more into their ranks, as more people seek ways to counter Trumpism outside of the political sphere.

Taking a sustainability stance — where ESG factors are considered — is paying off, too. Morningstar reports 45% of ESG-focused large-cap blend funds bested the S&P 500 through June 30, compared with  28% of U.S. large-cap blend funds overall. Funds with a specific focus on renewable energy or clean technology are up 13.95% on average through June 30 compared with 9.34% for the S&P 500.
Elsewhere in the world, ESG investing is already the industry standard. Something like 2/3rds of all the institutional money in Europe is currently managed according to some form of a socially responsible mandate. In the US – especially among the high net worth – these practices are in their infancy, but growing extremely rapidly. Every survey of millennial investors or women of all ages indicates that ESG mandates will eventually become a standard here too, table stakes for anyone managing investors' money.
Ritholtz Wealth Management has a diverse client base, with a large swathe of sophisticated and progressive professionals and retirees. People who have done well in life and want to see life improve for others. People who care about their local environment and communities. People who understand that profitability and corporate responsibility go hand in hand and do not run counter to each other. People who know that the future prosperity of America will come from solutions and breakthroughs that address the major problems of our time – not from looking backwards and wallowing in the haze of a bygone era that is never coming back.
Our primary job as advisors – not just at RWM, but throughout the industry – is to help clients stick with an investing discipline and maintain an appropriately weighted portfolio that helps them reach their goals. What better tool to employ than the alignment of the dollars invested with the values of the individuals?
If you want to talk to us about your investments, Certified Financial Planners are standing by. And if you're curious to learn more about the ESG portfolios we've built, we can chat about that too.
Read Also: