One of the biggest investment charlatans I've ever come into contact with has this thing where he decides whether or not he is bearish or bullish (usually bearish), and then throws together every data point and anecdote and economic reading he can find to create his "mosaic."
He uses it like a cudgel to reinforce whatever view his gut already had in mind. He is almost always bearishly biased because his handful of claim-to-fame calls were mostly of the bearish variety – the brain craves the same particular secretion of pleasure chemicals that it has already experienced, much like you long to hear that favorite song you had in high school. Nothing feels better than the satisfaction of watching everyone lose money just after you'd been warning them. It's a pure MDMA high.
Anyway, when I was younger and reading his stuff, I was always very impressed at the sheer command he had of thousands of little tidbits and scraps of information with which he would construct the mosaic.
As I grew older, it occurred to me that he was just artlessly splattering paint on a canvas. Leaving out the stuff that didn't fit and randomly including whatever bolstered his case.
He'd say technicals were nonsense, unless they lined up in accordance with his views – and then all of a sudden there would be a heavy emphasis on charts. He vacillate between valuation screeds and Federal Reserve doomery, drawing false analogies and non-sequitur comparisons. One minute he was a macroeconomist, the next minute he was taking deep dives into the balance sheets of consumer staple companies, and then somehow connecting the two things along to form an ironclad case for why everyone needed to buy or sell this or that thing. All the while keeping no scorecard whatsoever about how any of these mosaic updates from past weeks and months had played out.
And worse than any of this, he would be relentless with people who disagreed with him, calling them out by name and blasting out mass emails designed to embarrass them or shame them into agreement.
I once fell into this trap here on the blog back in the fall of 2011. I began to chronicle all of the terrible news and data coming from Europe and the US and allowing the sheer width and weight of it to crush my ability to remain open-minded. When the bull market resumed around Christmas that year, I had gotten myself so twisted around this idiotic mosaic of mine that it took months for me unwind it in my mind.
If you want to see it, the most embarrassing thing I've ever done on this site, I've left it up as a sort of self-flagellation. It's also a good reminder that haphazardly collecting a stew of bullish or bearish facts is both a waste of time and a dangerous exercise for investors.
I'm older and wiser now (I hope), and no longer impressed with who can fling the most spaghetti at the wall, from the most randomly selected sources, and then point to it, screaming like a chimpanzee.
I'm a lot more impressed with people who can reduce and discard and still feel as though they've got a robust enough investment philosophy, despite a lack of bells and whistles and indicators and special effects. These are the people I try to emulate nowadays. Maybe I had to learn this lesson the old fashioned way.
I came across this cartoon from XKCD this morning about machine learning. It's a pretty good way to think about overstuffed mosaics full of random information…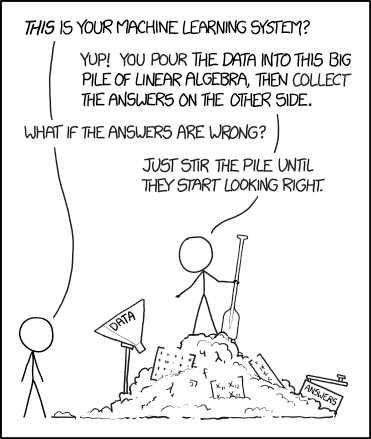 Collecting information and staying informed about what's going on is our duty as investors. Even if the majority of what we've collected is only helpful insofar as it provides context. I think about how much stuff Todd and Ted are reading each morning in Omaha while putting almost none of it directly to use in the traditional sense – this is laudable. I'm jealous, actually.
On the other hand, creating mosaics to back up a pre-existing bias and then hammering people with them is a trap. It's the most certain path to irrelevance and a recipe for bitterness.