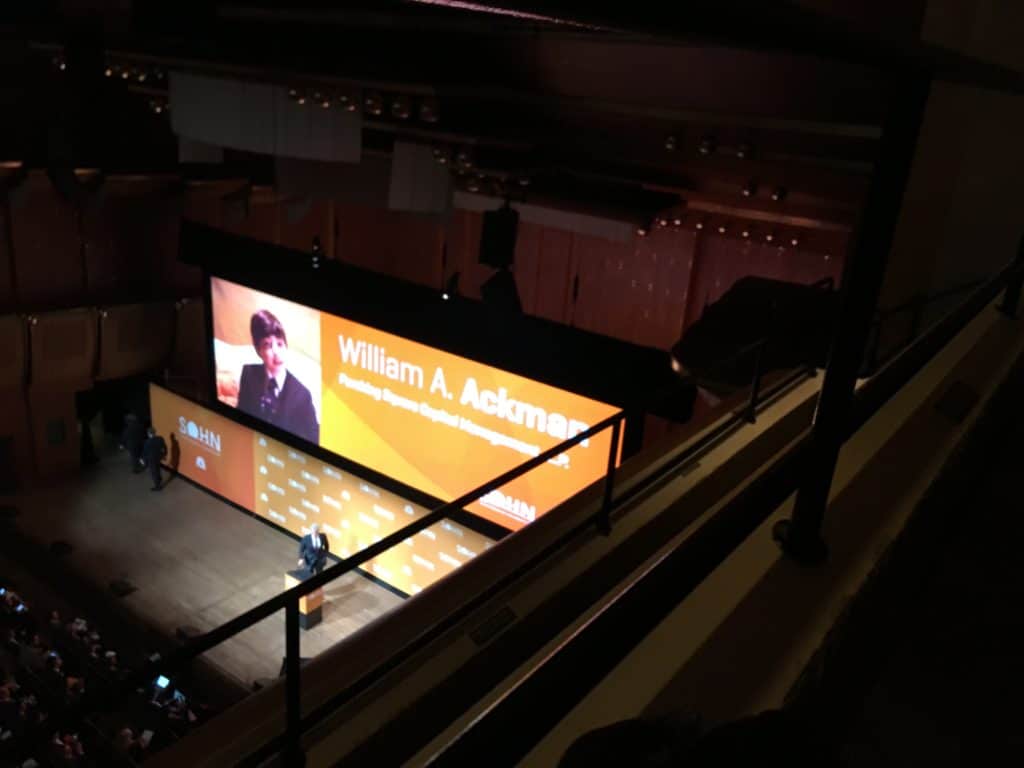 Welcome to my notes from the 22nd annual Sohn Investment Conference, live from Lincoln Center on the west side of Manhattan. My coverage picks up at the start of the 2:15pm session. Prior to this, we heard from Keith Meister (Corvex Capital) on how we wants to see the CenturyLink – Level 3 deal progress as well as Bill Ackman (Pershing Square) making a time share pitch or something related to his holdings in the Howard Hughes Corporation.
Ackman played it safe, talking up a non-controversial holding that he is the charman of and has been involved with for eight years now. I think he did the right thing in terms of Pershing Square and its stakeholders – the less controversy the better after the Valeant debacle. 
Now, we begin with the guy who called Amazon as the best stock to own in the market one year ago – "a multi-trillion dollar monopoly hiding in plain sight." It's up 40% since then. A reminder that I am paraphrasing, unless you see a remark in quotes, in which case it is verbatim.
Chamath Palihapitiya, Founder and CEO, Social Capital LP
He's still long Amazon and it remains a high conviction long. But he's here to talk about Tesla. "There's good and there's bad here – but the good is unbelievably good."
They've managed to capture 10% of the luxury electric SUV market, one third of the electric car market.
Solar City – "Many of the people here in this room would say that acquisition defied any shred of industrial logic."
The bad – all of the things Tesla is working on are extremely capital intensive. Management thinks it's $10 billion in investor capital needed, we think it's about $20.
"It's absolutely unmodel-able."
He looks like Tesla as Apple-esque. Selling something revolutionary like the iPhone into a fragmented market, creating your own tailwind of demand. Apple redefined the market, and then branched out into new markets, "moved up the stack" from the device to the high value-added services with big margins.
"Is Tesla running the same playbook?"
"If you have a Model S, it is impossible to go back to a combustion engine car."
Tesla is building, but it's not clear that they are redefining the market yet. "What we do know is that the early stages of Tesla is closely tracking the iPhone." The iPhone didn't break through until the iPhone 3. He thinks the Tesla III could be the product that busts through and redefines the market.
He notes that Tesla's costs look nothing like a traditional car maker – few humans, no dealer network, very little advertising, etc.
He's pitching the 2020 convertible bonds for Tesla, not the stock! He says you are guaranteed not to lose money in the convertible bonds unless Tesla somehow becomes worth less than $15 billion ($50 billion currently).
Now he's talking about Elon Musk and some of his recent projects (Boring underground in LA, mind-melding with a computer so it can transcribe his thoughts, etc). He's in the cult for sure. He's in love with him, just as he was with Bezos last year.
"The convertible bonds give us a way to stand shoulder to should with a guy who we think is our generation's Thomas Edison."
Jesus.
Davide Serra, Founder and CEO, Algebris Investments LLP
This dude is from France. Hot accent.
He's here to talk about Brexit and Europe in general.
Realize that the UK is not a United Kingdom but a divided one. Both the US and the UK have some of the highest inequality in the world. His trade is to be short Gilts (UK sovereign bonds). 10-year gilt yield is >200bps below 10-year inflation expectations.
He makes the case that there is no trade deal for UK post-Brexit. UK has half of its exports going to EU, EU only exports 15% to UK – meaning UK needs them more.
Top 1% of UK citizens pay 27% of all tax. UK has terrible household leverage – 146% of income in 2017. Public sector finances also weak. Stagnant productivity.
He thinks Brexit cost will cost UK 7% of GDP (!) over the next 8 years, "a staggering number."
He also explains that the world is overweight the gilt and the pound sterling relative to what it should be given UK's weighting in the global economy. "Totally unjustified."
Now he's talking about European stocks – an 80% gap between S&P 500 vs Europe stocks in the last 8 years. "We think this is about to change, and is at a key inflection point."
He thinks Brexit is the catalyst. "Because of what is happening, there is a new phase in Europe where we are going to spend a lot more money on defense and infrastructure." – driven by Russia concerns perhaps? Islamic terror? Went unsaid.
He believes the problem of bad loans on bank balance sheets is finally clearing up.
He thinks the currency will strengthen too. As will inflation expectations. He pitches Unicredit, an Italian bank, as a way to play this improvement.
"JPMorgan has a bigger market cap than the largest European banks in each country." Which makes no sense considering the EU is bigger than the US. "Germany is poised to capitalize on what needs to happen here.
ECB stress tests are as tough as the US version (CCAR). He thinks their banks don't get enough credit for how well they're getting through everything. .
Okay, Michael J. Fox just walked out on stage. Give me a second to flip the f*** out. He is here to introduce Jeff Gordon of Nascar fame, who has done a lot of philanthropy in the children's oncology arena. 
Clifton S. Robbins, Founder and Chief Executive Officer, Blue Harbour Group, L.P.
Cliff Robbins runs "a friendly activist strategy" – has been in the game for 30 years, since doing private equity at KKR in the 1980's. He's been on 15 boards of directors for public companies.
"A private equity approach to public equities."
A concept for smarter investing – this is an ESG pitch. He points out that caring about environmental, social and governance issues is not "conceding returns" – it is supportive of returns and a good risk management tool. (At RWM, we agree! – Josh)
His stock pitch is Investors Bancorp (ISBC).
1.3 times book at $13 and change per share. "Fortress balance sheet, pristine credit quality, excellent management team, significant discount to peers, strong ESG profile."
$23 billion assets, $15 billion deposits. Growing fast in NY, NJ. (They just opened one in my town, had never heard of it before – Josh)
Consistently outperforms its peers on credit quality, "sailed through the financial crisis, doing smart, non-dilutive m&a."
"They are a full taxpayer – 36%" so they will be a significant beneficiary on tax reform. Regulatory reform as well.
Catalyst is that they'll have a chance to deploy excess capital.
Blue Harbour is a 9.9% stockholder and "we will represent all stockholders. We intend to be working with this board to explore the highest use of this excess capital." He also says its a takeover target.
He points out that EPS growth and loan growth is outpacing Northeast rival banks, and yet it sells at a big discount. He thinks its worth more like $17-$19 per share.
Who could buy it? The company went from a mutually owned holding company to full stock ownership three years ago. Typically, these companies get bought five years later after these sorts of transformations.
Management team has been in place for 7 or 8 years. CEO and COO own a lot of stock themselves. Cliff says there's probably max 10% downside for the stock, but possibly 30-40% upside.
David Einhorn, President, Greenlight Capital, Inc.
Greenlight Capital has returned 16% per year since inception, double the S&P 500 in the same span, but with less than half of the market exposure.
David gets right into it. Core Labs (CLB), on the NYSE. The company sells chemicals and equipment to the oil and gas sector that makes drilling more efficient – "production enhancement".
"Core Labs is not cheap" and "it trades at a massive premium" to its peers.
"The great thing about high returns businesses is that you can compound your reinvested profits at a high return."
Einhorn is skeptical about the company and the way the bulls are valuing it. "There is a false impression that Core Labs is a secular growth story." Analysts think it is not susceptible to the commodity price cycle.
Analysts were wrong about the company as estimates did not pan out as oil prices fell. But analysts have kept their enthusiasm and the stock has kept its high multiple.
"Reading Core's annual reports" is like taking a time machine through each year's biggest energy market hype (LNG, etc). He thinks the CEO is highly promotional. But in the end, deepwater drilling internationally is its biggest business and most important exposure. He doesn't see offshore drilling / spending coming back.
"Only North American shale investing is growing." Shale doesn't need the ultra-high tech services that Core Labs offers to the global deepwater drilling market. CLB are tiny in shale, it's only 10-15% of their total revenue. He thinks the sell-side is wrong.
"Core's business is not a secular growth story." Like every other oil related company, it is cyclical. The CEO was calling for $150 a share in 2013. He's been wrong about his price calls all along. He's been calling for a "v-shaped recovery" since early 2015. "If he's right this time, he will have called seven of the last one bottoms."
The company has been paying a dividend by selling stock. Einhorn insinuates that this obviously cannot continue.
Bottom line, he thinks the stock is worth $60's and it sells for $110.
***
Okay, stay tuned for Part II – featuring Jeff Gundlach and Larry Robbins – coming later today!