Michael Mauboussin's most recent research paper, The Incredible Shrinking Universe of Stocks, is absolutely incredible. There are like 50 separate profound insights to be gleaned from it.
One thing I wanted to show you that I feel has huge implications for ordinary investors is the fact that we are no longer able to capture the upside of stocks in the way prior generations once were. This is because we don't get as many new issues coming to market, but also because the average age of a firm coming public is much older than it once was. In recent years, we've seen '40 Act mutual funds go wading into venture backed startups to complete their portfolios. In some respects, they're being forced to, if they want to truly capture the full spectrum of the asset class's returns.
Here's Michael, whom I should mention will be one of the keynote speakers at our Evidence Based Investing conference out in California this June: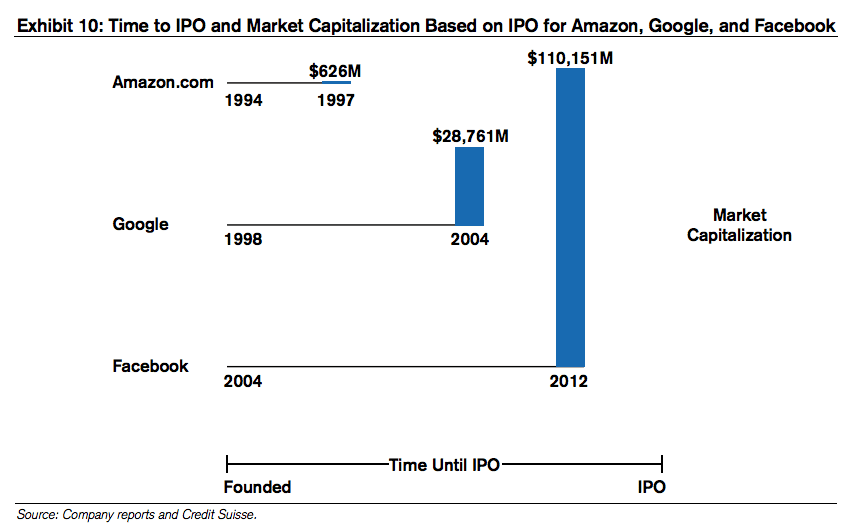 Amazon.com went public 3 years after founding at a market capitalization of $625 million, in current dollars. Investors on the IPO have made 565 times their money. Google went public 6 years after founding at a value of $29 billion, and its investors have made 20 times their money. Facebook went public 8 years after its founding at a value of $110 billion, and investors have made 3.7 times their money. It is virtually impossible for Facebook investors to earn the same total shareholder return as Amazon.com shareholders did over 20 years.
Josh here – the gains no longer available to you are going to the early-stage investors who are taking the biggest risks at the seed stage. The unprecedented sophistication in private investor networks have enabled this. I'm not sure what the solution is, but owning an index of VC-backed startups is not currently possible.
Michael Batnick ran a calculation for us that is truly remarkable. For investors who bought the Facebook IPO to be able to earn as much as Amazon's IPO buyers have earned (565x on their initial investment), FB stock would have to appreciate to a market cap of $36.5 trillion!
Ain't happening.
Source:
The Incredible Shrinking Universe of Stocks
Credit Suisse – March 22nd, 2017