An interesting observation from my friend Nicholas Colas, chief market strategist at Convergex:
The #1 Reason Trump is Good For Stocks

Summary:  The US equity market is very different than before Election Day 2016, and that's not just because we are at fresh all-time highs.  There were plenty of new highs from 2013-2016, after all.  What's different is the lack of sector and asset class correlation now versus 2009 – 2016.  Simply put, they are finally back to normal.  The drop in correlations among the 11 sectors of the S&P 500 has been profound, from 75-80% pre-Election to 57-62% afterwards.  This month's reading of 57% points to the lasting nature of the change; this is a not blip. The ramifications of this shift are: 1) lower S&P volatility (because, math) 2) getting sector bets right is now even more critical to outperformance and 3) it applies not only to domestic US equities, but to global managers who must allocate to EAFE and Emerging Market assets (correlations are structurally lower there as well).
Nick notes that sector correlations to the S&P 500 were almost never under 80% during the period from 2009 through 2015. By which he's essentially saying that we had one big market opportunity all that time – own everything or nothing, give or take. The hedge fund guys absolutely hated it, blaming the Fed every chance they got for rendering the type of analysis they had been doing since the 1980's and 1990's no longer useful.
Well, now's the time to shine. You got your separation back. Look: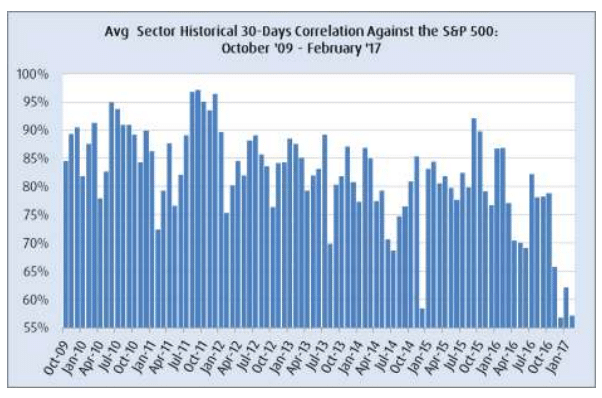 Oh, and in non-US stocks the difference pre- and post-election is equally pronounced.
The same observation holds for international equity markets. They have been tied at the hip to US stocks since the Financial Crisis as well, but now correlations for the EAFE country stocks to the S&P 500 are 61.4% and for Emerging Market equities it is 34.6%.  The ramp down post-US election was a little slower.  Correlations last month were 74.3% (EAFE) and 55.1% (Emerging Markets). 
It's kind of funny that President Chaos has succeeded in "normalizing" market conditions. I suppose this is what happens when the Federal Reserve and its programs become back page news after being the dominant (only?) story for almost a decade.
For the active managers, no more excuses. Show us what you got.
Source:
The #1 Reason Trump is Good For Stocks
Convergex – February 9th 2017