I was talking to a banker at CVS this morning while waiting for my prescription to be filled (I have laryngitis and my sinuses are f***ed).
He was on the phone talking about setting CD rates and I was playing with the blood pressure armband until the lady yelled at me to stop. One of the important things to keep in mind about the recent surge in rates is that all it's really done is brought us back to where we started the year.
My chart below illustrates the year in US Treasury bond yields…you may click to embiggen.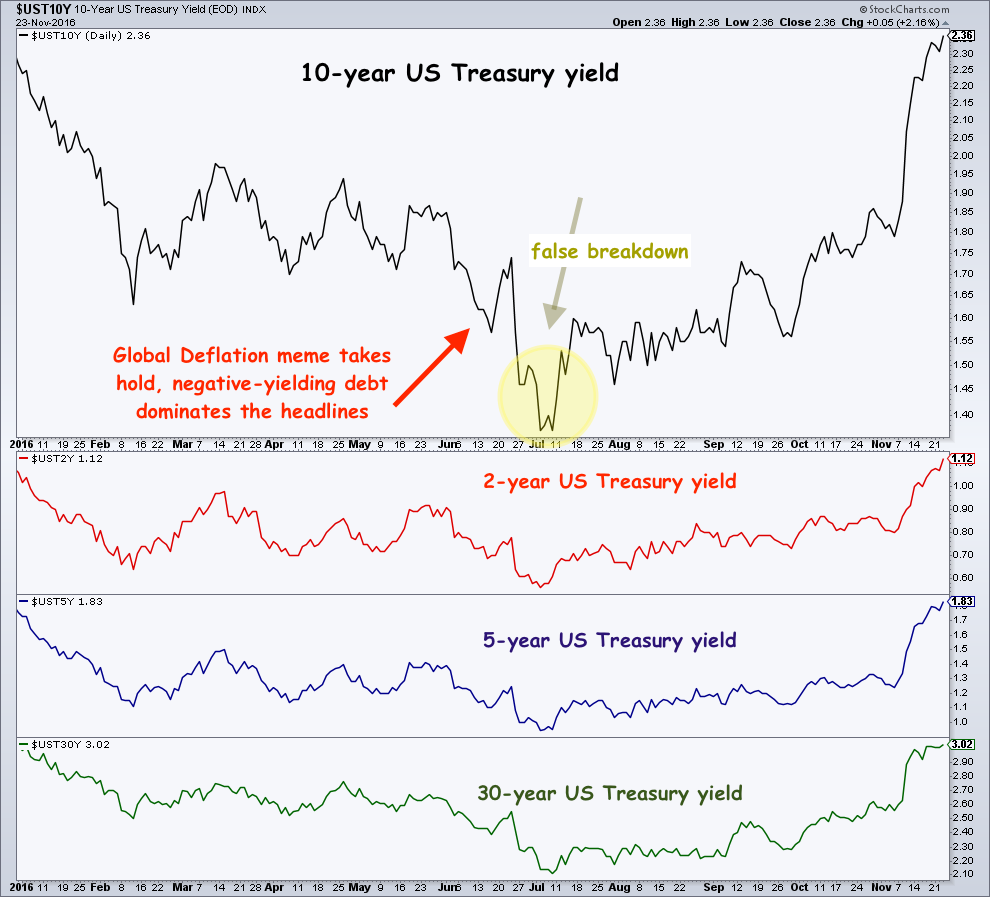 We get questions from investors about how to allocate the fixed income portion of their portfolios. Our response is quite different than what you might hear from others in the media.
We don't make bets on long vs short duration and we don't go for "unconstrained" strategies that can be short the bond. Getting the direction of rates right is every bit as easy as getting the direction of the stock market right. By which I mean it is not at all easy. Think about how many smart people have been "keeping duration low" over the last 7 years, and missing the lion's share of the gains the asset class has had to offer.
Our answer is to say that, at any given time, there are some areas across the curve that offer a better expected return profile than others. We want to quantify this expected return premium and systematically overweight toward it. It's not sexy, but we think it's effective, and that's all that matters. Combining this strategy on the Treasury side with a diversified mix of munis, TIPS, investment grade corporates, mortgage-backed securities and high yield credit is a humble approach that offers flexibility and several non-correlated return streams.
The alternative to our approach is to scramble around trying to guess at what's about to happen next and place bets on directional moves, which we are unwilling to attempt. We leave the prognosticating to the Bond Kings. May the odds be ever in your favor 😉
If you're unsure about what to do in the presence of rising yields and declining bond prices, you can talk to us here. We literally do this for a living.
You can also read my colleague Ben Carlson on the subject of how bad the losses in bonds might get.